Bear Creek Mountain Resort is located in the Southeastern part of PA and is a family-oriented destination spot with many amenities for the whole family.  It is a relatively short drive from Philadelphia and New York City, which draws many people to the resort to hit the slopes for a quick day or weekend trip.
More hidden gems of PA here.
Quick Facts and History:
Opened initially as Doe Mountain Ski Area In 1967

Elevation: 1,100 Feet
86 Acres of Skiable Acres
27 Total Trails
500 Feet Vertical Drop
7 Lifts
3 Terrain Parks
30% Beginner Trails
40 % Intermediate Trails
30% Expert Trails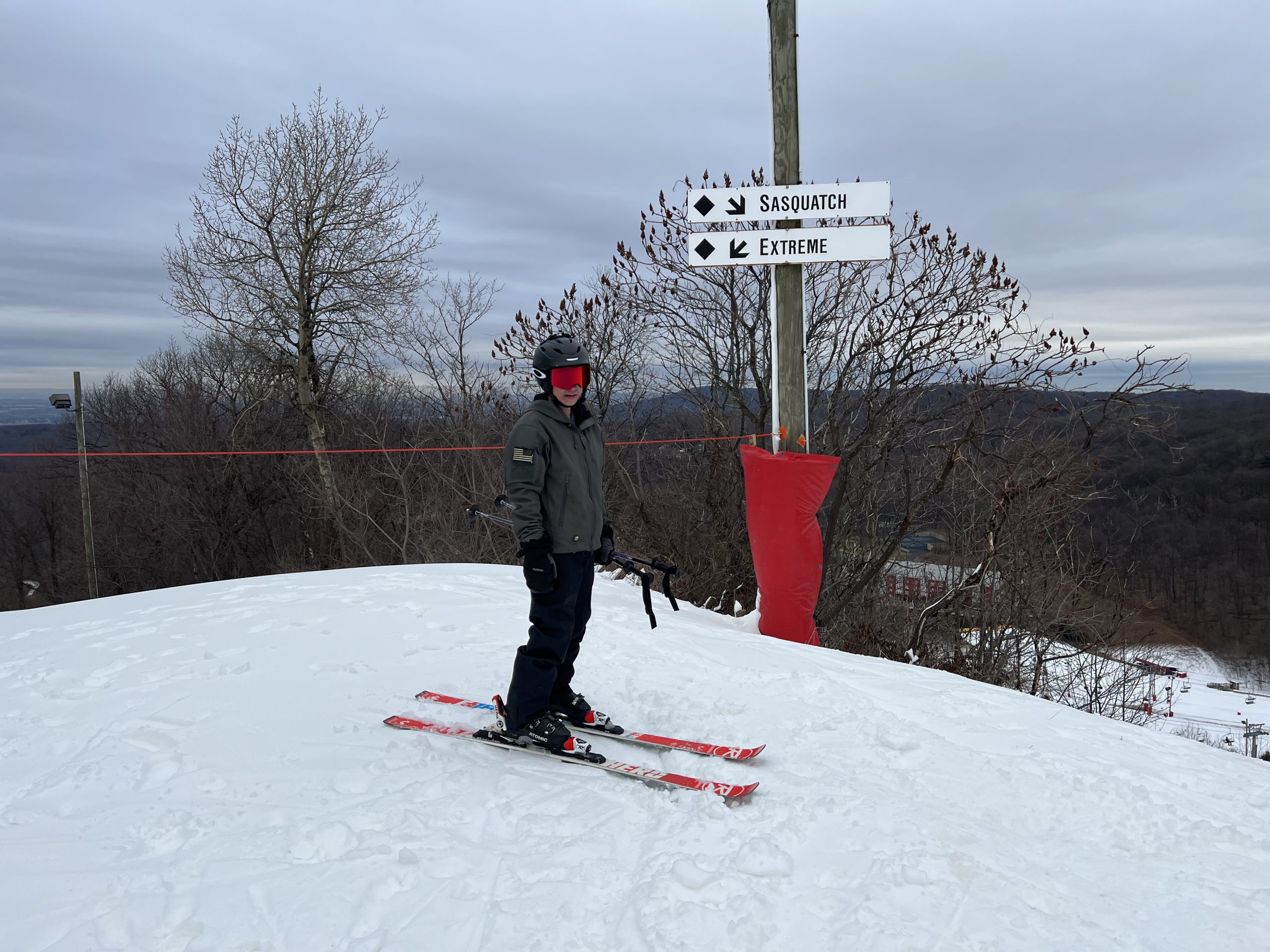 The day I visited Bear Creek Mountain, temperatures were in the upper 30s, and the day started with a slight drizzle in the air, and I was a little concerned about how the conditions would hold up throughout the day.  Skiing in the Northeast so far this season has been anything but easy for the resorts that are located there.  There has not been an abundance of snow from Mother Nature, and there was a stretch where the temperatures were in the 50s and 60s.  The Marketing Director for Bear Creek Mountain told me at one point, they were down to only four trails operating and were concerned they might have to shut down skiing/riding operations if the weather did not improve.  Fortunately, the weather cooperated, and I made the trip to Bear Creek.
While skiing Bear Creek and checking out the trails, I had the pleasure of meeting a couple making a day trip from Philadelphia.  One was a snowboarder, and the other was a beginner skier making her 3rd skiing trip.  I had the opportunity to hit some of the beginner trails on the mountain with them and also got a video of her first attempt at skiing down an intermediate slope.  I do believe she did very well and did not wreck once!
When I think of Bear Creek Mountain Resort, those thoughts focus on creating memories and having fun with family and friends.  I would consider Bear Creek a family resort designed for all family members to enjoy.  Most of the trails at Bear are geared towards beginner to intermediate-level skiers and riders.
Although I view Bear Creek Mountain Resort primarily as a family resort, it received a huge accolade this past year for "Best Terrain Park Feature in the World," awarded by the Ski Area Management Terrain Park Contest.  Bear won the award with three features: a 20-foot high x 60-foot long hip, a six-foot deep, symmetrical bowl section, and a 15-foot high volcano.  So, if there are member(s) of the family seeking adventure and adrenaline, Bear also has that too!
For more information on Bear Creek Mountain, check out their website: https://www.bcmountainresort.com.