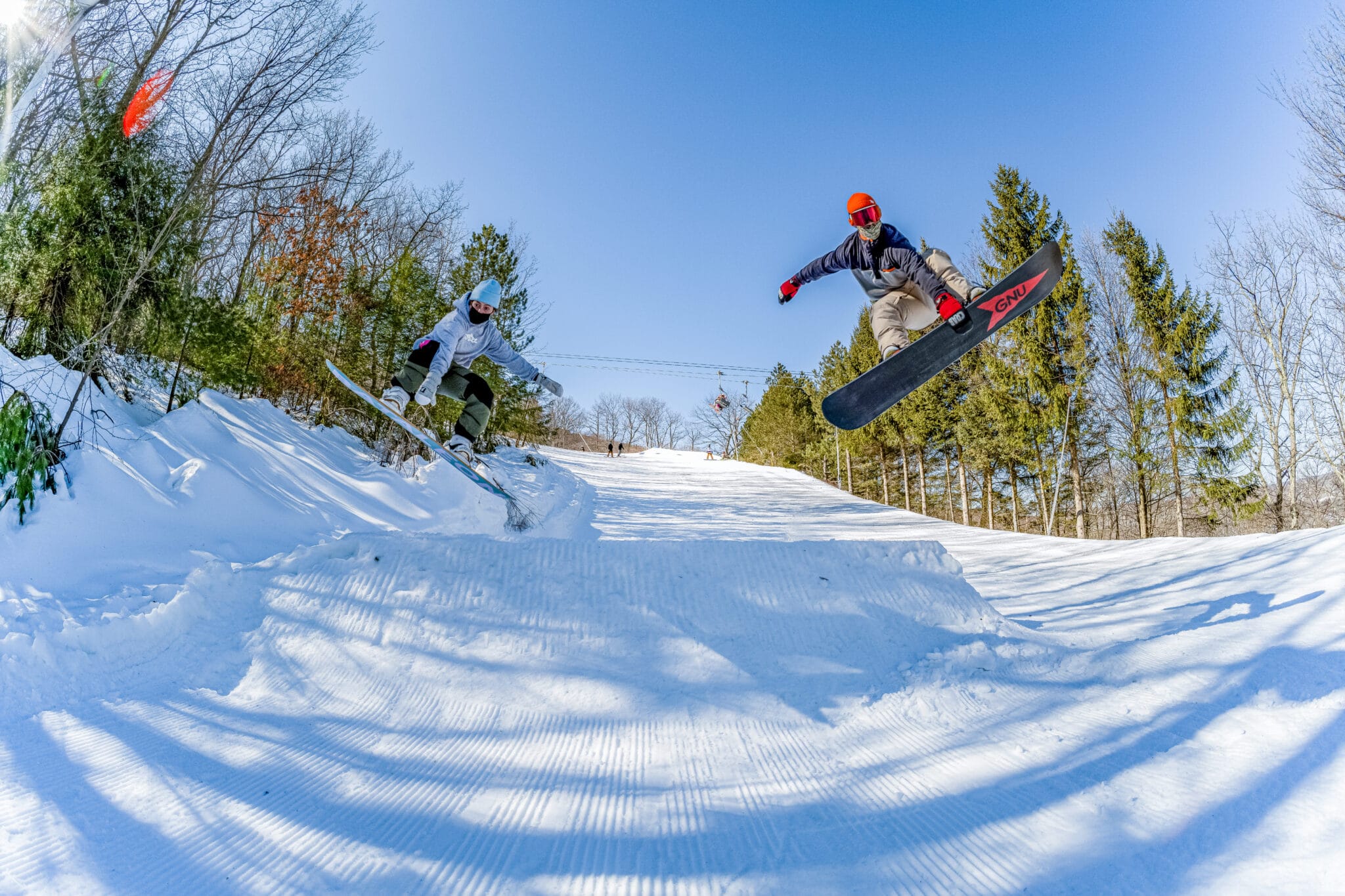 One of the last resorts that I was told that I needed to check out in the Poconos before I left PA and headed farther north was Camelback Resort. I have been all over the Poconos this season, and it is pretty easy to see Camelback sitting just south of Interstate 80. Camelback is about 1 1/2 hours from NYC and about 2 hours from Philadelphia. I have heard a lot of great things about Camelback Resort and how they were growing and expanding not only their outdoor facilities but also indoor activities as well.
Quick Facts and History:
First Opened in 1963
Elevation: 2,133′
39 Slopes and Trails
Beginner Trails: 39%
Intermediate Trails: 26%
Expert Trails: 26%
Expert Only Trails: 9%
166 Skiable Acres
One Terrain Park
Seven lifts, Including 2 High-Speed Lifts
125,000 Square Foot Indoor Waterpark
Largest PA Outdoor Waterpark
4,000 Foot Zip-line
Mountain Roller Coaster Ride
Ropes Course
453 Room Mountain Hotel
USA's Largest Snow Tubing Park
I will admit that I was very impressed with the sheer size of the resort and mountain when I got off interstate 80 and started to get closer to Camelback. The mountain seemed wider and spread out than most resorts I have skied at in the Poconos. You could see from the base lodge that two long trails ran down each side of the resort, and multiple connecting trails interweaved all over the mountain, which was very nice because each time down the mountain, you could veer off and hit another trail or slope making each run down the mountain unique. There is also a vast 170,000-square-foot indoor adventure building with tons of activities, such as a 125,000-square-foot indoor waterpark, indoor climbing wall, indoor ropes course, and over 100 arcades and rides for the whole family to enjoy.
On the first trip up the mountain, I had the opportunity to talk with some season pass holders, and they recommended that I hit "Nile Mile," which was an intermediate trail. "Nile Mile" is located on the far eastern side of the mountain or the far left trail as you look up at the mountain from the main lodge. It is assessable by taking the Stevenson Express high-speed lift on the mountain's eastern side. The trail was almost a mile long and had a few descents and some nice turns as you went down the mountain, and it was a good choice for your first run down the mountain.
One thing that stood out to me was the design and layout of the trails and slopes at Camelback were very nicely done and thought out. I think we have all been to that one ski resort where all the trails and slopes are straight up and down the mountain with relatively little to no turns, which makes for a very dull day. This is not the case at Camelback! I cannot remember any trails or slopes where there were not some nice turns throughout the run going down the mountain.
My favorite run of the day was called "Pharaoh," an expert run located just to the right as you get off the Stevenson Express high-speed lift.   It starts as an expert run, throws you some nice turns, drops at the top of the mountain, and transitions into an intermediate trail called "Bactrain" about halfway down the mountain. It was a fun run that was quick and fast but brought you back down to the bottom of the mountain where the high-speed lift was waiting, and you could jump right back on and hit it again.
If you are looking to grab some fast food on the mountain or sit down to a nice meal, Camelback has plenty of options for the whole crew. The resort offers 23 different food options ranging from burgers and hot dogs to food geared towards more fine dining. Usually, when I am finished for the day, I am always looking for a nice meal after a long day on the mountain. I would highly recommend Berrelli's Italian Chophouse, located at the base of the mountain and is assessable by skiing or riding.   They offer a lovely selection of steaks, a wide variety of Italian pasta dishes, and many options for adult beverages. Ask for "Chris"; he is an amiable, talented, and knowledgeable bartender who will not point you in the wrong direction when choosing your meal or drink.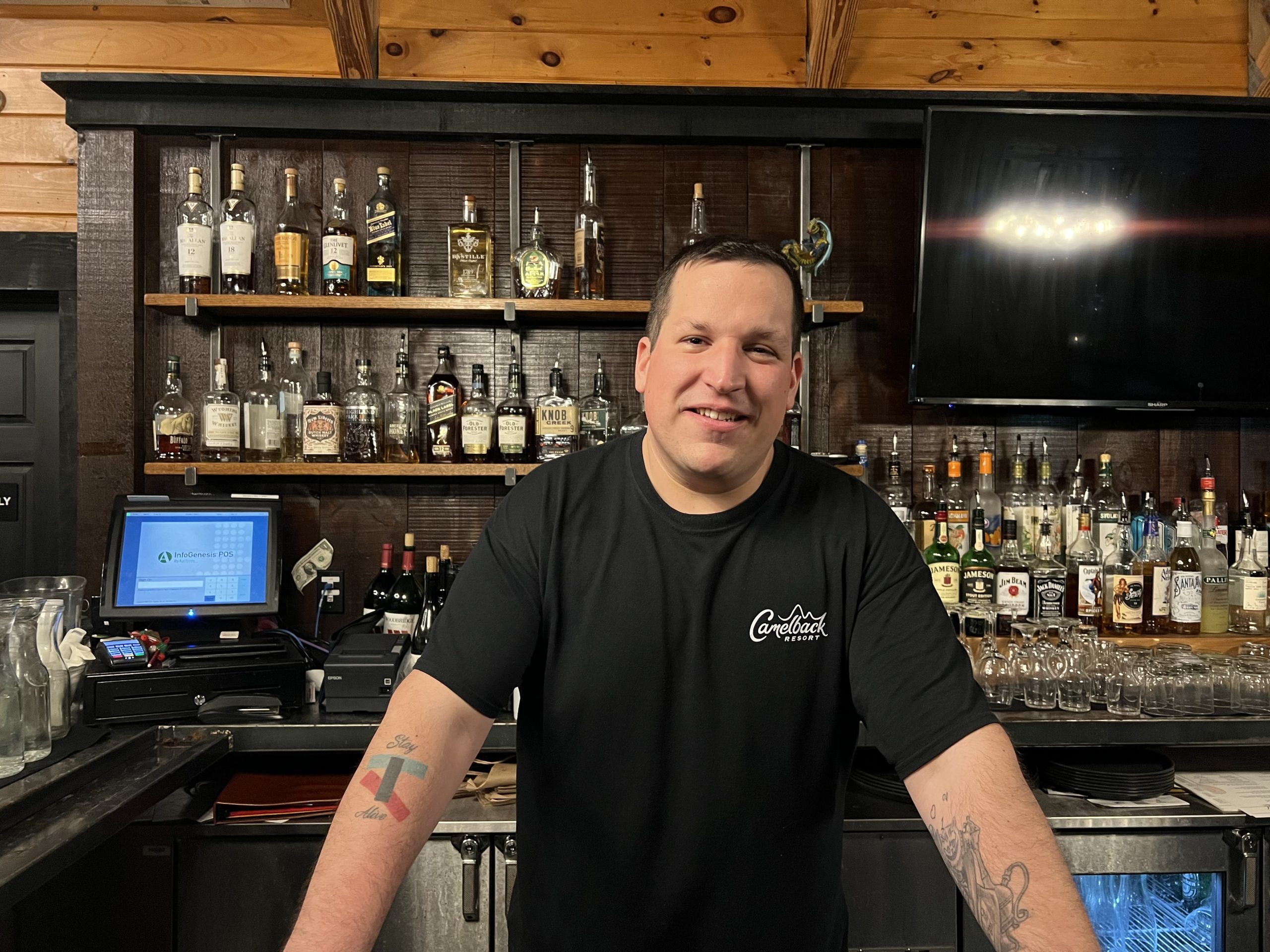 Overall, the skiing conditions at Camelback were probably the best I have skied this season in PA, but considering the lack of snow and cold weather we have had this season, you cannot blame anyone at all. As I have written in previous articles, all the resorts I have visited this season have been challenged to keep their trails and slopes open. I would say that they all have been doing a fantastic job keeping their mountains open for skiers and riders to enjoy, and Camelback is doing the same.
There are so many things to check out and do at Camelback Resort that I would recommend staying for a few days to have the opportunity to hit them all. I skied all day and hit every trail or slope that was open, and I was still wondering if I would have the time to check out all the other things Camelback has to offer. I would definitely recommend anyone going to the Poconos to check out Camelback Resort.
Upcoming events at Camelback Mountain Resort: 
Freezing for a Reason (Supports Special Olympics) 

When: February 11th
Time: 10 am-2 pm
Location: Camelback's Base Lodge Area
Camelback's Annual Skim Pond

When: March 11th
Time: 10 am-3 pm
Location: Camelback Mountain Adventures
For more information on Camelback Resort, check out their website: https://www.camelbackresort.com.