Elk Mountain has been on my radar for a long time.  Over the years, I have been told by fellow skiers/boarders that Elk Mountain is impressive, and if I was ever skiing in the Poconos, I had to check it out.  I finally had the opportunity to visit the mountain this week, and it lived up to its reputation.
Elk Mountain elevation is 2,667 ft (813 m)
Elk has a 925 ft (282 m) vertical drop
27 trails total trails
6 beginner trails
10 intermediate trails
11 expert trails
2 terrain parks
5 double chair lifts
180 acres of skiable terrain
Day lodge
Guest services
Ski school center
Restaurant
Rental and a ski-and-snowboard shop
Elk Mountain is the most northern ski resort in the Poconos and is about 2 1/2 hrs away from both New York City and Philadelphia.  Any skiers/boarders looking to check out a serious ski resort in the Poconos must put Elk Mountain on their bucket list.
The atmosphere at Elk Mountain is undeniable old school Pocono Mountains.  It has that mystique of Pocono ski resorts back in their glory years of the late '60s and '70s.
The lodge is rustic and small, and it looks like it has not been changed in decades.  Elk still has a double seat chair lift that dates back to the early '60s, they still utilize the old sticker lift tickets with the steel wire that goes through one of your zippers on your jacket, an "old school" open-air shuttles escorts guests from the lower parking lot to the lodge, and they still have the old-style lockers that you insert quarters in to for use for the day.
However, all of those things give Elk Mountain that sense of character and dignity of a place that pretty much has not changed since the late '70s.  The cool thing is that all those things work beautifully at Elk Mountain and truly make you reminisce about times past.
Even with all the things that make Elk Mountain such a nostalgic place to visit, make no mistake that Elk is the top mountain in the Poconos.  It is one of the only resorts in the Poconos that is geared towards more experienced skiers.  They offer more intermediate and expert trails than beginner slopes.  The trails are longer and steeper than most other resorts in the Poconos, and the day I was there, the moguls were in full bloom.
There are some beginner trails for skiers/boarders to hit as well that offers a very nice trip down the mountain.  One of Elk Mountain's beginner slopes, which I thought was great for skiers/boarders wanting to take a long and relaxing run down the mountain, was the trail, "Lehigh."   It took about 7 minutes for me to get from the summit to the mountain base moving at a pretty quick pace.  It could have easily turned into a 15 minute run for a beginner skier/snowboarder just honing their abilities or wanting to enjoy a nice run.
Elk Mountain's signature trail is "Tunkhannock," and it does not allow skiers/boarders the opportunity to settle into their run at all.  The expert trail starts right in your face by challenging skiers/boarders with an imposing vertical drop at the beginning of the trail while adding a very large mogul field for people to navigate through.  "Tunkhannock" sits right under the main chairlift and provides the ultimate Hollywood line for any skier/boarder wishing to put their skills on display.  It is easily one of the most challenging trails in the Poconos to ski/board down.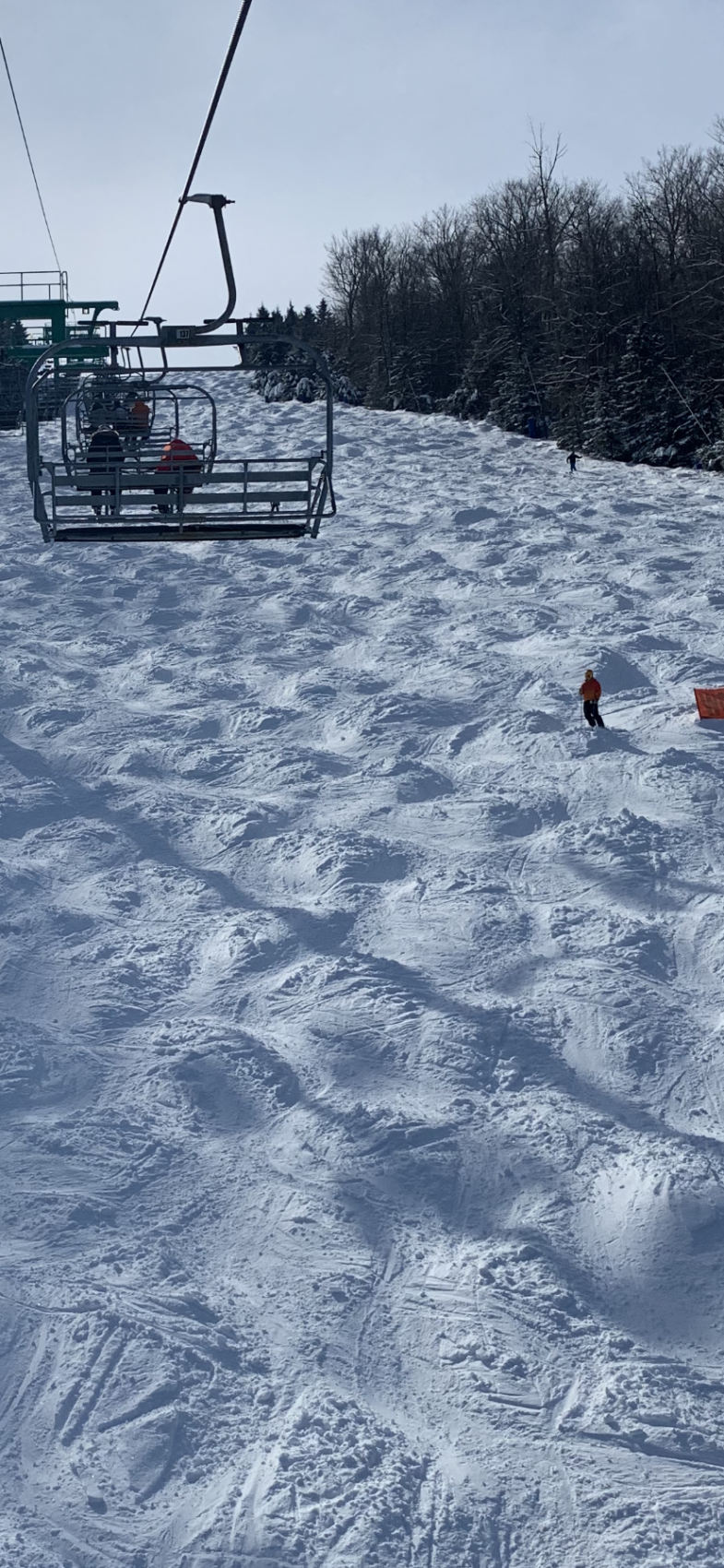 I have had the opportunity to ski most of the mountain resorts in the Poconos and eastern PA and I would definitely recommend Elk Mountain to any skier/boarder looking for a challenging mountain to explore.  The mountain is geared towards intermediate to expert skill levels and provides great trails, great conditions, and a great atmosphere for everyone to enjoy.
For more information on Elk Mountain, visit their website at https://www.elkskier.com/.