I have never been to Shawnee Mountain before, and I was told that it was a lovely family-oriented resort that I should check out if I ever had the opportunity. I am always excited to go and check out new mountains and have the chance to hit some trails and slopes that I have never been to before. Shawnee is located on the most eastern section of the Poconos and is about 1 1/2 hours away for NYC and about 2 1/2 hours away from Philadelphia.
Quick Facts and History:
First Opened in 1975

Summit Elevation: 1,350 Feet
Skiable Area: 125 Acres
23 Total Slopes and Trails
25% Beginner Trails
50% Intermediate Trails
25% Expert Trails
2 Terrain Parks
Largest Vertical Drop: 700 Feet
Longest Trail: 5,100 Feet
6 Lifts, Including a High-Speed Quad and 2 Surface Lifts
2 Lodges
Designated Beginner-Only Ski Area
Snow Tubing Park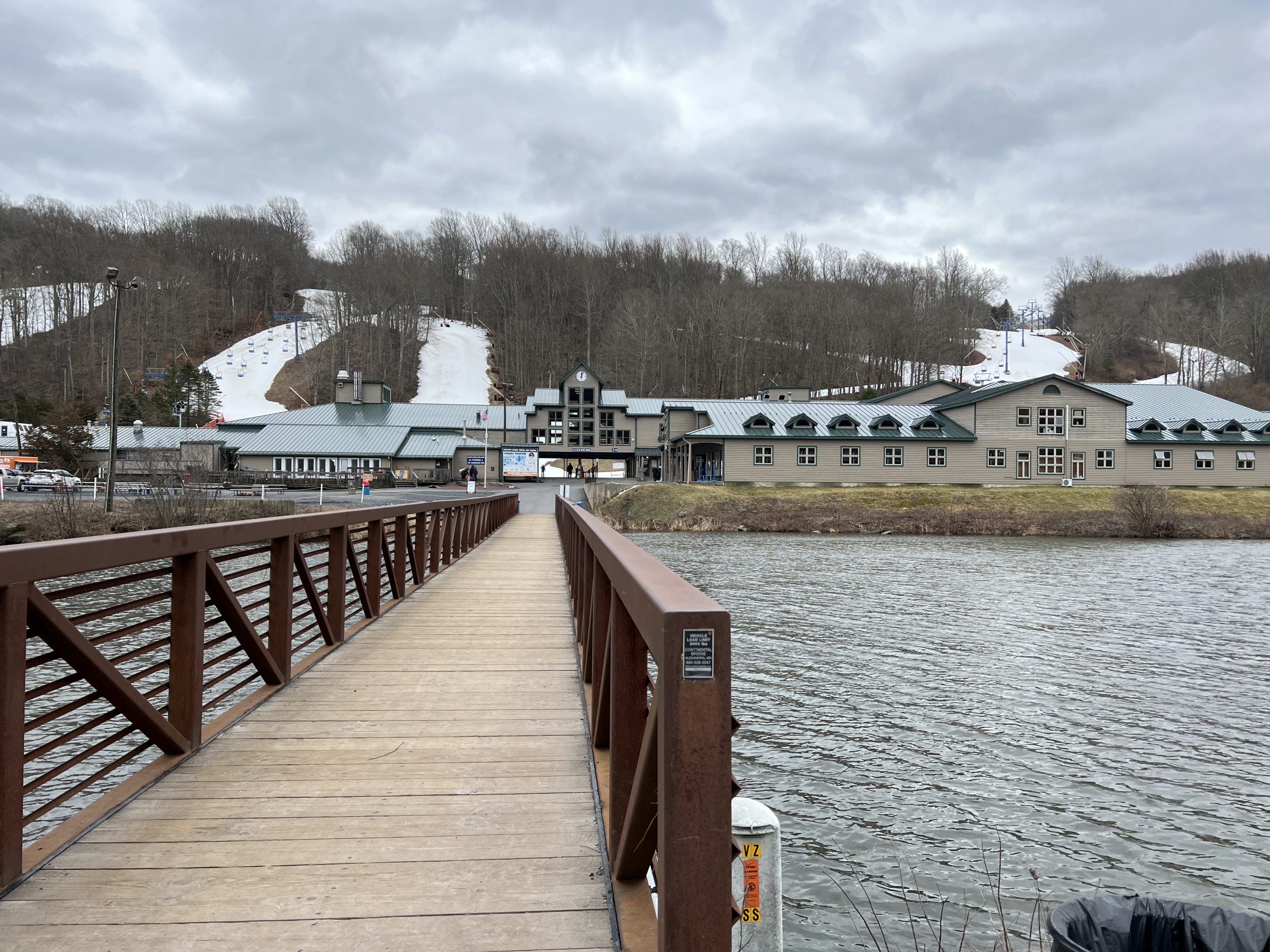 Upon arriving at the mountain, my first impression of Shawnee was the feeling of being comfortable and welcome. The first thing I noticed when I pulled into the parking lot was that Shawnee Mountain had its own "front door."  There is a pond at the base of the mountain with a walking bridge you had to cross to access the mountain, and I thought it was pretty cool because I had never been to a resort that had one before. The staff at the mountain were all very courteous and friendly, and you could sense the feeling of family at Shawnee.
The snow conditions when I arrived were pretty good, considering the mountain had received over an inch of rain the previous night. I was told by the Director of Marketing, Rachel Wyckoff, that on the previous day, the whole mountain was snow-covered, and unfortunately, the rainstorm had melted a lot of the snow away. Most Pocono resorts have struggled this season with Mother Nature not providing as much snow as we all would want. However, all the Pocono ski resorts I have been to have been pushing through the challenges of lack of snow this year, and Shawnee Mountain was doing a great job at keeping as many trails and slopes open.
I had the pleasure of getting a tour of the trails and slopes at Shawnee Mountain from their Director of Marketing, Rachel Wyckoff. She had been an employee at Shawnee since she was 15 and did a short tour out at Boulder, Colorado, before returning to PA. Shawnee has a reputation for being a great place to work and boosts having over 30 employees that have been there for 35 years or more. Talking with Rachel, I immediately saw Shawnee's focus on catering to families and mission to make everyone feel welcome.
The first trail that Rachel took me down was a beginner slope called "Kittatinny," which was about a mile long and took about 10 minutes to get to the base of the mountain. It was an excellent beginner run which provided some winding turns, small vertical descents, and a good choice for your first run down the mountain. Most beginner or intermediate runs at Shawnee are located at the top of the mountain, with the expert slopes situated in the mountain's bottom sections.
My favorite run at Shawnee was called "Lower Tomahawk." It is a straight-line run with a series of descending headwalls that run directly under the high-speed quad lift. It starts as an intermediate slope and transitions into an expert slope about halfway down the mountain. It is a relatively short and quick run but enables you to jump back on the high-speed lift and grab a bunch of runs quickly.
Overall, I was thrilled and pleased with my visit to Shawnee Mountain and would recommend anyone who has the opportunity to check Shawnee Mountain out. They have two upcoming events you check out: "The Shawnee Mountain Bigfoot Race Snow Shoe Race," which is Sunday, February 26th, from 8 am to 11 am, and The "Holy Little Big Air" competition on Sunday, March 5th, which starts at 11 am.
For more information on Shawnee Mountain, check out their website: https://www.shawneemt.com.