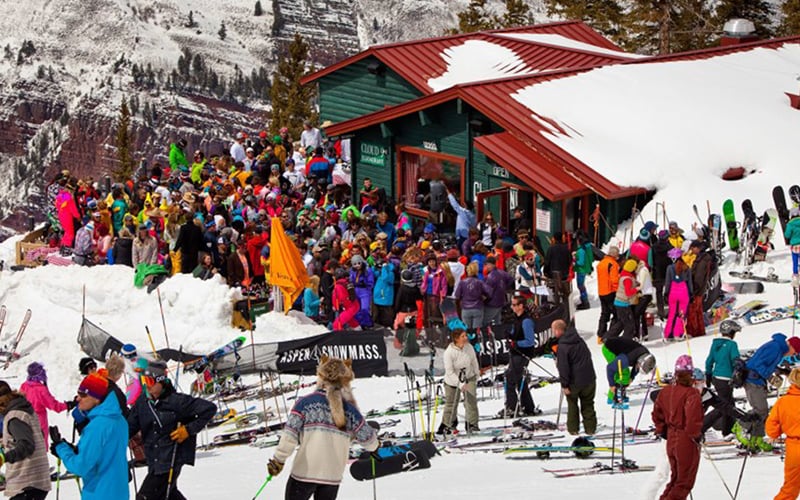 A judge ruled Wednesday that the victim of a ski hit-and-run incident can pursue punitive damages against the drunk skier accused of hitting him.
The victim, who was skiing at Aspen Highlands, CO in 2020, managed to identify and locate the man who allegedly hit him by becoming an internet sleuth and trawling through Instagram images from the day of the accident.
The victim was hit on the catwalk at the bottom of Upper Jerome, a blue run approaching the base area, and thrown up to twenty yards by a skier skiing fast and who was intoxicated. The uphill skier who caused the crash failed to stop and exchange details as is expected under the Colorado Ski Safety Act. The victim, from Illinois, suffered a broken humerus amongst other injuries. The man responsible did approach the victim but did not exchange any details.
"Defendant quickly put his skis back on and fled down the mountain before ski patrol arrived."

– the lawsuit said
It is understood that Dimitri Katamanin, the alleged suspect, had been partying at the on-mountain Cloud Nine Bistro, a venue infamous for its party scene and drinking. The victim found Instagram images and videos of Katamanin, from Chicago, IL, spraying champagne at the Cloud Nine Bistro about an hour before the incident on February 20th, the Aspen Times reported. The skier was with three men and two women, the suit said, who all skied off without exchanging details.
The punitive claim will be added to the lawsuit because Colorado law allows exemplary damages if there is circumstantial evidence of intoxication. In his decision, the judge cited a Colorado court decision regarding a wrongful death case where alcohol was a contributing factor, reports Vail Daily.
The defendant does not deny drinking, there is plenty of photographic evidence to prove this, but he claims that just because he was drinking doesn't mean he was at fault for the accident.
According to Wikipedia, punitive damages, or exemplary damages, are damages assessed to punish the defendant for outrageous conduct and/or to reform or deter the defendant and others from engaging in conduct similar to that which formed the basis of the lawsuit. Although the purpose of punitive damages is not to compensate the plaintiff, the plaintiff will receive all or some of the punitive damages award.
Punitive damages are often awarded if compensatory damages are deemed an inadequate remedy. The court may impose them to prevent under-compensation of plaintiffs and to allow redress for undetectable torts and taking some strain away from the criminal justice system. Punitive damages are most important for violations of the law that are hard to detect.
Because they are usually paid over the plaintiff's provable injuries, punitive damages are awarded only in special cases, usually under tort law, if the defendant's conduct was egregiously insidious.