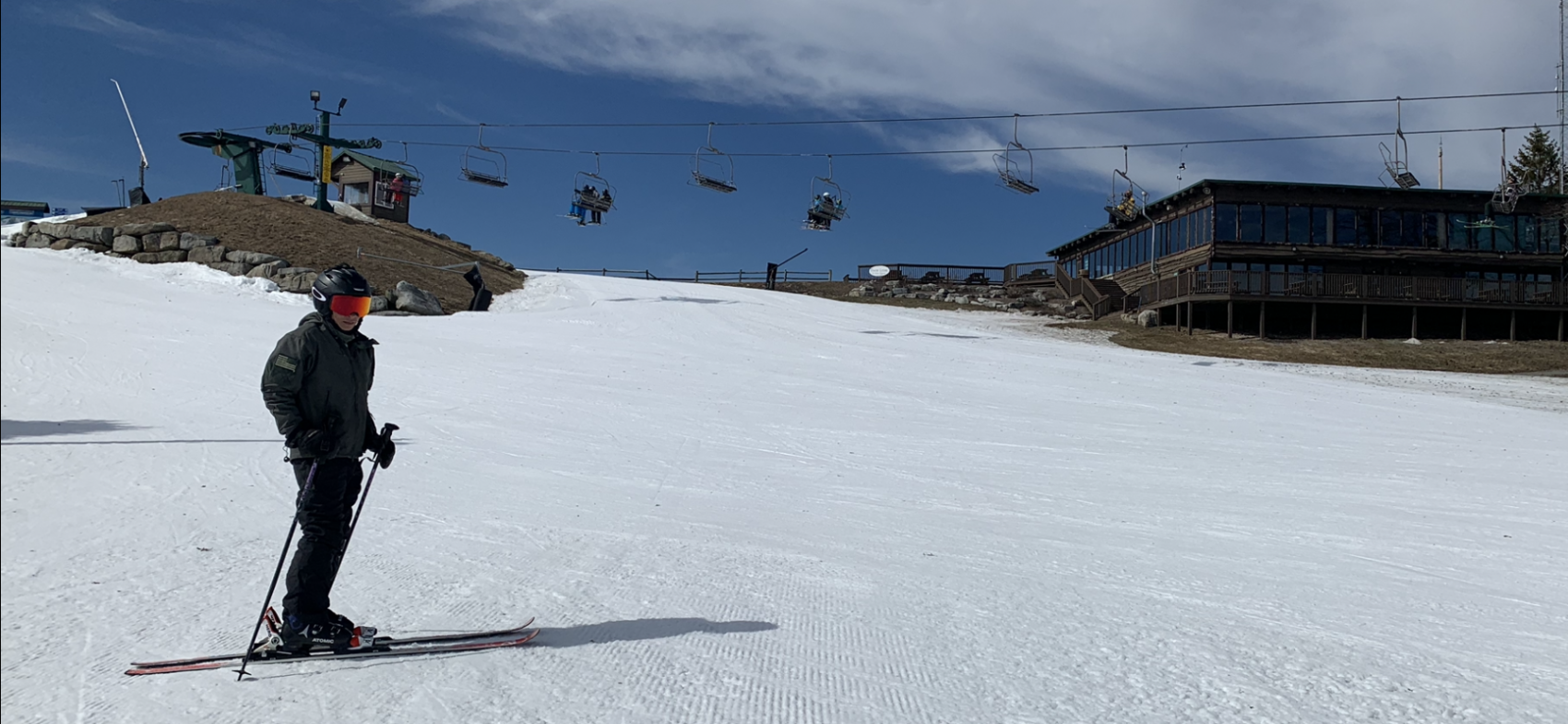 Ever since I graduated college and left Pittsburgh, I have been trying to get back to Seven Springs Mountain Resort in Pennsylvania. Unfortunately, it has taken me almost twenty years to get back to the mountain which provided me with such great times and memories from my youth.   Seven Springs is geared towards skiers and riders who are more on the adventurous side and like to have a really good time.
Seven Springs is located in the Allegheny Mountains of Western PA in the region known as the Laurel Highlands.  It is about an hour east of Pittsburgh and about 3 1/2 hours away from Washington D.C., and easily accessible from the Pennsylvania Turnpike.  Seven Springs is a part of the Highlands Package, which includes Hidden Valley Ski Resort and Laurel Mountain Ski Resort, with Seven Springs being the flagship mountain.
Adolph Dupre, an immigrant from Bavaria, first purchased the 2.5 acres of land that would eventually become Seven Springs Mountain Resort in 1932.  Dupre worked in forest management and used the land as a farm at the time, and one day, a well-known Antarctic explorer named Finn Ronne, who was in search of the snowiest place in PA, came to visit Dupre to ask him for permission to ski on his property.
A few years later the Dupre family decided that the farm would make a great area for ski enthusiasts and a ski resort began to take shape.  Dupre invented the first rope tow to assist skiers in getting to the top of the mountain easier.  The small farm began building cottages to accommodate guests and built the main lodge in 1937.
By the late 1940s, Seven Springs had grown to 5,500 acres, and by the 1960s, it had turned into a world-famous resort.   The Dupre family had also become pioneers in the snowmaking industry and the development of chairlifts.
How simple can a name be?  Seven Springs Mountain Resort got its name because of the seven springs that are located there.  Adolph Dupre searched for water resources to utilize for his farm when he discovered the springs, and the rest is history.
MOUNTAIN ELEVATION:  TOP: 2,994′ BASE: 2,240′
VERTICAL DROP: 750′
LONGEST RUN LIFT: 1.25 MILES
AVERAGE SNOWFALL PER YEAR: 135″
LIFT CAPACITY PER HOUR: 24,900
AVERAGE TEMPERATURE: 24°
SKIABLE TERRAIN: 285 ACRES
33 TOTAL TRAILS and SLOPES
7 TERRAIN PARKS
Every ski resort I have visited since I moved away from western PA, I have always compared them to Seven Springs and all the things I loved about the mountain.  I will admit it is hard to compare ski resorts to one another due to their location throughout the world.  Obviously, their location throughout the world will contribute to what the mountain has to offer regarding size, elevation, conditions, and how long the season lasts.  However, no matter where I was, it is still hard to beat my "Home Town Mountain."
I can remember going to Seven Springs when I was still in school and eventually college.   I loved going to Seven Springs every winter and could not wait for the opening day each year.  I would go to Seven Springs several times a week throughout the winter and I had no idea at the time how fortunate I was to have such a great mountain so close to where I lived.
When it comes to ski resorts, Seven Springs has everything I'm looking for in a mountain; great ski conditions, great atmosphere, great amenities, great food, and a great time.  The mountain offers terrain for every skill level of skier/boarder.  It has long trails for beginners to learn on or great for someone just enjoying the mountain.
Seven Springs also has something that many ski resorts in PA do not have an abundance of, and that is having great moguls to hit.  Their signature mogul slope is "Goosebumps," which consists of two headwalls filled with bumps.  It is a double diamond slope and is a challenge for someone who is not used to skiing moguls with the vertical angle that "Goosebumps" provides.
The Mountain also features some great verticals to hit for those wanting to catch some speed and send it down the mountain.  The North Face Complex sits on the other side of the main mountain and is quite large for a PA resort.  It primarily consists of fairly long runs with steep headwalls as you descend the mountain.
Seven Springs has seen some changes, made some additions, and made some improvements since the last time I skied the mountain almost twenty years ago.  The first change and probably the biggest was Robert Nutting, who also owns the Pittsburgh Pirates, purchasing the mountain over ten years ago.  You could see the improvements that have been made, the attention to detail the mountain is focused on, and the amazing vision it has for its future.
The two major additions that Seven Springs has made are the purchases of Hidden Valley Ski Resort and Laurel Mountain Ski Resort.   All three mountains are less than an hour away from each other and make the Highlands Package very competitive for any other resort to compete with on the east coast.
One addition that sets Seven Springs apart from any other resort in PA or the East for that matter is the Olympic-size halfpipe it installed almost ten years ago.  It is located at the terrain park "The Spot," and it is huge!  Its walls are 22-feet high, 60-feet wide with a 500-foot descent at a 15 percent pitch.  The halfpipe makes Seven Springs a destination spot for any serious rider to visit.  Seven Springs has hosted US snowboarding events and qualifiers since its installation and is a huge attraction that any mountain would love to have.
Seven Springs also added some huge jumps at "The Spot" terrain park for freestyle skiers and snowboarders to hit.  It is located just next to their North Face Complex, and you have a perfect view of it from Seven Springs main parking lot.   I had the opportunity to ski down it and checked it out for merely observational purposes only, and it was pretty impressive.
Seven Springs offers amazing lodging options for skiers or snowboarders to stay at while visiting the mountain.  Since I last visited the mountain, Seven Springs has added so many more places to stay at, and you cannot beat the view from the top of the mountain and the ability to step out the door and ski down the mountain.  Seven Springs main hotel can accommodate 5,000 guests and has almost 1,200 condominiums and townhomes while also providing eight personal cottages and fifteen private chalets.
Seven Springs has also made improvements in tailoring the mountain to what skiers and snowboarders are looking for to have a great mountain experience.  One of those things that I actually really liked personally was the addition of the Glade Trails.  I love skiing through the trees, and a lot of resorts in PA frown upon that and will actually clip your lift ticket for the day if you are caught skiing in those areas.  Not at Seven Springs.  They actually maintain those five separate Glade Parks for skiers and snowboarders to hit from the top of the mountain to the very bottom.  Unfortunately, when I made the trip, we were in spring conditions, and the Glade Trails were not open.
Since I last skied Seven Springs, the popularity of terrain parks has exploded, and the mountain has responded by adding six terrain parks, with the "The Spot" terrain park being recognized world-wide.  Seven Springs did it the right way by offering terrain parks that start with the basics with simple features to gradually increase the features' size and difficulty to the advanced and expert level.   Each terrain park provides different levels of difficulty that skiers and riders can find to fit their appropriate skill level.
One very cool thing I did while I was visiting Seven Springs was to ski a trail that I never had the opportunity to do before.  When I was still in school, I almost always skied at Seven Springs at night.  I always wondered why that one trail was never open and I always like skiing every trail at mountains I visit and I never had the chance to ski that trail because it was never open!  I was then told by a local why I never had the opportunity to ski that trail; there is no lighting on the course, which is why it is always closed at night.
Being at Seven Springs for the first time in twenty years and also skiing during the day, there was no way I was not going to hit that trail.  The trail is called, "Lost Girl" and is a beginner slope located in the North Face Complex.  It is one of the longer trails at Seven Springs, and it is windy, fast, and is a lot of fun!  I would almost consider it an intermediate slope due to some of the speed you could pick up going down the trail while feeling the compression in some of the turns throughout the run.  It may sound a little silly, but being able to finally ski that trail after skiing at Seven Springs throughout the '90s and never being able to ski that trail actually really made my trip seem so much more complete.
Upon wrapping on my trip to Seven Springs Mountain Resort I definitely have nothing but great new memories in my mind.  We had great spring conditions for skiing and riding, and the mountain held up really well considering the warmer temps they had the previous week.  It was great to see my "Hometown" Mountain doing so well and knowing that its future is very bright!  Seven Springs seems to do things the right way, and not only that, but they exceed the standard and take it to another level.
For example, they have heated steps for skiers/riders to walk down so the steps are safer to walk down or climb.  I've skied eastern PA, the Poconos, Central PA and now I'm in western PA and this is the first resort that I've seen heated steps this season.  In a time where locker rooms are closed due to COVID and skiers and riders have been forced to literally change into their ski/board attire at their vehicles and then have to walk down a flight or more of stairs in snow and ice. This is small, but the attention to detail and thinking of the clientele and what their needs are mean so much.
Another example that may seem small but is important to the one person that may witness it is that of keeping the fire going.  I was walking through the one section of the main lodge where most of the dining areas were located at.  This is midweek, spring conditions, and it was raining outside, and add COVID, so it was a little slow.  However, the attention to detail that I mentioned earlier in the article could not be more exemplified than having fresh logs on the fire and keeping that fire going even though, for the moment… times are a little slow.  That's where Seven Springs separates itself from other resorts and rises to the top.
Seven Springs Mountain Resort is a destination spot in PA for any serious winter sports enthusiasts should visit, and is one of the premier mountain resorts in the East.  They sit at the top regarding trails, features, terrain parks, amenities, and a huge list of other winter and year-round activities they provide!  Trust me when I tell you that the fire will be burning when you visit them!
Check out everything that Seven Springs Mountain Resort has to offer.
Special thanks to Alex Moser, Director of Marketing and Communications at Seven Springs, for assisting me on my visit.