If you look at a map of California, you'll see that Highway 4 can take you from East to West, or vice versa, across the Sierra Nevada. Ebbett's Pass, however,  is not plowed during the winter, rendering the road impassable. Nestled 1/2 mile from the end of that highway, on the Western slopes of the Sierra Nevada Mountains, are Bear Valley village and Bear Valley Mountain Resort.
The 8500′ summit splits the ski mountain base and the village. The ski area services over 1,600 acres of skiable terrain with a pretty even split between beginner, intermediate, and advanced runs, and a few expert ones too. With one parking lot and one lodge, it is nearly impossible to get lost. So many families, mine included, encourage their kids to explore without parental supervision. I often encounter groups of kids looking for rocks or cliffs to jump from, riding their first rail in the terrain park, and racing each other to the bottom of a run, savoring their independence. While this atmosphere likely exists at many ski areas, it underscores a unique community aspect of Bear Valley.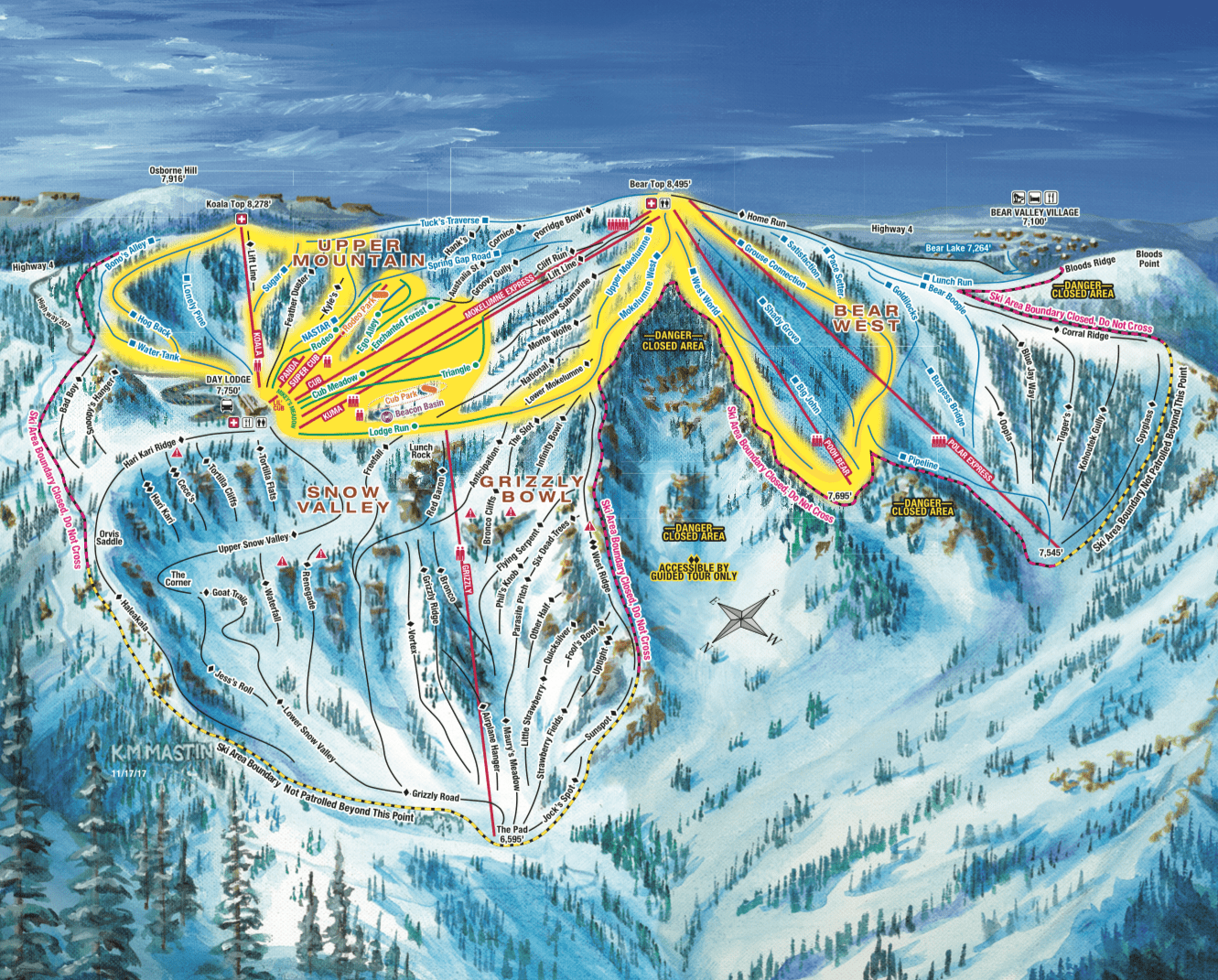 One hundred year-round residents and a number of families with second homes share their mountain town with seasonal employees and visitors from away. So I may know those kids I see skiing alone. Their parents may be co-workers of mine or I may recognize them from the race team. Make a few visits to the gas station and you'll be greeted by name next time you walk in. Talk to someone on the chairlift and you're likely to find a connection, maybe even have a mutual friend. Walk around town and you'll see a number of dogs wandering solo, no owner in sight. Bear Valley is the kind of place that, once discovered, many return to year after year. Some never leave. Those of us who call this community home relish the lack of lift lines, traffic jams, city lights, and sounds found at many other resorts.
The village side of Bear Valley boasts a rustic lodge, a cooperatively owned cross-country ski center, restaurants, massage studio, grocery store, cabins, and condos. Not much is missing, save lines and crowds. Access 70km of groomed cross country and snowshoe trails, rent a snowmobile, ski empty backcountry terrain. Go tubing, enjoy an apres-ski meal in the meadow, picnic at a scenic vista. Participate in a number of winter events, including NASTAR ski races, a cross country ski festival, pond skimming, wine tastings, and a torchlight parade. There is something here for everyone, and enough to keep you entertained on a more budget-friendly mini vacation.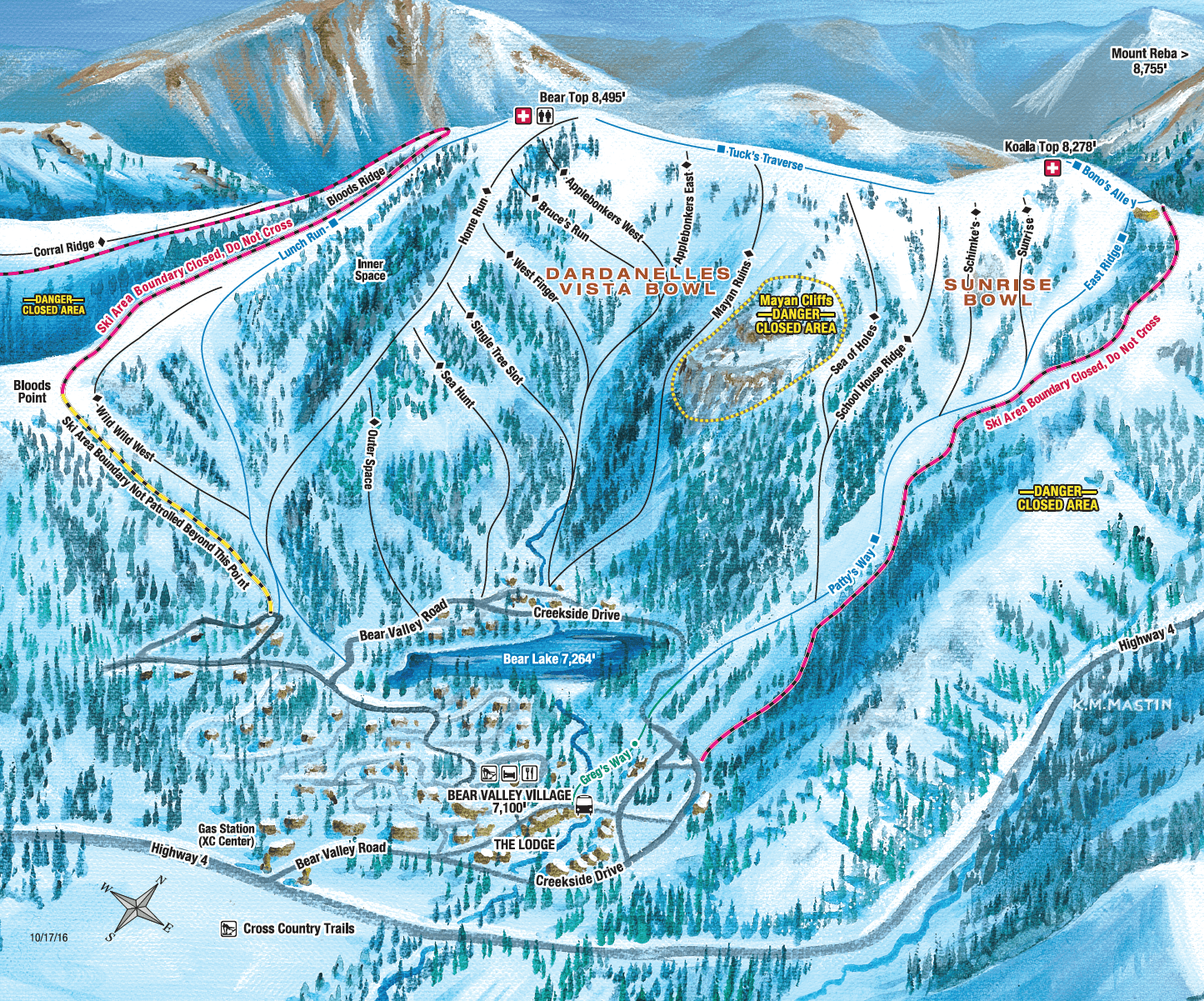 Bear Valley remains a vacation destination during other seasons as well. Go mountain biking, trail running or hiking on a number of singletrack trails. Access off-roading terrain. Fish, canoe, lounge next to an alpine lake. Again, without the crowds. Camping, glamping, hotels, or house rentals provide plenty of lodging options. And once the snow melts, you can follow the map, and drive from one side of the Sierra's to the other.
Approximately halfway between Kirkwood and the Northern border of Yosemite National Park, you won't accidentally stumble upon Bear Valley. It is a true vacation destination, with downhill skiing just one activity of many during the winter months. With many mid-week deals on ski tickets, ski lesson packages, and affordable housing options, why not visit, and see if this little mountain town works for you. And if you want to take a ski lesson this 2020 season, request me as your instructor! I'll appreciate you, and give you a high five, if you want one.
Bear Valley Mountain Resort and Bear Valley Adventure Company have more information about this California adventure community.