When someone mentions skiing in California, most people think of the obvious two options: Lake Tahoe for those in the north and Mammoth for those in the south.  There is, however, a haven for us skiers that reside in Central California.  Let's just say we don't make the trip to the big-names for a reason: we have all we need right here at China Peak!  
China Peak overlooks the beautiful Huntington Lake about 65 miles northeast of Fresno, which makes it a mere one-and-a-half-hour drive.  A lot of people—myself included—actually enjoy the drive because of the beauty and stoke you experience during it. One part of the drive, "the four lane," grants you access to a hillside view of the valley below. It really lets that California sunset shine. 
Remember the stoke I mentioned earlier?  How could you not be stoked after a day at China Peak, which involves skiing on—or in-between—the 47 named trails across 1,200 acres of skiable terrain with 1,679 feet of vertical rise .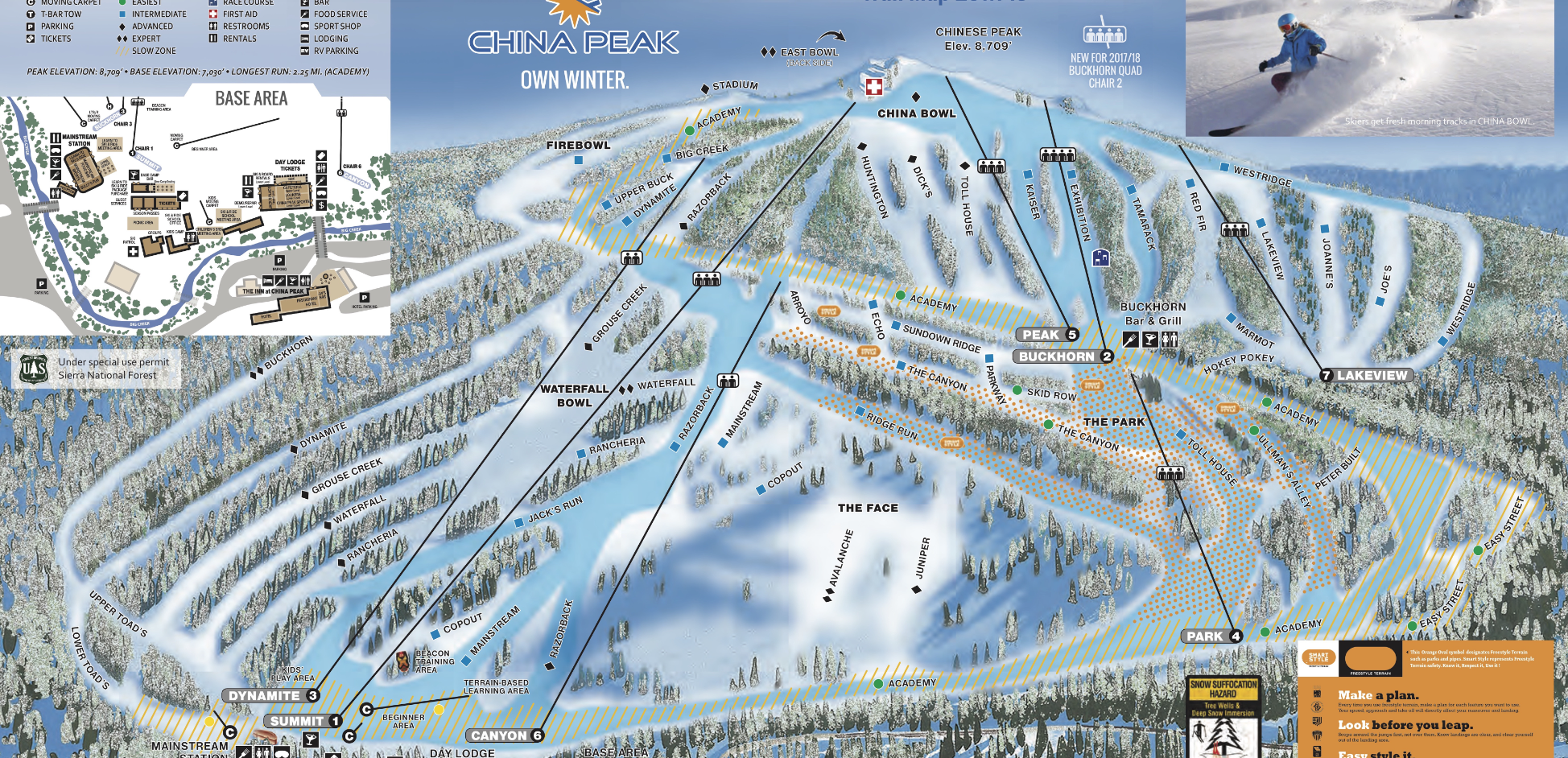 How are the trails? Incredible, no doubt about that. China Peak's staple run, Academy, is loads of fun, beginner run or not.  It goes for 2.5 miles from top to bottom, serviced by Chair 1.  This is where most of the "traffic" lies.  China Peak's definition of "traffic" differs from that of most other resorts.  No need to weave in and out of people here! On the other hand, if you're looking for something steep, or even some cliffs, The Face is just for you. (Bonus: there is typically powder here for many, many days after a storm.)
How about off-trail? Now you're talking. My first experience off-trail was all the way to the skier's left of Westridge, which quickly became my definition of the perfect skiing. Little did I know that was just the door into a whole new world of skiing at China Peak. As I was riding Chair 1 up the hill after one of China Peak's no-joke storms, I decided to ski the trees right under it back down.  Ever since, this has been my go-to run, and it never fails to make my day. And my week. And my year.  
There's no doubt that the mountain is where the real fun is. However, beginners can feel right at home at China Peak, and they will progress in no time with all that China Peak offers.  Looking back to when I was about 4 or 5, I spent my first couple years strictly on the beginner slopes and doing lessons.  The ski instructors accomplished exactly what every beginner needs: setting the foundation for skiing while not pushing them to the point that they never want to ski again.
If you have the willpower to take a break from skiing during the lift-spinning hours, there are some really great options. The Buckhorn Bar and Grill has my favorite burger of all-time: the Hawaiian Punch.  Not hungry?  It's worth stopping by just to soak in the magic of Buckhorn's deck.  If you're lucky, there'll even be some dance-worthy live music!  If you stay after hours, the Inn will provide you with a legitimate mountain lodge experience. Between JW's Original Bar, the restaurant, and the incredible atmosphere, you won't want to head back to civilization anytime soon.  China Peak truly gives you the local feel that accompanies skiing so, so well!