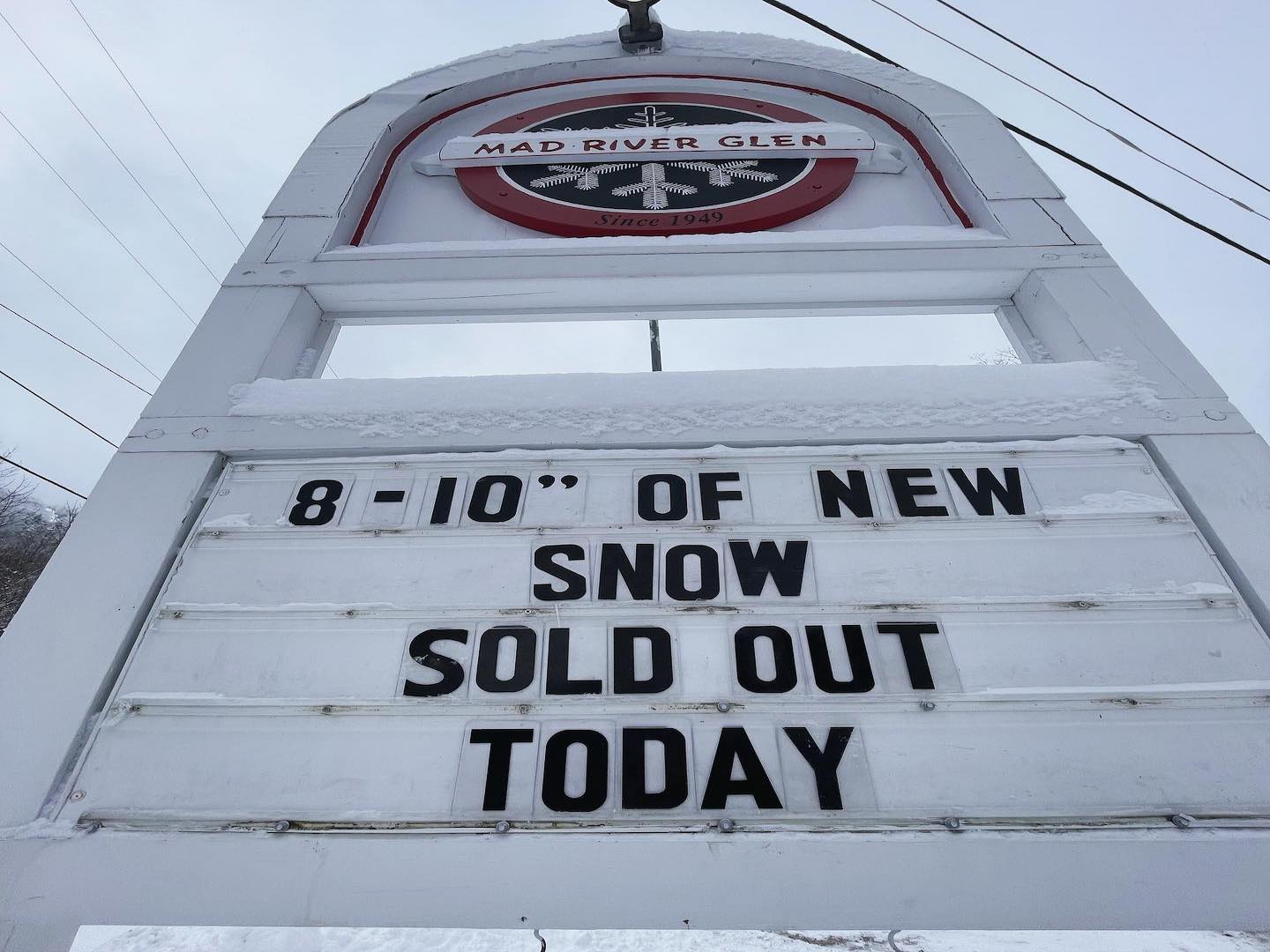 Skiing is an exercise in putting oneself at the mercy of Mother Nature, and no mountain better embodies this spirit than Mad River Glen, VT. It is classic New England skiing: rugged, ungroomed terrain, narrowly cut trails, and minimal man-made snow. Skiers may easily have either the most humbling or epic day of their life, depending on the conditions at America's only cooperatively owned slope in Vermont's Mad River Valley.
Mountain operations at Mad River Glen are truly unique. Its 2,037 feet of vertical drop are accessible to skiers (no snowboarding allowed) via only single and double chair lifts. Mad River Glen's single chair is the last of its kind in operation in the lower 48 states and is the fastest fixed-grip-chair in the United States. The mountain has 53 marked trails and infinite potential off the beaten path.
Anyone who lives in New England or any respectable ski town out west has undoubtedly seen the iconic red and white bumper sticker:

The meaning of this slogan has changed for me as I have grown as a skier. As a kid, it felt like a challenge. Watching locals zipper down Chute and Lift Line, airing cliffs, and showing off for the lonesome single-chair riders, was terrifying yet inspiring. It made me want to get better.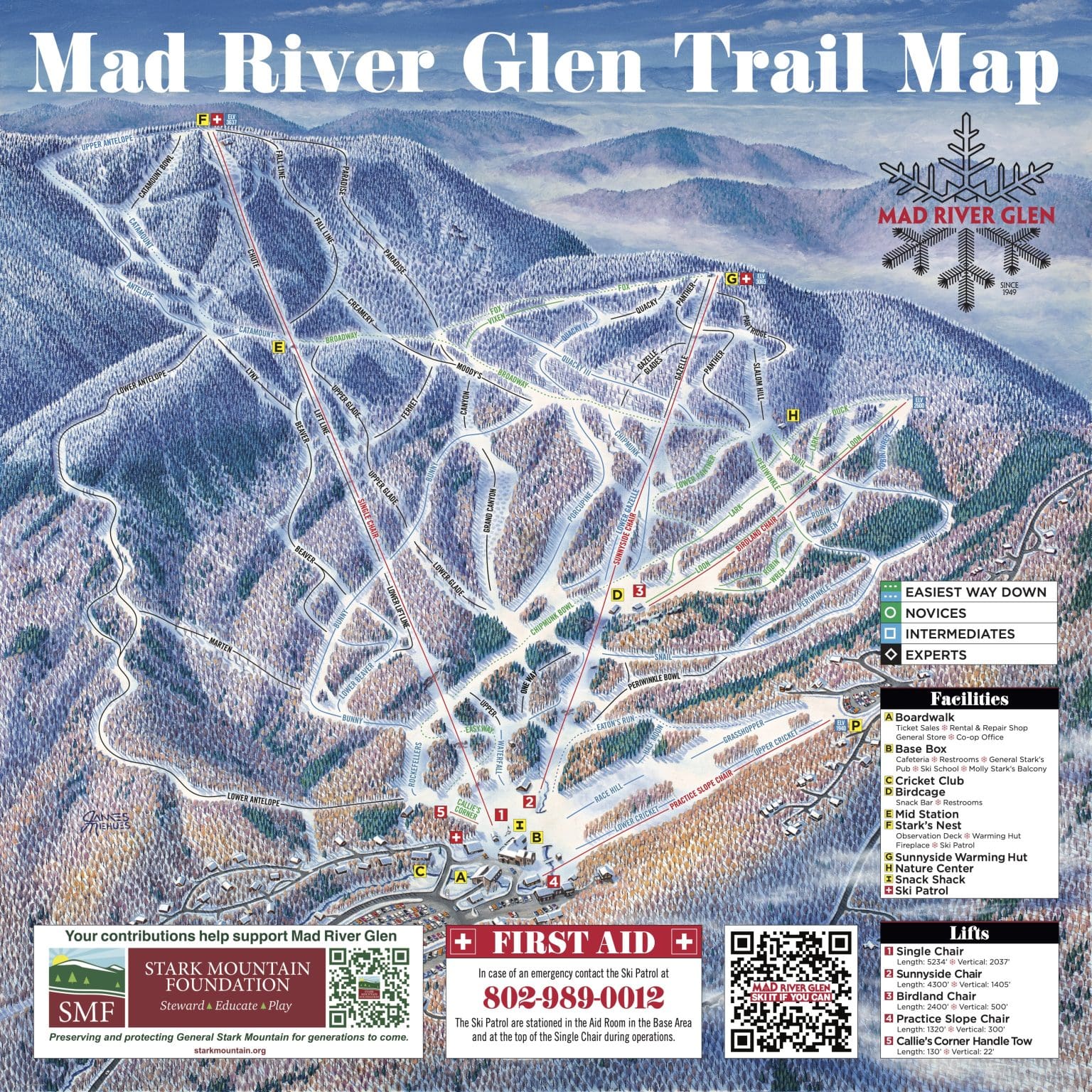 As I've gotten older, I see it more as an invitation. If the lifts are spinning, there is nowhere else I would rather ski in New England. Sure, you may need to take your skis off and walk through a hundred-yard long dirt patch. Maybe you'll lose an edge on some boilerplate and go barreling toward the void. But that's what makes you a better skier. It prepares you for those days when the mountain is firing and makes you appreciate them even more.
The energy at Mad River Glen is simply magical. The mountain feels like it is frozen in time, yet its terrain, conditions, and die-hard community develop the shredders of the future. You are afforded a spectacular view of the peaks just before approaching the parking lot. You boot up in the lodge and leave your bags in a cubby or under a table. You load up on the single chair and watch the show beneath you as you ascend. You can hear the mid-station before you see it. Brian Aust has been curating good vibes the entire time I have been skiing at Mad River Glen. Listening to the Grateful Dead improvise as you begin the final push to the summit is a feeling every skier should experience at least once.
And all of a sudden, you are at the top. You can climb to the right to Fall Line and Paradise or skate to the left and pick out numerous descents. The trails and glades are never crowded (because it's a single chair, duh), and the runs are long, some feel endless. The entire mountain is a playground, and exploration is imperative.
The skiing, community, and spirit at Mad River Glen are unparalleled. Mountains like this one are a dying breed, yet it is blatantly obvious to anyone who has experienced it why Mad River Glen will always remain a cornerstone of winter sports culture. If you can ski it, you really should.