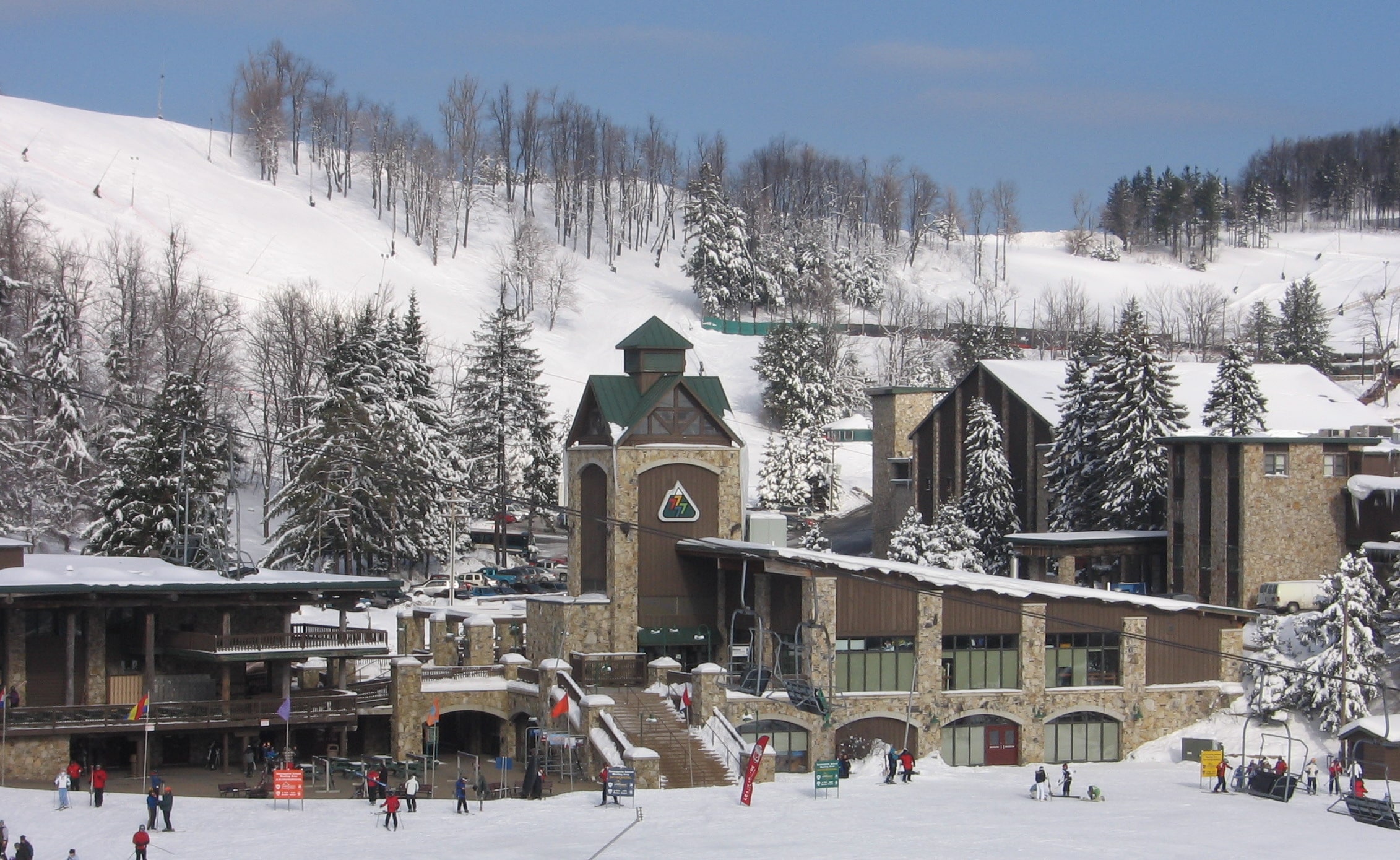 Background
Quietly nestled in the western Appalachian Mountains of Pennsylvania and within scenic view of the Laurel Highlands lies a true mountain resort.  Better known by locals as "The Springs", Seven Springs Mountain Resort (SSMR) is my hometown favorite and where I grew up skiing.
Mountain Profile
Originally founded in 1932 by the Dupre family, and less than an hour's drive southeast of Pittsburgh, SSMR attracts all types of skiers and snowboarders. With its huge variety of skiable terrain spread out over 285 acres and a vertical height exceeding 750ft. (2994 ft top, 2240 ft. base) SSRM offers something for everyone.  Blanketed by an average annual snowfall of 140″, the resort boasts 33 different trails, 11 lifts, 7 terrain parks, 2 half pipes, and one of the most advanced snowmaking systems on the East Coast, making for an enjoyable, consistent riding season.
SSMR fully complements its skiable acreage with a number of other winter activities including; ski school, night skiing, snowtubing, snowmobiling, snowshoeing, and more. To support and grow the sport and keep stoke at a high level, SSRM also hosts a series of race events each season including, Mud on the Mountain, Brewski Fest, Fireworks and Food Trucks, Rib & Wing Festival, Wine Festival, Autumnfest, and the annual Pond Skim.
Hometown Perspective
Growing up in the area, I grew accustomed to variable snow conditions and inclement weather patterns. It wasn't surprising to see it go from snow >> rain >> ice >> snow all in the same afternoon!  These types of challenging conditions and icy, hard pack however can lead you to become a better skier, especially if you want to stay upright!  On these hardpack or variable types of days, it's fun to ski laps down Avalanche or the steeper, double black line Goose Bumps off the Front Face. Just pick your line and go!
On a good powder day, however, you might want to arrive early and park in the North Lot. Ski down to and take the Blitzen lift to access Alpine Meadows Glades directly under the chair.  It's a short, but steep double black slope that's perfect for glade skiing. Without the crowds it can be an all-day adventure.  When this gets tracked out then we head over and take "power laps" down Giant Steps or try for fresh tracks under Gunnar lift.
Après Fun
When you are ready to end your day don't miss out on one of the best après celebrations in Western Pennsylvania. The Foggy Goggle is host to a fun-filled atmosphere with tasty, locally crafted drinks and hearty food. And if that doesn't work for you then the "après tailgate du jour" in The North parking lot always has something to offer a friendly traveler!
With this fun to be had, it's no wonder why so many skiers and riders enjoy Seven Springs Mountain Resort. Now, maybe you can too!