*DISCLAIMER: This video is graphic.*
It's every skier's worst nightmare. Something wrong happens on the tram. You and the other skiers you're about to die with are suddenly suspended in freefall—slamming against the ceiling as the entire tram plunges to the ground hundreds of feet below.
14 people, including a nine-year-old boy, were killed on May 23, 2021, when a cable car plummeted 65-feet into the side of the Mottarone mountain near Lake Maggiore in northern Italy. The tragedy happened near the top of the twenty-minute service taking passengers from the resort town of Stresa up the nearby 4,900-foot Mottarone mountain in the region of Piedmont. The peak overlooks Lake Maggiore and offers breathtaking views of the Alps.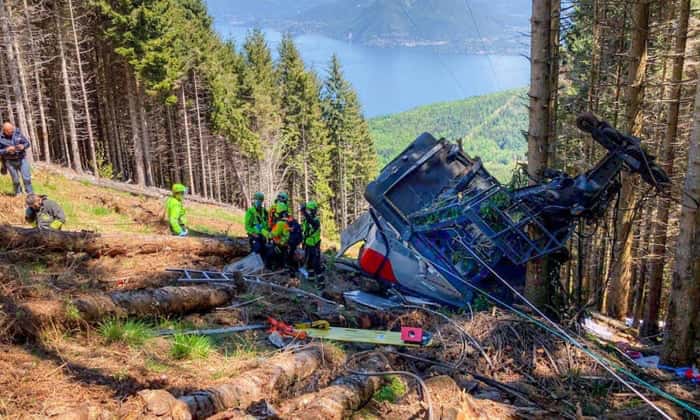 Investigators say the emergency brakes had been deliberately disabled and the three members of the operating company—the owner, director, and chief of operations of the company that managed the cable car—were aware.
According to a local transport official, the brake failure meant the car was traveling at over 100km/h (62 mph) when the cable broke. It appears that when the cable snapped, the cabin, carrying 15 people, careened until it hit a pylon and fell to the ground, rolled over, and then slid down the mountain slope before being stopped by trees. Officials said some of the casualties were found trapped inside the car, with others thrown into the surrounding woods.
The sole survivor of the accident was Eitan Biran, a five-year-old Israeli critically injured with brain trauma and broken legs, BBC News reports. Local authorities report that his father shielded him from the impact as the car fell, which is likely why he is the only survivor. His parents, great-grandparents, and younger brother were all killed in the crash. Prosecutors are carrying out an investigation into suspected involuntary homicide and negligence.
https://twitter.com/Jerusalem_Post/status/1405284771756875777?s=20