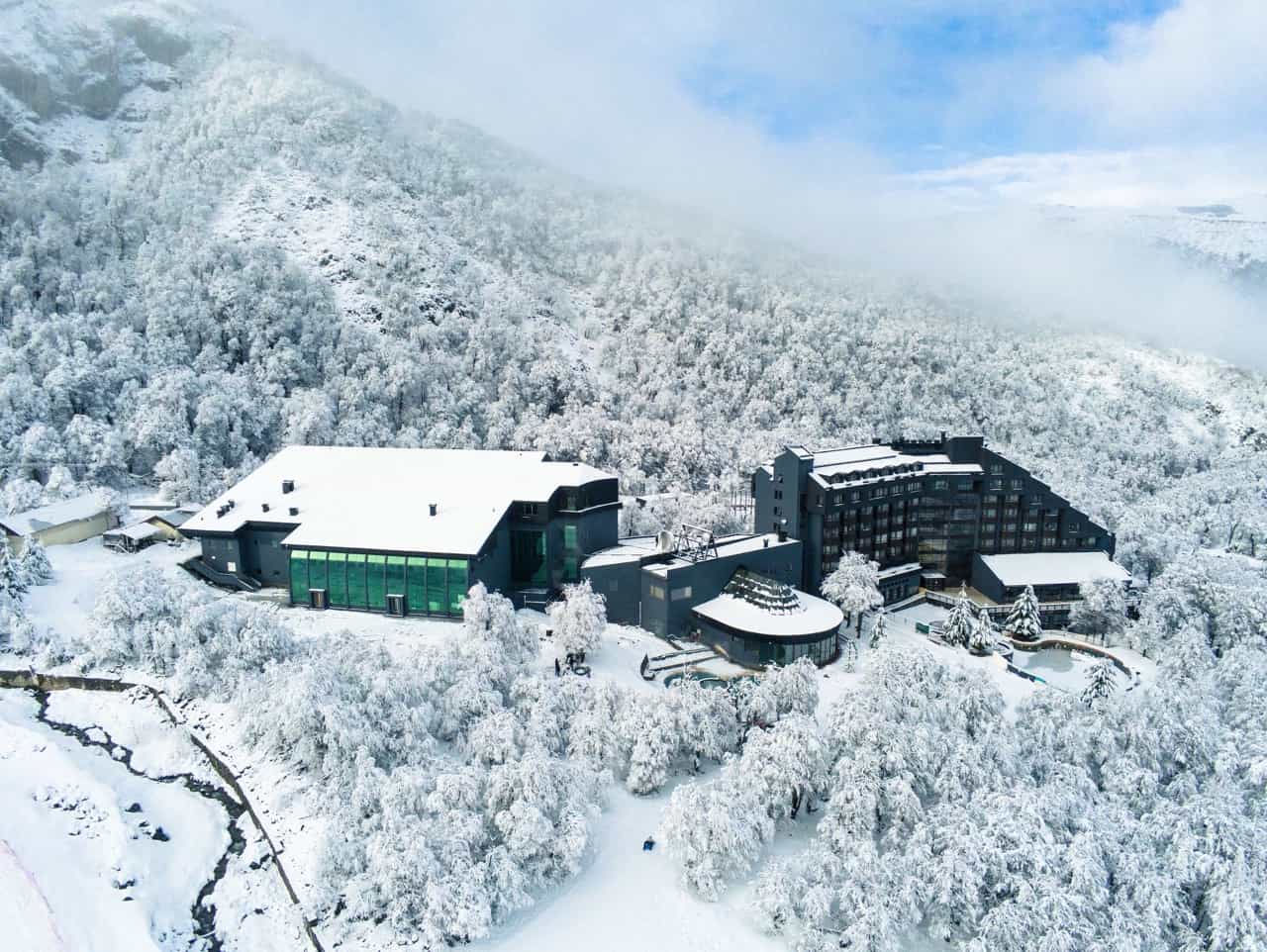 From June 24th through September 30th, guests of South America's most luxurious ski resort will be able to enjoy snow sports amidst Chilean mountains
Located at the Andean foothills, Hotel Termas Chillán announces it will be open from June 24th through September 30th for the 2023 southern hemisphere ski season. Considered one of the most luxurious mountain hotels in Chile, the 60,000 sq. ft. ski-in/ski-out resort is nestled in the heart of Termas de Chillán, famous for its soothing thermal hot springs. Winter sports enthusiasts will enjoy the most varied skiable terrain in the country, with above-treeline powder bowls, natural half pipes, off-piste trails, and South America's longest ski run: the eight-mile Las Tres Marias.
Originally opened in 1997, Hotel Termas Chillán underwent a complete renovation in 2019 for the facilities and the brand. Drawing inspiration from the imposing forest surrounding the resort, architect Rodrigo Caldera and interior designer Ricardo Cuevas undertook a dramatic visual and functional transformation catering to the discerning traveler while capturing the woodsy characteristics of the destination. Sustainable materials such as native wood, stones from the valley itself, and Chilean copper bring the outdoor landscape inside – while the use of artisanal crafts and pieces to furnish the property gives it a distinct Chilean personality.
"Today, Hotel Termas Chillán is both cozier and more upscale while maintaining an authentic Chilean identity, designed so that visitors can live one of the best mountain vacations that can be offered in our country. The area is privileged for its natural environment that is not found in other areas of Chile. With the hotel, we're committed to elevating the guest experience while boosting the destination's tourism, which is the foundation for our new brand."

– Jose Francisco Munoz, General Manager of Hotel Termas Chillán
The 113 serene guest rooms and suites were thoughtfully redesigned between the forest and the mountain to provide the utmost peace and absolute comfort. Nature itself gives each of these private sanctuaries a uniquely rustic yet sophisticated style, while modern touches cater to travelers' every need.
Exquisitely decorated with branches, the in-house Arboleda restaurant emphasizes the concept of eating under the trees. Diners can access gourmet seasonal dishes using the freshest, most exceptional local ingredients for breakfast, lunch, and dinner. The resort's experienced chefs create classic and inventive dishes that reflect the nobility of the mountain, ensuring multi-sensory culinary memories at every meal. Bar La Grieta further elevates the Termas de Chillán gastronomic journey with craft cocktails and top locavore delights. Muffin Café fuels guests with fresh coffee, hot chocolate, and delicious carry-away selections and small bites.
Guests are invited to unwind at the three-floor Alunco, one of the country's largest spas. Named after the reflection of water, the design was inspired by hidden lagoons found in mountains, demonstrated through the entire construction, including cracks in the walls in reference to the typical mosses of the mountain walls. Featuring a heated indoor/outdoor pool, hydrotherapy, steam room, sauna, Scottish showers, yoga space, and two floors full of massage rooms, visitors can indulge in a state of well-being, connection, and plenitude. A varied menu of services includes over 25 massages, facials, and body treatments with premier local ingredients, such as mud baths with volcanic ashes and private jacuzzis with salt therapy.
As a ski-in/ski-out resort, guests leave the equipment rental room ready to face the mountain's 17 lifts. Instructors are available for both children and adults throughout their stay. For those who prefer alternative activities, the resort organizes a wide range of complimentary programming, inclusive of hiking with snowshoes, painting classes, snow games, coffee tasting, aqua-gym, and visits to nearby thermal baths. Snowmobiling is available at an additional cost.
Rates per person per night start at $700 in June and July, $600 in August, and $500 in September and includes accommodations, lift tickets, meals, organized activities, kids club, and access to the spa's pool, sauna, jacuzzi, and steam rooms. Special rates are available for children under 12.
Located just 300 miles south of Santiago, recommended routes to Hotel Termas Chillán include:
By airplane: Take a 50-minute flight from Santiago to Concepción airport. From here, travelers can book a direct car transfer to the hotel (2:30 hours).
By train: Take the train at Santiago ́s central railway station to Chillán city (approximately 4:30 hours). On arrival, travelers can book a direct transfer to the hotel (around 90 minutes).
By car: Drive south on Route 5 highway until Chillán City (250 miles south of Santiago). From Chillán city, take Route N-55 for around 75 minutes directly to Kilometer 80, where Termas Chillán Hotel is located.
For more information, visit https://termaschillan.cl/en/.