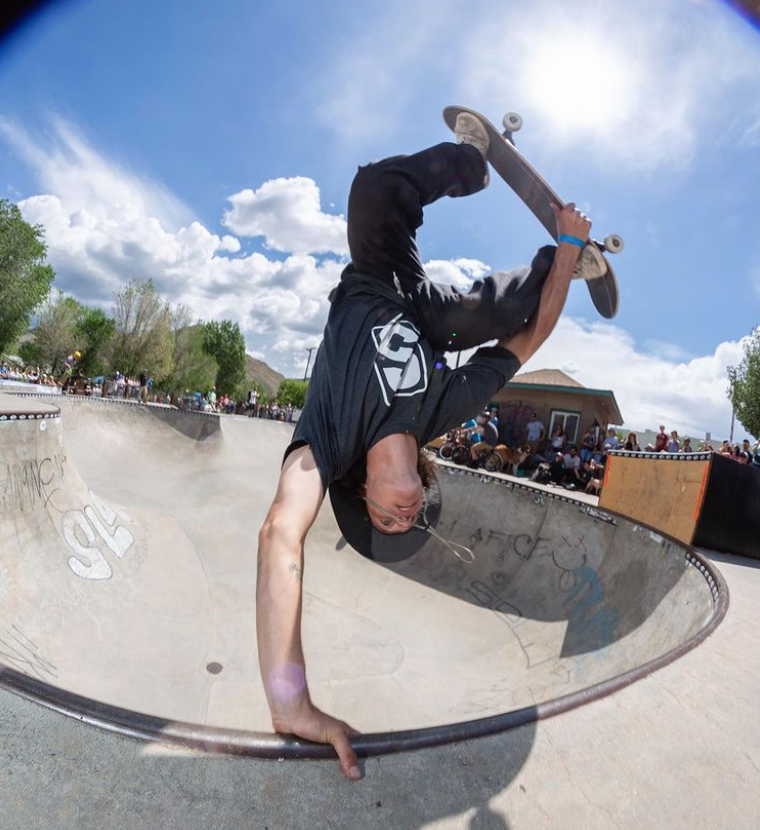 Salida, Colorado is a homely ski town of about 7,000 with a wide-open, western, rancher feel. It's got big mountains right next to it and is home to ski area Monarch Mountain and nearby backcountry haven Monarch Pass. But little do most people know that it's also a skate town.
"I don't think everybody knows that," Derek Scott said over the phone. Scott is one of two professional skateboarders to come out of Salida in the past decade. According to Scott, the central Colorado town has a rapidly growing community of young skateboarders. This is why he decided to replace Salida's old skatepark, which has been there for over 20 years, with a new, state-of-the-art one.
"Ever since we were little kids we wanted a new skatepark," Scott said. "We were super blessed to even have a skatepark but as we grew up and started taking skateboarding more seriously, growing within the sport, we decided we needed a new one."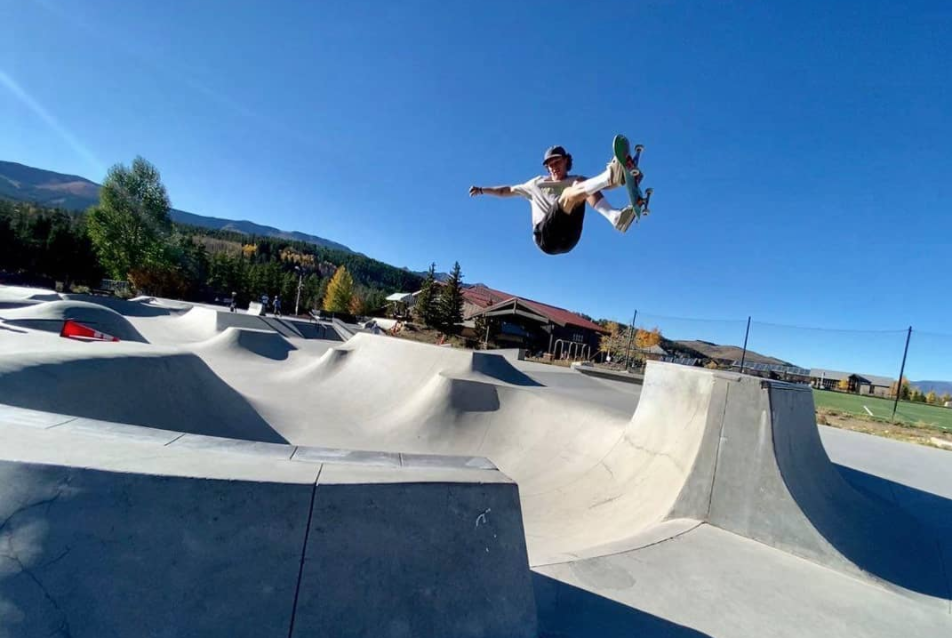 Scott grew up skating in Salida and he's been a professional skateboarder since he was 15. He's 24 now, has various sponsors, and owns his own skateboard company, Rivertown Skateboards. Skateboarding is a huge part of his life, and he says he'd be lost without it. So on top of the new skatepark being a lifelong dream of his, Scott believes that it will serve as a path for Salida's young skateboarders to progress their skills even further. He also thinks the town itself will gain more recognition as a skateboarding destination and in turn, bring in more visitors because of it.
"I want to give Salida and the kids the recognition they need to take their skateboarding to the place they want. Building kids' futures is a huge thing I think it's going to do. I also think it'll bring more skate competitions to Salida—it'll bring the skate industry to our hometown, which hasn't really been here recently," Scott said.
It started as an idea when he and professional Salida skateboarder Shea Donovan were kids. Then they started to actualize it. In 2019, Scott posted to a Salida community Facebook page asking what people thought about having a new skatepark in town. "We got a lot of great feedback and a lot of people interested in the skatepark," Scott said. That's when he went ahead and made a presentation, detailing plans for a new, community-backed skatepark, and showed it to Salida's mayor and city council.
"We made the presentation in front of the city council," Scott said. "They thought it was a good idea, but just like with other city projects that get brought up, it started to get lost in translation. They really relied on us to stay on top of the project. And that's exactly what we did."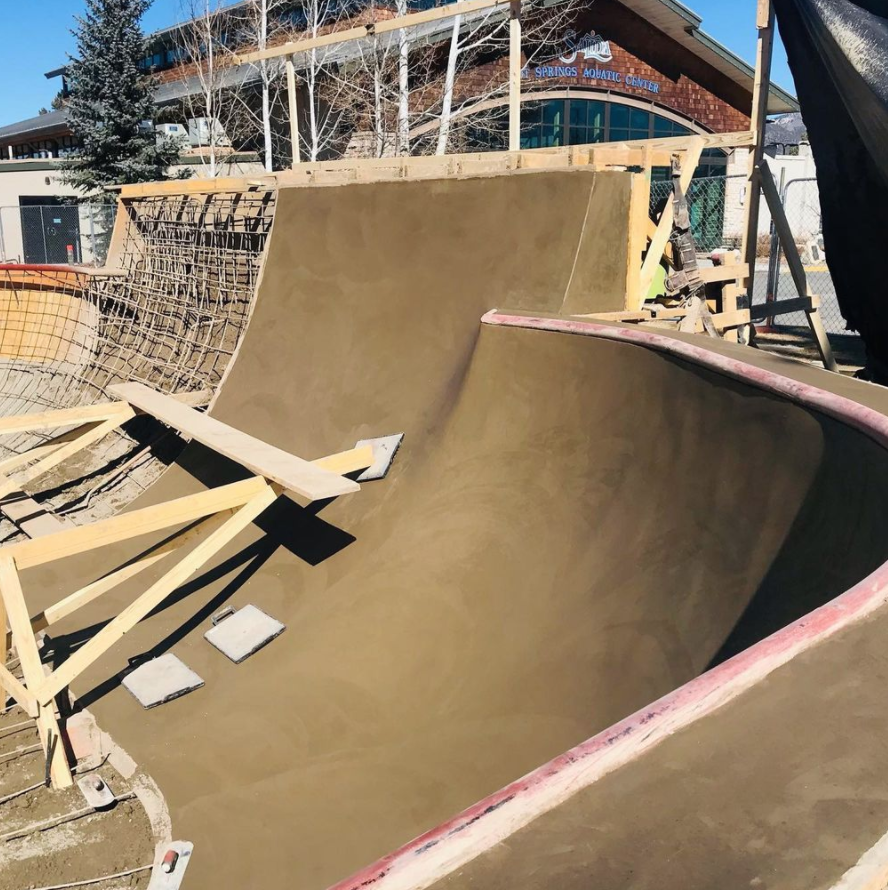 Scott said that after getting approval from the city council, he and a group of passionate locals from Salida started a persistent series of fundraisers to raise money for the skatepark. They held beer and wine festivals, halfpipe competitions, online fundraisers—anything they could think of to raise money for their project. Scott and the community ended up raising somewhere around $30,000 from grass-roots fundraisers. They wanted a new skatepark and they wanted it bad.
That 30K really showed that people were in support of the skatepark. Scott then applied for a grant from Great Outdoors Colorado, which is referred to as a "GOCO" grant. He applied for $350,000 for the GOCO grant and asked the city of Salida to match their grant if they ended up getting it.
They ended up getting it.
"Once we got the GOCO grant, the city backed that up and then we got all the funds right then and there. Then it was build time," Scott said.
View this post on Instagram
Scott and his crew chose Grindline Skateparks as their builder and spent the following months working closely with them on the design. He, Donovan, and the community had a huge role in what they wanted in their skatepark's design. They agreed upon a 60% transition style with the remaining 40% as street style. Scott says the park's biggest focal point is the pro bowl, which will be about 10-feet deep on the deep end. He says it's more of a competition-style bowl you see in qualifier competitions and even the Olympics.
"It's more of a replica of those style bowls that we're seeing now with a bunch of hip transfers, gaps—so many different things that can be done in a single bowl instead of just being a big circle, you know?" Scott said.
The park's big bowl will be where the competitions are held. It'll also have a street section consisting of rails and obstacles which cut through the middle of the park, rolling around to its outside. The north end of the park will also have a smaller bowl for beginner skaters to learn or take lessons.
View this post on Instagram
As of now, the skatepark is in the "pouring concrete phase," Scott says, and they're pouring more concrete every day as Salida transitions out of winter and the weather gets nicer. Scott hopes to be skating in it by summertime, but there isn't a fixed completion date, as usual with large, community-backed construction projects. But above all else, Scott is really just excited to see his childhood dream come to fruition.
"Dude, I'm just excited to skate with everybody," Scott said. "I'm excited to have people line up around the skate park and actually come look and see all the action going down. I'm excited for the sessions that everybody's about to be a part of. I'm excited for the contests. I'm excited to showcase Salida to my friends who travel from out of town to skate. There's so much to do here: there's rafting, there's cliff jumping, there's hiking, there's biking—there's so much to do here so it's kind of the perfect place to have another actions sports park."
Scott ended the interviewing by saying he was going skating, heading out to teach his first skateboard lesson of the year now that it's warm out again in Salida. Hopefully, in a few hard-working months, he'll be skating around in that shiny new skatepark of his.
View this post on Instagram