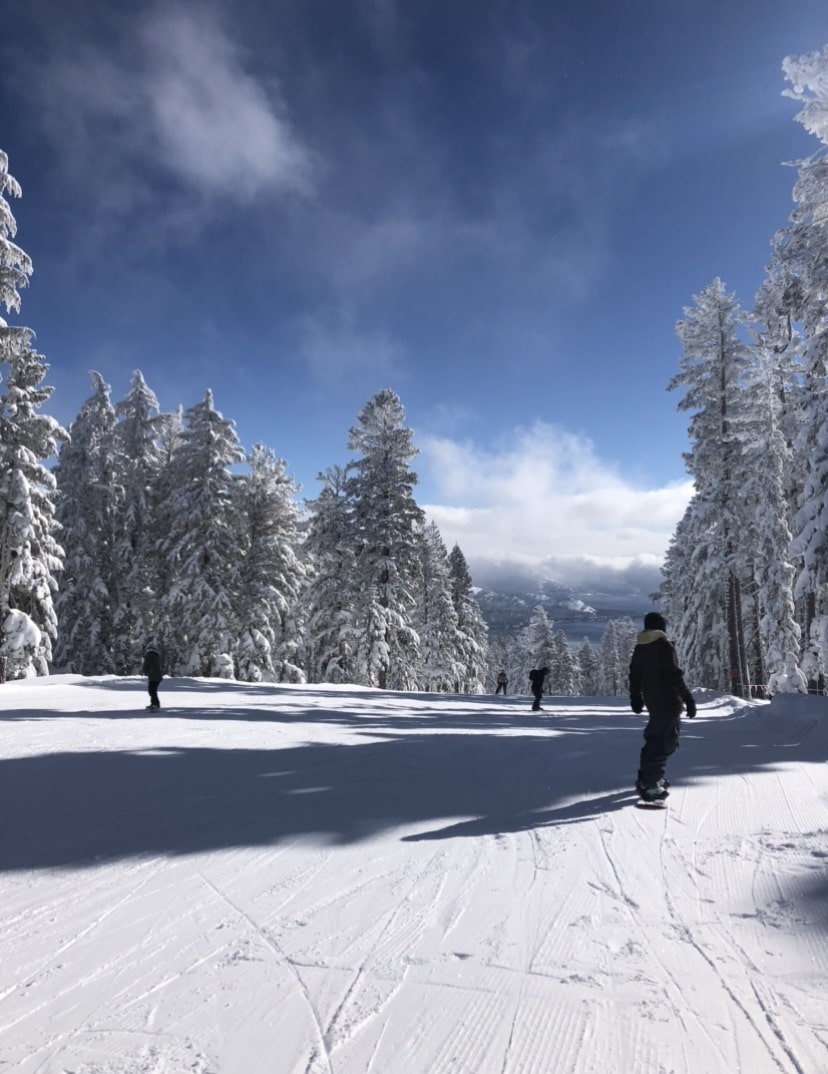 Imagine the feeling of waking up after a snowstorm. Outside it's cold, quiet, crisp. There are mounds of snow covering trees, no color but the bright white to be found; it feels like an absolute winter wonderland. You grab your skis or board, you get in the car, and you head to your favorite ski mountain. You quickly get in line and head up the chair to the run you enjoy most. The snow sparkles as the sunlight reflects. You get fresh tracks on the newly fallen powder. Every skier's dream. Though this is able to be a reality, the emissions of carbon dioxide are affecting our climate. From everyday actions including driving a car, all the way to burning fossil fuels, emitting carbon into our atmosphere is impossible to stop.
Snowfall is vastly important for keeping our earth at the cooler temperature we seek to maintain and produce water supply to many communities. Through the impact of climate change, we watch it affect overall snowfall accumulations, we leave communities reliant on snow to struggle, we see the winter economy encounter challenges, and we recognize ski resorts' efforts to do their part by finding ways to reduce carbon emissions. Without snowfall, we leave communities reliant on snow to struggle, income to plummet, jobs to be lost, and perfect paradise winters being turned into a faded past.
Since 1896, according to the United States Environmental Protection Agency, temperatures across 48 states have continued to increase. Average winter temperatures have increased by around 3°F, spring temperatures by 2°F, and summer and fall by 1.4°F. These warmer temperatures promote more water to be evaporated from oceans and land. With more water being evaporated, this causes larger storms, more precipitation, and an overall imbalance in precipitation levels. Rain accumulations increase and snowfall can alter into more precipitation. Viewing precipitation levels since 1901, there has been an average increase of 0.1 inches per decade. The increase in rainfall leads to longer shoulder seasons, decreasing the overall snowfall sum. As said in a report from climatecentral.org, "research [that] included more Western states found that snowpack at higher elevations in the Western U.S. has decreased by 41%, or an area the size of South Carolina, from 1982 to 2016."(Climate Central). Snowfall is vital to our environment and economy. As we as humans continue to release carbon into the atmosphere we generate unpredictable weather patterns; creating heavier, more intense storms, floods, and heatwaves. We bring uncertainty to our future winters originating from humans.
Snowfall also has an inescapable impact on tourism and snow sports equipment purchases in the winter economy. Protect Our Winters explains how over 20 million people engaged in downhill skiing, snowboarding, and snowmobiling during the 2015-2016 winter season, totaling 52.8 million skiing and boarding days and 11.6 million snowmobile days. Snowsports enthusiasts contributed $20.3 billion in economic value to the United States economy by spending money at ski resorts, hotels, restaurants, pubs, grocery stores, and gas stations. Tourist destinations and resorts are significantly dependent on a higher level of income.
If it were a good snow year, participants would feel more inclined to engage in snowsports. During five of these better snow years between 2001-2016, participation climbed by 3.8 million. An additional $692.9 million was allocated for greater snow years, and 11,800 jobs were presented. However, let's pretend it was a terrible snow year; there was little snow, it melted quickly, and the ground was patchy and slushy. During the five lowest snow years between 2001 and 2016, the number of people visiting ski resorts declined by 5.5 million compared to an average year. This resulted in a loss of almost $1 billion in revenue and the loss of 17,400 jobs. 
Temperatures are rising, and carbon dioxide levels are growing, putting our winters in jeopardy. Decreasing the amount and quality of our snow by creating a warmer and wetter atmosphere. The more our planet suffers as a result of human actions, people's employment, sources of income, and favorite pastimes will soon become obsolete.
Ski resorts all around the world are investing in modern technologies to lower their carbon footprint in order to combat climate change. We all want to continue our hobbies and joy for winter sports, and with the help of ski resorts we are able to take small steps in a positive direction, whether it's adding solar to their mid-mountain lodges or trying to find a battery-powered ski lift. Ski resorts are well aware of their significant carbon footprint. With tourists traveling in cars and planes and the operation of machines, the emissions of carbon for ski resorts won't simply hit zero. Yet they are trying to find compact yet effective ways to help.
As mentioned in the Ski California 2016 Sustainability Report, resorts are "installing water-cooling systems in snowmaking ponds, for example, [it] create[s] a system that is more efficient while still producing the same amount of snow. Resorts are investing in automated systems and high-efficiency fan guns that make the maximum amount of snow with the least amount of water and energy use." They are closely monitoring the positive, neutral, or negative impact of their investments using these new modern technologies. Ski resorts are also looking for methods to invest in public transit to reduce tourists' carbon footprints, as well as retiring old equipment that is no longer in use and may be hazardous to the environment. If that means hopping in a car with your friends or taking the TART to different places, we should capitalize on this surge towards a positive climate to do our part in contributing to the resorts' positive actions.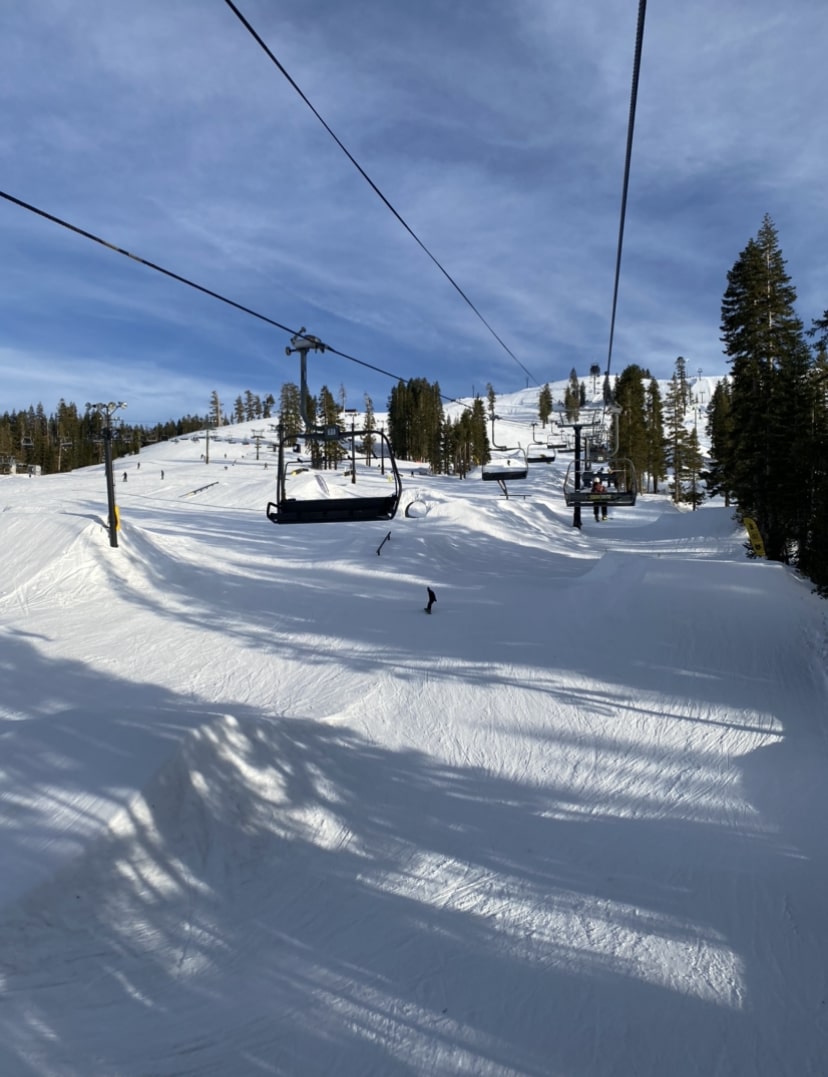 President of Ski California, Mike Reitzell talked about the impact and urgency of snow in the Tahoe region. Reitzell explained that:
"The best way to look at it is that the demand to go skiing and boarding is clearly affected by our snow. If we've got good snow, people are going to come. If we don't have good snow, fewer people are going to go. My biggest concern is looking further out if these certain types of climate changes become more permanent, which is obviously a big concern for the outdoor community."
Snow is heavily relied upon by those wanting to participate in snowsports. Without good quality and large amounts, the future of our favorite activities could be in jeopardy. With small actions including carpooling and recycling, ski resorts are taking necessary measures to a more sustainable environment. When asked about Ski California's next steps, Reitzell stated the possible use of solar. "I think that solar is definitely something that's more on the table. I know that Boreal did that. They put a solar array on top of Woodward and I certainly think that more of our resorts are considering that." With larger infrastructure at these bigger resorts, it allows good opportunities for small but impactful changes in our environment.
Out of California, Jen Brill, co-founder of Silverton Mountain in Colorado, explained all the ways they are taking initiative to be a more sustainable resort. When I asked Brill what steps Silverton has taken to limit their carbon footprint, she explained that "we don't have snow cats, and snow cats and snowmaking is fairly polluting. We limit our daily numbers so we don't have as many people coming up. We also encourage carpooling."
Silverton Mountain only has one ski lift, being a fairly small resort for advanced skiers and riders. The only constraint when working towards a more renewable resort and community is the problem of expense vs. impact.  Brill explained how she is "watching out for many things and when the bigger resorts do something successfully, then I will try and accommodate that at our mountain too." She also mentioned the struggle to use solar power at their resort. Since their base is above 10,000ft, and their mid-mountain is highly constricted by shade, the use of solar would be hard to execute. However, they are hopeful that their encouragement of carpooling and little emissions of carbon from the actual resort to influence larger resorts to continue their part in sustaining our environment.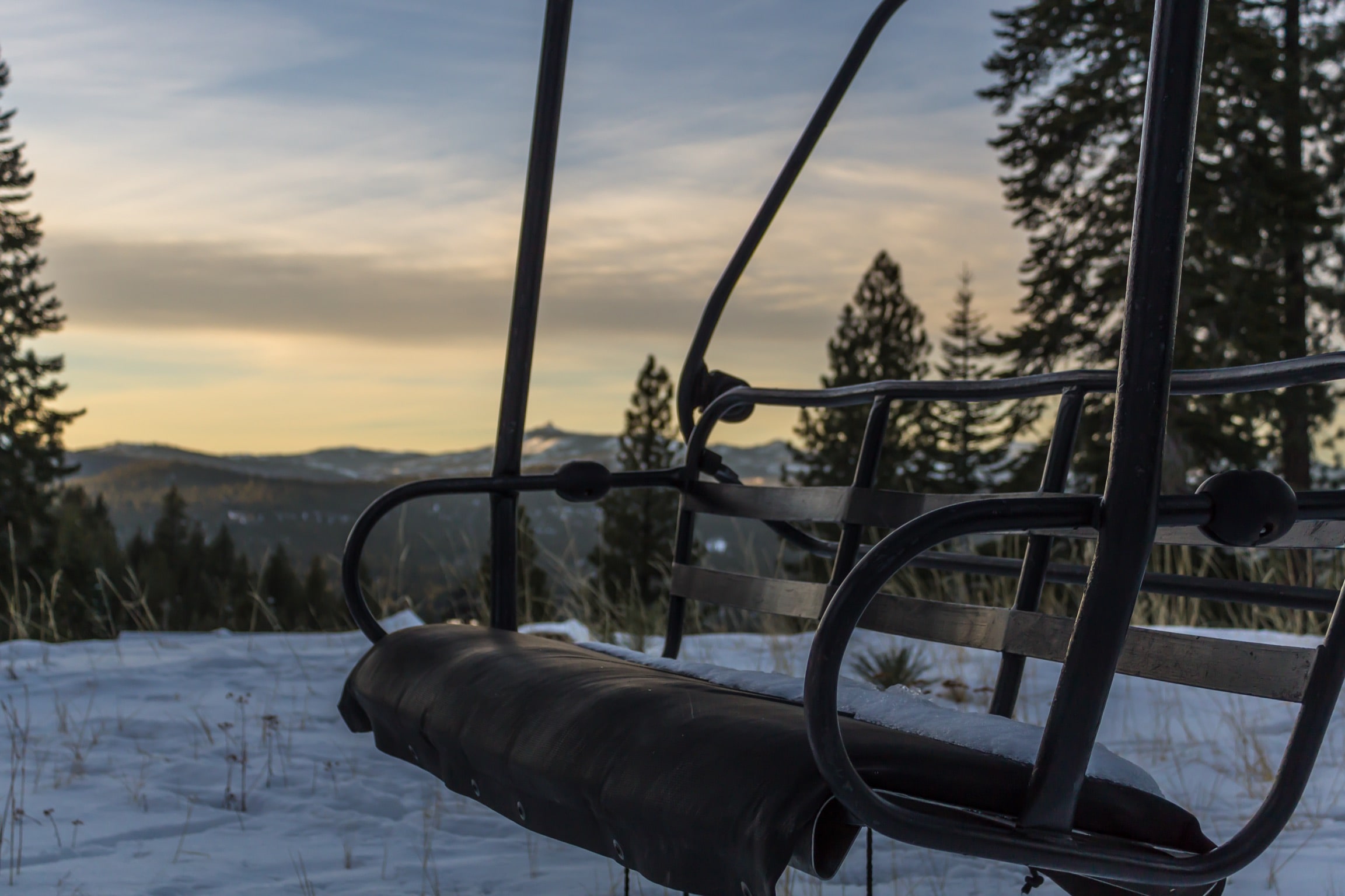 On the East Coast Saddleback, located in Rangeley, Maine is taking steps to maintain our winters. Andy Shepard, the Chief Executive Officer and General Manager of Saddleback explained all the ways they are taking positive courses of action for our environment. He described their use of battery-powered grooming machines for their ski runs to lessen their carbon footprint as a company. They are also building a solar plant that will generate seven megawatts of electricity. This would take over 44% of the mountain's electricity. 
All across the United States, ski resorts are finding ways to reduce our impact on the environment. Whether it's installing solar panels on roofs of lodges or encouraging carpooling and buses, resorts are trying to find smarter and smaller ways to be a more sustainable company and help the environment. 
The early storm in late October in the Lake Tahoe region brought over three feet of snow. This allowed ski resorts to open earlier and skiers to get on the mountain sooner. Some hypothesize that this unexpected storm is due to our impact on our climate. Snowfall in October is highly rare since it is still in the shoulder season, and because of carbon emissions and the carbon footprint we leave as people, our winters are becoming unpredictable and more intense. 
With resorts taking steps for positive impact, there is hope that they are able to influence tourists to take their part as well. With the emissions of carbon dioxide into the atmosphere, there is no action to perfectly reverse what has been done. We are the cause of this change. We cannot go back and change the past, all we can do is take a stand and do our part to improve the future. We are the hope to save our winters.