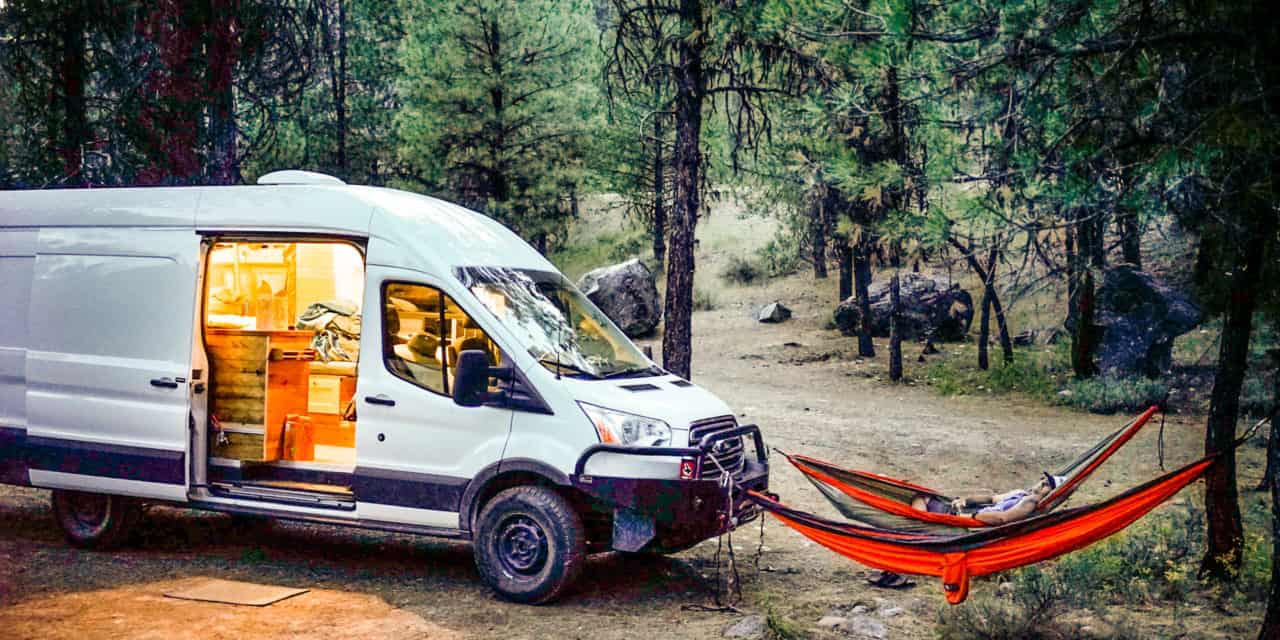 Corona made vans cool again. They were already pretty cool amongst outdoor-ist bums before that, but with remote work the new norm in 2020, scores of sprinter vans suddenly started showing up at national parks, trailheads, and beaches all over the country. Because if you don't have to clock in at the office—why not take your office with you on the go? I've always fancied the thought of adventuring around the states in a van because I work remotely. Seeing them all over the country as I drove back and forth across the western United States several times last summer made me think that a lot of these vans were being driven by new owners. This got me thinking. If I were to follow the trend, purchase a van, and live on the road full-time, how much would it cost? It surely wouldn't be cheap. That's when I contacted someone I skied with a few times last winter, who lives out of his van full-time, and pestered him for details about his on-the-road lifestyle.
Purchasing a van
Landon Crowther is a metallurgy engineer at a silver and gold company in Salt Lake City. He lives in a 2019 Dodge Ram Pro Master cargo van. He built out the van's inside himself by watching YouTube videos and reading blogs over the course of last summer. He bought it used with 13,000 miles on it for around $27,000 because he "was always attracted to the minimalist lifestyle." Crowther said he chose a newer van because even though they're priced higher, they're cheaper to maintain than an old van that's constantly needing something repaired. His van is a tall, white, and clean vehicle that doesn't really catch your eye until you look at the inside of it.
Building it out 
Over the course of Summer 2020, Crowther spent all his free time building out his new cargo van, putting in 20 hours a week or more on top of working full-time. He put in a fully equipped kitchen with a water pump, sink, gas stovetop and oven, a fridge and freezer, a heater, two fans, a solar charging system, a bed, and a storage space for all his toys. Crowther backcountry skis all winter and climbs all summer when he's not working. He spent about $15,000 in total building out his van.
Day-to-day expenses 
Fuel is the biggest expense for living in a van. Crowther says he spends about $300 a month on gas living in and driving around his home base of Salt Lake City. He spends more when he goes on climbing and skiing trips. On top of gas, Crowther says you have to factor in general maintenance expenses—oil changes, tire rotations and replacements, alignments, filter swaps, etc. This means he's spending roughly $300-400 a month living and traveling in his van.
Total cost 
All in all, Crowther bought a van and built it out for approximately $42,000. He spends about $300-400 a month on fuel and maintenance.
Living the van life
Crowther says the freedom he has living and floating around in a van is unparalleled. He loves having everything with him at all times. He can cook whatever at any time. This sort of independence comes in handy in the winter in Utah when he's skiing. On powder days when traffic in places like Little Cottonwood Canyon is a mess, he has his entire life with him right there in the parking lot.
"It makes it super easy to not have to plan," Crowther said. "I'll do this thing a lot where I'll go skiing on the weekends and I'll end up wrapping up my tour right at the same time the red snake hits. Rather than sit in my car for an hour or two or three to get down the canyon I'll just chill, drink some beers, make some dinner, turn my heater on and stay warm. Then, when all the traffic's gone I'll drive down."
But having a vehicle that doubles as a house still has its drawbacks. Space is extremely limited inside the van and Crowther says that there are daily things he has to deal with that he never expected would annoy him. Sometimes when he's driving he'll become immediately aware of a cabinet or drawer he left open or over-packed when he makes a sharp turn and its contents suddenly dump out all over the back of his van or onto his lap. He also can't take his van through drive-throughs because it's too tall. Crowther had to adapt his lifestyle in unexpected ways, like paying attention to the size and shape of food items at the grocery store. "Take olive oil for example. I end up shopping by size and I look for what's the most practical container size that would take up the least amount of space," Crowther said.
View this post on Instagram
Living in a van compared to driving around and staying in cheap motels
Our CEO and founder, Miles Clark, chases snow. In the winter, he goes where the snow goes—he adventures around in his car from cheap motel to cheap motel on dark, desolate highways throughout the West. He's like a snow-crazed nomad, often heading out in the middle of the night on a whim or a strong-looking forecast. He'll do this all winter long, leaving one ski area to get to the next one before its lifts stop spinning. When we were talking about the concept of living in a van while we were on a ski tour last season, Clark argued that driving around in your car chasing snow and renting cheap motels is far more cost-efficient than living in a van. He argued that it would take a very long time for the price of his lifestyle to equal what someone would invest towards owning and maintaining a van for a similar purpose. My curiosity was piqued so I ran some numbers.
A room, on average, at Jackson Hole's Motel 6, is $69.99 a night. That figure multiplied by 30 (the approximate number of days Clark was there) comes to about $2,000 for a month of living out of a motel and skiing every day. But fuel costs also have to be factored in.
Clark did a lot of driving last winter. He said that he likes to listen to challenging audiobooks when he's driving to pass the time productively. He recommended The Rise and Fall of the Third Reich to me, which is a 64-hour listen. One of his frequent routes last winter was from his rental in Park City, Utah to Jackson Hole—an approximate 250-mile drive that would cost Clark about $40 in fuel with gas prices at that time. He also drove to and from Lake Tahoe several times over the course of the winter, and all over Alaska. He estimates that he put about 10,000 miles on his vehicle that winter. Miles wrote me in an email:
"I think I put about 10K miles on my car last winter.  I may have spent about $1,500 on gas last winter…I have a Toyota, which holds up really well, so I only had to change the oil every 5K miles and I replaced one windshield wiper blade last winter."
It's hard to put a specific number on Clark's total expenses from chasing snow around the western U.S. last season. Clark usually frequents mountains where he already has a place rented for the winter like Jackson Hole, Squaw Valley, or Park City. He also often stays in accommodations that a resort will offer him on a complimentary basis in exchange for snow conditions reporting—so his nightly cost is low. But for the sake of cost analysis, we'll go off Clark's motel model. If he were to spend $1,500-$2,000 a month on accommodations, and $1,500 on gas over the course of the winter, that comes to about $10,500-$13,500 a winter for total snow chasing expenses. At that rate, Clark could chase snow in his car and rent motels for at least four winters or longer until it equates to the same price as owning a van and traveling in it full-time.
But cheaper isn't always better. The rooms Clark rents at some of the "lower-end" motels can be downright grungy—they often smell like cigarette smoke, lack cleanliness, and can feel lonely after a while. But you do get certain amenities at motels that you wouldn't in a van like a hot, spacious shower, floor space to stretch on, TVs to drone out the silence, and a big bed with consistent warmth. So it all depends on a person's preference whether they want their abode to be on four wheels or not. For Crowther, he enjoys the unrestraint and self-sufficiency of having his entire home with him wherever he wants to ski. For Clark, he likes hot showers and listening to audiobooks. It doesn't really matter how you get to your ski destination of choice so long as you get there safely and you're happy and comfortable being there. Good snow is only a bonus.