Brought to you by Monarch Mountain
These days it may feel like the big corporations rule the ski world. The ski industry is pressured to open early, offer year round lift access, and create a comfortable environment in the most remote locations. When choosing where to ski or buy a pass, some might look for who has the most skiable acres, most chairlifts, or most snowmaking. But what if you made your decision based on sustainability? Your vision would likely shift to places like Monarch Mountain, CO. 
Monarch Mountain is proud of their small resort vibe and 100% natural snow. Amidst the mega resorts dotted throughout the Rockies, they hang in there by keeping it old school. They offer that wholesome experience that only a smaller resort can these days.
When you strip away the big resort marketing, what does every skier really want? Powder, parking, and perhaps the chance to ski for years to come. This is where smaller, more sustainable resorts might see themselves standing the test of time when it comes to how skiing impacts the environment. 
Snowmaking Makes the Biggest Impact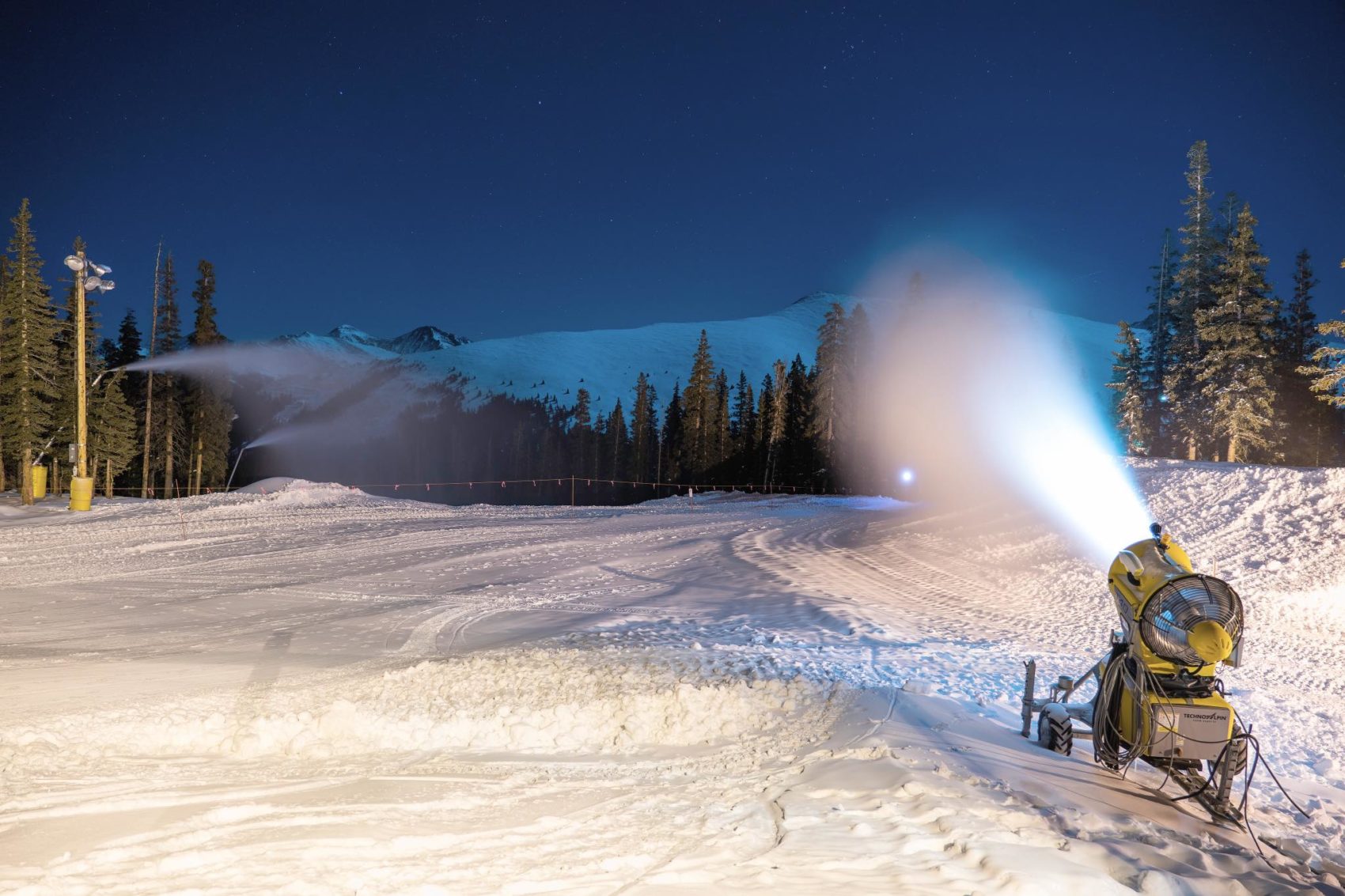 So what makes places like Monarch Mountain more environmentally friendly than the larger resorts? They are 100% all natural–no man made stuff here! When you consider snowmaking can eat up almost half of a resort's energy consumption, this is a huge difference. Without snowmaking, electricity and water consumption plummets at a resort who solely relies on Mother Nature.
Not only does snowmaking require massive amounts of energy, but it also requires a reservoir near the mountain. These reservoirs can sometimes disrupt ecosystems within the area and affect water quality if not planned carefully. 
Snowmaking Energy Consumption
Let's take a brief look into these snowmaking machines and their power consumption. The Colorado Ski Country USA (CSCUSA) is the voice of Colorado ski destinations and is constantly striving to promote more sustainable practices within Colorado. According to CSCUSA,
"Telluride completed an operational and energy analysis on existing snowmaking equipment compared to the new, energy-efficient HKD air/water guns. With the current ground guns, the Ski Area consumes 39,627 kwh to produce snow on 11 acres. The HKD guns require only 12,345kwh: a 68 percent savings".
To give you an idea of what 12,345 kwh looks like, let's think about a Tesla. You easily achieve 3 miles/kwh while driving. After these high efficiency snow guns cover just 11 acres, you could drive about 4000 miles. That's across the entire US with a couple ski resort detours. To put this into perspective even further, the Top 10 Snowmaking Ski Resorts in North America collectively add up to about 11,000 acres of snowmaking coverage. That's a few more of those Tesla road trips…1000 times more.
This study gave hope to resorts who find themselves trying to keep up with the industry but want to lower their energy consumption. With that being said, even if all resorts switched to these high-efficiency guns, we are still looking at a large amount of energy consumption. 
It's easy to see that resorts like Monarch Mountain offer a significantly smaller environmental impact than the resorts that thrive on man made snow. Big corporations try their best to pour money into green initiatives such as renewable energy and more efficient machinery. Unfortunately, it merely scratches the surface of overall energy consumption when accompanied with snowmaking. Since it is unlikely these big resorts will give up the extra days snowmaking provides, we will simply have to hope these machines will continue to become more efficient in the future. 
Monarch Mountain Takes Sustainability Further
The lack of man made snow at Monarch Mountain isn't the only thing environmentally friendly about this place. The resort is constantly striving to keep sustainability at the forefront of operations. They have worked hard to lower emissions and electricity consumption in multiple ways. Here are just a couple ways Monarch Mountain is finding other ways to keep skiing more sustainable.
Reducing Energy Consumption
Energy consumption is a huge factor in how humans impact the environment. As we push towards more sustainable energy sources, it's nice to see that Monarch Mountain derives 30% of its electricity needs from Renewable Energy. The lodge is also outfitted with LED lights, and some areas even have motion sensors to decrease the number of times lights are on with no one around.
Recycling Programs Throughout the Resort
Monarch Mountain has also found some clever ways to reduce, reuse, and recycle. The resort has onsite recycling for aluminum, plastic, glass, and cardboard, as well as trail map recycling stations. They also recycle their machinery scrap metal, electronics and batteries. In the vehicle maintenance shop, they have a recycled oil heater.  This heater can burn oil used from machines and ski lifts, as well as fry oil from the F&B department. This reduces heating and utility costs, which is crucial in the harsh Colorado winter. 
Monarch Mountain may be a small resort, but it has made a big statement by not following the ski industry's norms. Monarch Mountain is setting an example by passing up artificial snow and meanwhile engaging in sustainability efforts at the same time. This resort shows that you don't necessarily need hundreds of snow guns, huge lodges, and year round amenities to have fun in the mountains. Places like Monarch Mountain take us back to the simple days of waiting for that fresh stuff and skiing what's on the ground.