Brought to you by Alta Ski Area
Few ski resorts in the world have as much pride and character as Alta Ski Area in Utah. One of the oldest resorts in North America, and one of only three resorts in the USA that are strictly skier-only, Alta and its locals embody the true spirit of steep skiing: always remaining respectful and connected to the mountain. This connection and commitment to earning your turns is felt more at Alta than other resorts because of Alta's emphasis on using traverses and hike paths to allow skiers, and only skiers, to reach some of the best and most impressive slopes of any in-bounds ski area.
Instead of a mechanical metropolis of lifts, Alta has many well-established traverses, sidesteps, and bootpacks on every face. One of the best examples of this is the High Traverse (AKA the High T) from the top of Collins lift, which provides access to over twenty of Alta's best runs. The High T is an institution of Alta and is seen as the freeway of the resort, so its rules are taken very seriously. If you want to respect your fellow skiers, don't rush anyone in front of you, pass if you really need to, tap your pole when you're approaching behind someone, don't undercut the traverse or disrupt a fall line, and most importantly, do not ever stop directly on the traverse! For more information on the rules and practices of Alta, check out these quick videos:
The High T can be intimidating because of its speed, wind, rocks, and steepness, but it is loved by true Alta skiers because it teaches you to understand the mountain and become a better line picker, navigator, and all-around skier. Beyond the technical growth that tricky traverses and hikes bring to your skiing, earning your turns also helps you warm up between runs, build muscle and stamina, and plan great lines from seeing the slope up close and personal. Also important this season, Alta's reduced lift use in favor of traversing and hiking also helps to keep skiers socially distanced and safe, preventing the spread of COVID-19 while still keeping the slopes open.
Alta's traverse/hike paths allow skiers to access some of the greatest lines of any resort in the US, but they can be hard to navigate at first. The following list features both popular and lesser-known gems of the hill and provides information about their access and difficulty so you can get the true Alta experience and earn the best turns possible. While this is a good start to build your Alta-tude, the best way to truly appreciate Alta is through its community of devoted locals. The real ones who know the secrets of Alta have learned them through patient traverses, burning bootpacks, and day after day of adventure—follow their example.
Note: While almost all of the runs listed below are rated black diamond, we have provided our own difficulty description to differentiate between easier and more advanced black diamond terrain.

Baldy Chutes – Bootpack
Difficulty: Extreme
Access: One of the longest hikes you'll ever have to do while resort skiing, a 25-40 minute bootpack starting from the East Baldy Traverse (EBT) at the top of Sugarloaf lift is all it takes to reach the summit of Mt. Baldy, over 11,000 ft up.
Description: Not often open and terrifyingly steep both to hike up and ski down, the Baldy Chutes are definitely not for everyone, but for those up for the challenge they are the crowning jewel of Alta's slopes. For the easiest way down, Main Chute is your best bet to take you into the Ballroom Bowl, despite its 44º pitch and aggressive cornice drop in. Beyond that, Perla's and Little Chute are fun and more technical options for slightly tighter turns. When you think of Alta, the image of the Baldy Chutes looming above the main slopes, the quintessential Alta face, is often what comes to mind. Despite the longer bootpack, the Chutes are a must-ski for anyone who wants to truly say they've taken on Alta.
To get a better feel of the Baldy Chutes, check out these links to video footage of people taking on Mt. Baldy:
Devil's Castle into the Cecret Chutes – Sidestep
Difficulty: Advanced
Access: From the Sugarloaf lift, a long and sometimes challenging sidestep will take you into the Devil's Castle area where you can choose to continue as far across as you wish, just be sure not to undercut the fall line for other skiers. The cliff band skier's right of Cecret Lake at the bottom of the Castle will take you into the short but sweet Cecret Chutes.
Description: Another favorite that is often closed, this is a great spot for a couple days after a storm when the ropes drop and fresh open lines are free to grab, if you're willing to work on your sidestep to get to them. The technical challenge of the Cecret Chutes' steep and exposed lines is the perfect end to a Devil's Castle powder run.
Catherine's Area – Herringbone/Duck Walk or Bootpack
Difficulty: Comfortable
Access: Skier's right from the top of the Supreme lift, a quick duck-walk/herringbone (or bootpack hike if you don't mind losing the respect of some of the tougher locals) will take you right to Catherine's Area where the terrain opens out to wider slopes.
Description: This is a great spot that is often forgotten about on powder days, leaving it free for you to grab fresh lines in. Definitely underrated and good for a less intense run, especially if you like tree runs. Just be sure to keep some speed for the traverse out and back to the main hill.
High Boy (Alf's High Rustler) – Traverse
Difficulty: Moderately Advanced
Access: Patiently follow the High T from Collins lift all the way along to wrap around the back of Greenly Bowl where you'll finally hit the most picturesque run Alta has to offer—historic local Alf Engen's favorite spot on the hill. For another nearby area that's just as fun, a little earlier off the High T is the West Rustler area that features a bunch of great chutes to pick between.
Description: With a steep start of almost 45º, High Boy can't be called easy, but it is definitely one of the most enjoyable runs Alta, and Utah in general, has to offer. Locals like to end their day with a traditional top-to-bottom High Boy, especially since it is the longest run in the whole resort. Steep slope, good snow collection, straight shot exit, and stunning views the whole way—what more could you want!
Ballroom Bowl – Traverse
Difficulty: Easy (Blue to Black area)
Access: After going right when getting off the Collins lift, a traverse track will lead you across Ballroom Bowl, where you're free to pick your drop anywhere you want. The further you continue, the softer and steeper the snowy slope will get as you head into the black diamond corner.
Description: Ballroom Bowl is a wide-open powder bowl that collects perfect snow beneath Mt. Baldy, a great option for a more relaxed but still enviable line after a big dump.
So Long – Sidestep and Traverse
Difficulty: Variable
Access: Skier's left from the top of the Supreme lift, a short sidestep and traverse will take you to the top of So Long.
Description: One of the longest runs on the hill, So Long is fun because of the amount of choice it offers. Providing almost every type of terrain from steep slopes to trees, drops, and deep powder, So Long lets you decide how hard you want to work, catering to everyone from skiers just exploring their first black diamond to those enjoying their thousandth.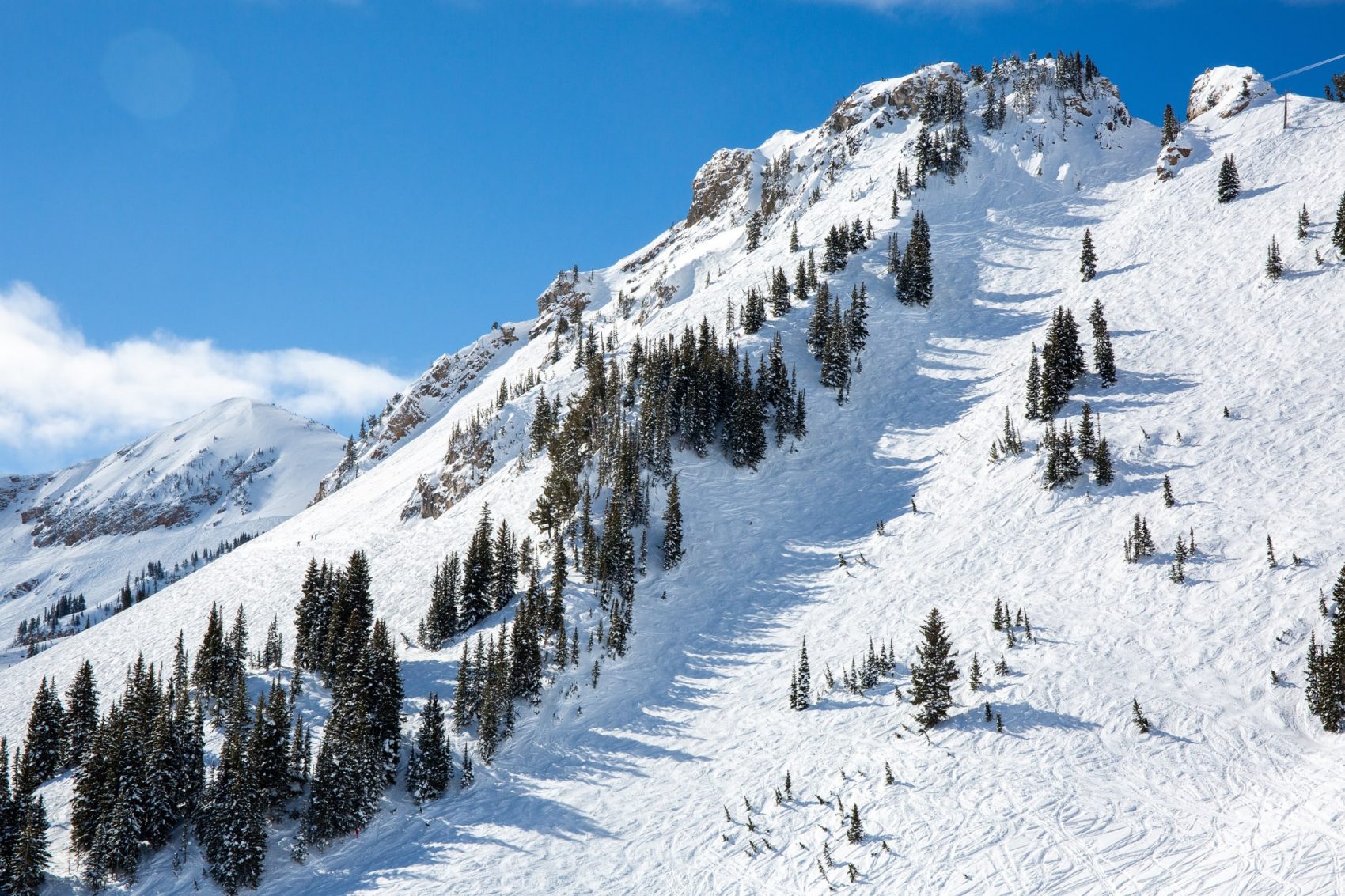 Gunsight – Traverse and Sidestep
Difficulty: Expert
Access: Stay up high on the High T for around 2 minutes from the Collins lift to reach a sidestep track that will take you over the ridge to reach Gunsight (and neighboring run, Eddie's High Nowhere).
Description: Another iconic Alta face, Gunsight's tight 45º entrance slot with its demand for confidence and strong technical turns is definitely intimidating, but worth the terror of the initial drop. The chute's sheltered location helps it hold incredible snow, so be sure to hit it early after a big storm.
Eddie's High Nowhere ("High Eddie's") – Traverse (Rope-Assisted) and Bootpack
Difficulty: Extreme
Access: Start on the highest level of the High T and watch for the path up and over the ridge, close by the sidestep to Gunsight. There's a rope to hold for the traverse over the cliff band, don't let go of it too early. Finally, a fast and intense bootpack will take you to the entrance to Eddie's High Nowhere: an incredibly tight slot nestled between two cliff faces.
Description: If you feel up for the adrenaline of reaching Eddie's High Nowhere, let alone skiing down it, it'll be an impressive achievement that's definitely worth adding to your Alta rep. This spot is more tucked away than the dramatic Baldy Chutes, but it's technicality and hundreds of vertical feet of incredibly steep pitch make it one of Alta's hidden jewels. Don't worry about spending too much time trying to find the best drop-in; they're all just as steep and tight, so hold your breathe and go for it.
Westward Ho – Traverse
Difficulty: Moderate
Access: From the Wildcat lift, take the traverse all the way down the ridgeline, following the signs until you reach Westward Ho. Take your pick of any of the fall lines in the trees, you can't go wrong.
Description: A perfect balance of steep, but not-too-steep, well-spaced trees, and powder pockets everywhere, this spot is known for providing incredible tree skiing and powder caches at any time of day. Enjoying a fun and playful last run shooting through the trees and jumping off rocks in Westward Ho is always a safe plan to bet on.
East Castle – Sidestep, Bootpack, or Skins
Difficulty: Challenging
Access: It's around a 30-45 minute trek up the ridge from the top of the Supreme lift to the top of East Castle. Usually, the path is established as a sidestep, occasionally a bootpack, and recently more and more people have been bringing skins and touring-equipped skis to lessen the pain of the climb. You can choose to drop in whenever you want, but pushing to the top will always guarantee you the steepest line and best fresh powder.
Description: East Castle's significant avalanche danger forces it to almost always remain closed, leaving it as one of the most elusive runs in the whole resort. If you ever happen to see it open, it's definitely worth the grueling climb, both for the pure achievement and for the great conditions that East Castle always boasts due to its huge area and lack of ski tracks. The steepness of the pitch makes it a challenging line, but beyond that, just the physical strain on your legs from the climb and surprising length of the run back down make this a satisfyingly intense trial of your prowess, not to be missed!
Eagle's Nest, Hourglass Chute – Traverse
Difficulty: Advanced
Access: Follow the High T all the way to the end of the ridgeline, curving around the back of Greenly Bowl and passing the entrance to Alf's High Rustler until you finally reach the sister entrances to Eagle's Nest and Hourglass Chute.
Description: A steep pitch is challenging enough, and this one boasts a 42º drop-in, but the addition of trees forcing you to carefully pick your turns helps make this area one of the most technically extreme spots on the hill. In addition, the relative remoteness of Eagle's Nest and the Hourglass Chute makes them very likely to hold powder caches, so this is a great choice if you want a fun run that'll also be a good test of your skills.
The Low Country
If the high peaks and steeps of Alta are beckoning but you're just getting back into the sport or picking it up for the first time, it must be known that not all of Alta's terrain is super gnar. In fact, the Albion Basin and all terrain off the Sunnyside lift offer beginner and family-friendly terrain with Alp's-like views. Check out Home Run, accessed from Dipsy Doodle from the top of Sunnyside lift, for a beautiful wide-open cruise under Gunsight, or Rollercoaster from the top of Sugarloaf for a long relaxed blue option.
These are our go-to spots, but Alta's annual average of over 547 inches of fresh power means that every face holds its own secret caches of snow and slopes, so let us know in the comments if we missed your personal favorite hidden gem! While it may feel like just "Another Long Traverse Ahead," the best skiers know that the High T and all of Alta's other paths are not to be underestimated for the incredible access they provide, if you're willing to put in a little effort.