Brought to you by Mammoth Lakes Tourism
With COVID, Americans face uncertainty this winter. Finding a vacation spot where you can ski safely may seem out of reach, but nestled in the serene Eastern Sierra Nevada mountains of California is Mammoth Lakes: your perfect COVID winter wonderland.
Winter activities
Mammoth Lake's primary claim to fame is the local ski hill, Mammoth Mountain. Mammoth Mountain boasts over 3,500-acres of skiable terrain, 25 chairlifts, two gondolas, a vertical drop of 3,100-feet, and the highest base and summit elevation in California, the top lift reaching 11,053'. This elevation means cold, dry powder, not something typically found close to the ocean, with an average snow density of just 13% water, comparable to resorts known for their light snow in the Rockies.
Mammoth Mountain has terrain for all levels of skiers. Whether it's your first time on skis or you're a professional skier, Mammoth Mountain offers something for everyone. Beginners can enjoy the gentle slopes and shorter chairlifts around the Main Lodge village and Canyon Lodge on the lower mountain. Experts will love charging hard through the steep bowls and tight chutes and cliffs off the Panorama Gondola and Chair 23 on the upper mountain. Mammoth Mountain's ski and snowboarding school offer part or full-day private and group lessons for powder hounds of all ages. To orient newcomers to Mammoth Mountain, take a morning mountain tour from the Main or Canyon Lodge.
Mammoth Mountain has introduced COVID safety measures to minimize risk. You can read Mammoth Mountain's COVID-19 policies here. 
Are you seeking outdoor adventure beyond the ski hill? Mammoth Lakes will not disappoint. Snowshoe on your own or with a guide in Mammoth Lakes Basin or the Inyo Craters. Guided tours are available regularly and can be incredibly inspiring under the light of a full moon. If a night tour sounds too chilly, consider a sunlit snowshoe tour with a U.S. Forest Service volunteer naturalist from the Tamarack Cross Country Ski Center to learn about the area's animals and plants.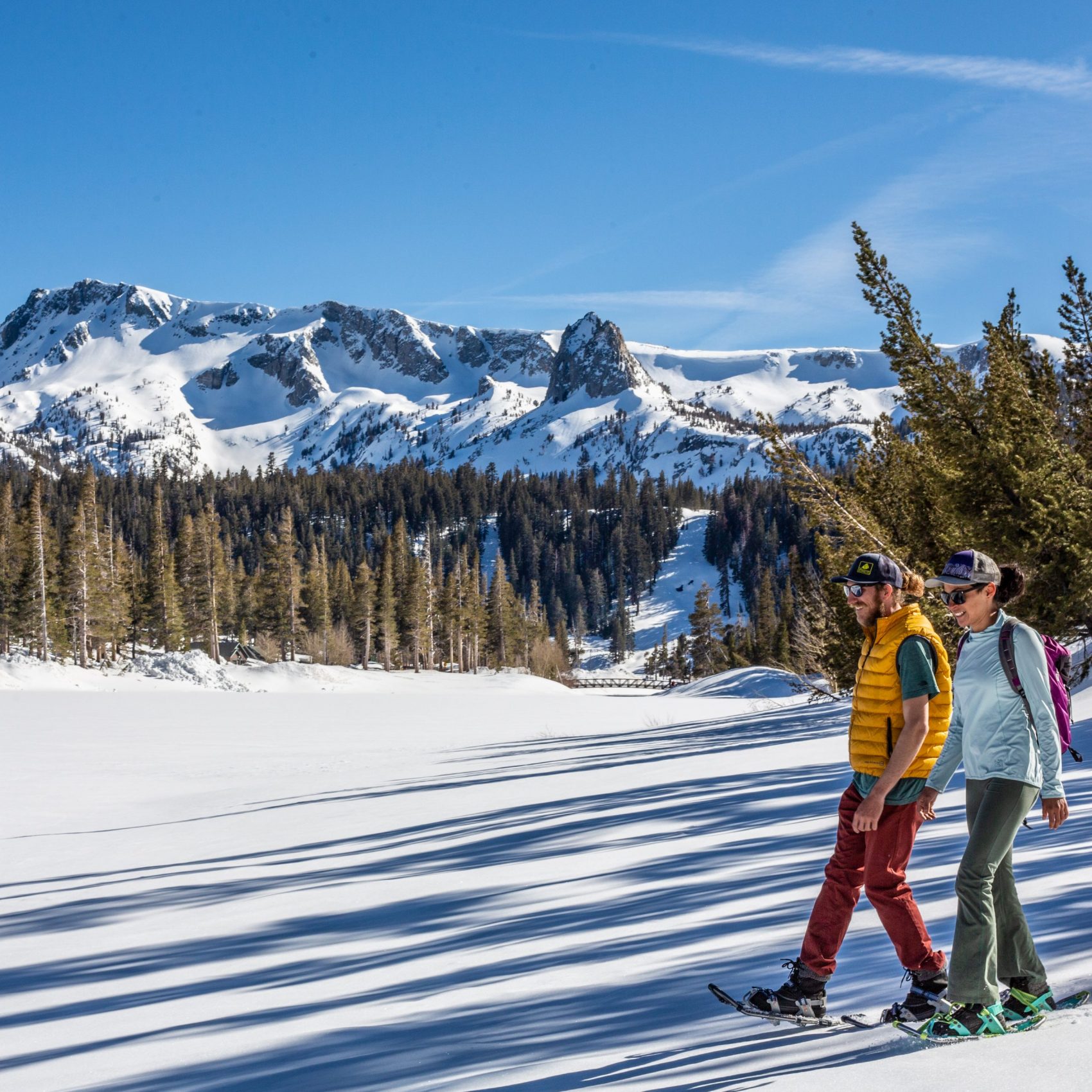 Cross-country skiers will find heaven on Mammoth Lakes' 140+ miles of track in the town and the Inyo Forest. Adult and youth private and group lessons, as well as rentals, are available. 
Mammoth Lakes offers much more winter fun beyond its downhill wonderland. Mammoth Ice Rink provides outdoor fun for the whole family and gorgeous views of the Sherwin and White mountain ranges. Didn't bring your skates? No problem – you can rent them and a helmet for a small fee. You can also fly down the hill in a sled or a tube at Woolly's Tube Park and Snow Play and catch the tow back up for lap after lap until you're ready for core-warming hot cocoa. Take a tour or rent a snowmobile for more fantastic views of the area.
There are also plenty of entertaining indoor activities such as bowling, trampolining, and learning about the area's geological history at the Eleven53 Interpretive Center at the top of the Scenic Gondola. Be sure to check if these venues are open or have reservation policies under COVID-19. 
Spring activities
As temperatures begin to rise in the spring and summer, the snow starts to melt, opening even more doors to Mammoth Lakes' adventures. Mammoth Lakes' unique location at the majestic Sierra Nevada mountains' doorstep creates incredible opportunities once the snow has melted away. Enjoy hiking, biking, climbing, paddle boarding, fishing, and more warm outdoor activities.
One of the best socially distanced experiences that Mammoth Lakes has to offer is hiking. Whether it's hiking through open meadows, through dense pine forests, or scrambling up loose rocks to a remote summit, the mountains surrounding Mammoth Lakes offer some of the most stunning hikes in the entire country. You can find a list of incredible hiking trails near Mammoth Lakes here. 
Another thing that makes Mammoth Lakes an incredible destination to visit in the summer is the proximity to world-renowned protected lands. Explore the sheer cliffs and sprawling meadows of Yosemite or the jagged peaks of the sprawling John Muir Wilderness, all while enjoying social distancing in the great outdoors.
No matter what you do in Mammoth Lakes, there's always an adventure around the corner that allows you to have fun, make memories, and stay healthy.