Everybody loves jamming out to music while skiing or boarding, but it's not always so easy going. Wired headphones get all tangled up, there is the chance you'll lose expensive wireless headphones, and having a bud in your ear all day can be uncomfortable.
Introducing IceBRKR: by combining a quality ski goggle with bone conduction audio technology, you can jam out all day without any of the worries of traditional headphones. The 4 different designs, pictured above, are being offered for over 60% off in their pre-Kickstarter offering.
Using their patented Bone Conduction Audio technology, IceBRKR combines bone conduction audio, voice activation for hands-free control, and the latest Bluetooth tech. Best of all, it includes a Bluetooth intercom feature that works like a walkie-talkie up to 1 km. A great benefit of using this tech over traditional devices is that you can hear your surroundings much better while still listening to music.

Bone conduction audio is most commonly used for swimmers since traditional earphones do not work underwater. Essentially, the device bypasses the eardrum and transmits sounds as vibrations directly to the cochlea.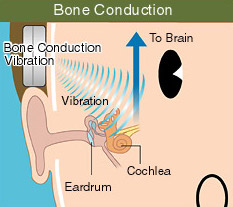 Never forget that there is a time and place to jam out on the slopes. In the backcountry and on busy slopes, it's dangerous to completely disconnect from the world.
For more info on this, check out our Headphones on the Slopes article.