[Sponsored by Ikon Pass]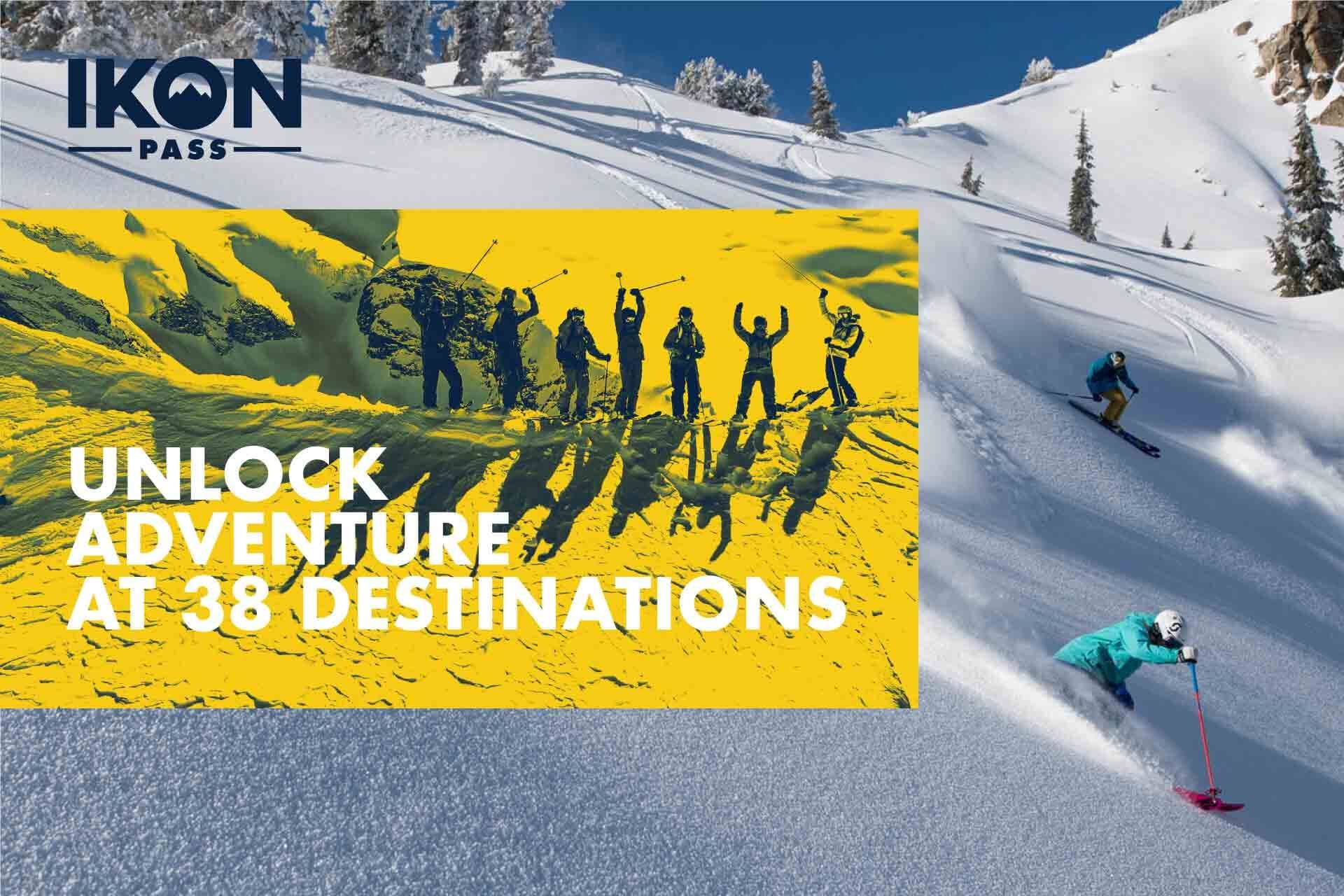 Ready to unlock your next winter of adventure? The Ikon Pass is back for the 19/20 season with 38 unique destinations and more ways to get you on the mountain.
Every lap up the lift means more unforgettable experiences on the slopes, and that means more memories that you can take home. With an Ikon Pass in your pocket, you can seek out adventure from the west coast to east coast, north of the border and south of the equator, up and down the Rockies, and across the planet.
"Find Your Pass" – Click here to unlock your adventure
As with last season, the Ikon Pass is available in two different options, depending on your needs. While the Ikon Pass ($949) and the Ikon Base Pass ($649) each include the same list of 38 iconic destinations, the Ikon Base Pass comes with fewer days and limited blackout dates (think holiday breaks). The Ikon Pass ($949) provides more days to play and no blackout dates.
IKON PASS: Unlimited access at 14 destinations and up to 7 days each at 24 different destinations, with no blackout dates to worry about

IKON BASE PASS: Unlimited access at 12 destinations and up to 5 days each at 26 different destinations, blackout dates apply
For the 19/20 season, there are several benefits that you will want to know about while you get geared up and start scouting out your next series of mountain adventures.
Renewal Bonus:
If you purchased an Ikon Pass or Ikon Base Pass this last season, you'll be able to re-up on adventure with $30 off your '19/20 pass when you renew before April 24.
Payment Plan:

Lock in the lowest possible price with a down payment of $199 by April 24. Then ease into the season by spreading the remaining cost across 4 monthly installments.
Season Discounts for Kids:

Fostering your child's love of the snow is crucial to a future of fun, and that's why we're still offering the price of $199 for a child's pass when you purchase an adult Ikon Pass. But this year it gets better. For the 19/20 season, you can now buy two discounted kids passes for every one Adult pass. That means if you have two kids at home who love to ski, and you've purchased an adult Ikon Pass or Ikon Base Pass, that's a total savings of $200.
Young Adult Discount:

We've broadened the age range of our young adult ticket for the 19/20 season. This means that if you're between 13 and 22 years old, you are eligible for a discounted season pass starting at $489. Eligible college and military pass holders will also continue to maintain special pricing.
Ski this Spring:

When you buy your Ikon Pass or Ikon Base Pass, the spring skiing and riding at select destinations is on us (sunscreen not included). Starting March 5, '19/20 Ikon Pass holders will get immediate access to Big Bear Mountain Resort, Snowshoe, and Blue Mountain. Making the spring season even brighter, on April 8, Squaw Valley Alpine Meadows, Mammoth Mountain, Winter Park Resort, Solitude, and Tremblant get added to this list. With the record-breaking snowpack many mountains are seeing this year, you could be skiing and riding at these destinations well into July.
For the 19/20 season, the Ikon Pass is your key to adventure. What started only a year ago with 26 locations has now grown to offer experiences at 38 destinations across the planet. Each trip you make, every destination you visit, all the adventures you have, the Ikon Pass
unlocks it all so that you can keep on seeking the unexpected, the unrepeatable, the unforgettable.
"Find Your Pass" – Click here to unlock your adventure
On sale now and starting at $649 for an adult pass, get the best price of the season and save $100 before prices go up on April 24. Additionally, if you are a current '18/19 Ikon Pass holder, you will save up to $30 when you renew for the '19/20 season. An earlier purchase also means that you can take full advantage of the payment plan while making the most of the included benefits, like discounts on child passes and immediate access to the slopes this spring.