According to the Summit County Sheriff's Office, an inbounds avalanche occurred at Breckenridge Ski Resort, CO early this afternoon.
The avalanche occurred off the Imperial Express SuperChair, which provides skiers and riders with access to expert terrain.
Ski patrol received a report of the slide at 12:25pm this afternoon. It was reported that it occured north of Imperial Bowl.
Thankfully, no injuries have been reported.
An Avalanche Warning is currently in effect for the area.
**We will continue to update this story as more information becomes available**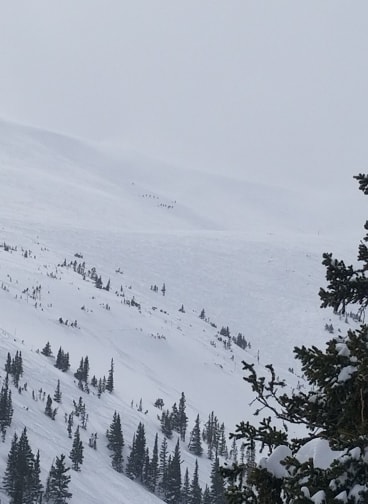 Avalanche Warning:
COZ009-010-012-033-034-058-060-061-082-091630-

BULLETIN - IMMEDIATE BROADCAST REQUESTED


AVALANCHE WARNING


COLORADO AVALANCHE INFORMATION CENTER
RELAYED BY NATIONAL WEATHER SERVICE DENVER/BOULDER CO
620 AM MST FRI MAR 08 2019

THE FOLLOWING MESSAGE IS TRANSMITTED AT THE REQUEST OF THE
COLORADO AVALANCHE INFORMATION CENTER.

Avalanche Warning in effect for the and Northern and Central
Mountains, including the Front Range, Vail and Summit County,
Sawatch, Aspen, Gunnison, and Grand Mesa areas.

* TIMING...Beginning Wednesday March 6. 

Expires at 8:00 AM MST
  Saturday March 8.



* AFFECTED AREA...Front Range, Ten Mile Range, Gore Range, Elk
  Mountains, West Elk Mountains, Ruby Range, Mosquito Range, Sawatch
  Range, Grand Mesa

* AVALANCHE DANGER...

Very dangerous avalanche conditions exist.

 The
  avalanche danger HIGH (Level 4). 

Very large natural avalanches are
  likely.

 These avalanches will be very destructive and may run to
  the valley bottoms.

* REASON...

Continued snowfall and strong winds keep the avalanche
  danger at HIGH (Level 4).

 Avalanches may release naturally, and
  can run from high elevations to the valley floors.

* PRECAUTIONARY/PREPAREDNESS ACTIONS...

Do not travel in or below
  avalanche terrain.

 Give avalanche paths a wide berth. Avalanches
  may run further into the valleys than you might think.

Consult www.colorado.gov/avalanche for detailed information.