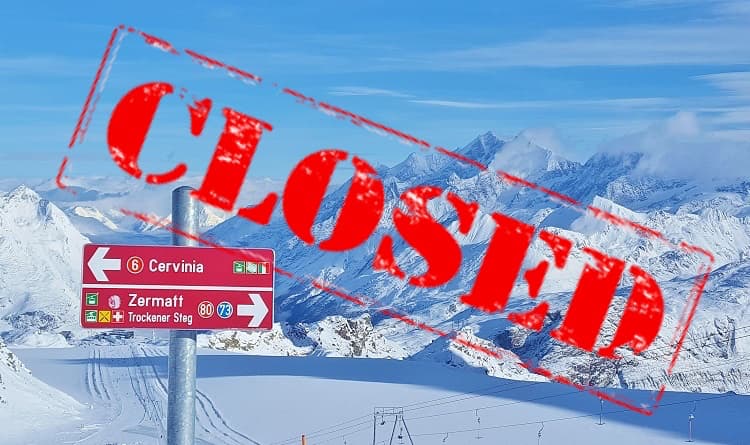 The season is now essentially over for a number of Italian ski resorts, as the region of Veneto, home to more than ten ski areas, has had tighter covid-19 restrictions imposed by the government amid rising cases.
Veneto moved into 'Orange Zone' yesterday, Monday 8th March, after the government announced tighter restrictions.
Resorts and areas such as Cortina, Kron Platz, and Dolomiti Superski will remain closed until at least April 6th.
"We have to inform you that unfortunately the lifts of Dolomiti Superski will not open this winter season."

– Resort statement
There is the slim possibility that, if conditions allow, resorts could open for some spring skiing after April 6th.
Orange Zone restrictions include: people are prohibited to travel between municipalities, unless for essential reasons. Restaurants and bars are closed, except for take-away and delivery, and shops are open.
Italy, along with the majority of Europe, went into lockdown and shut their ski resorts in November to help slow the spread of covid-19. The 7th and then the 18th of January, then 5th March, were pinpointed as the day resorts could reopen.
The ski resorts' closure was first extended at the regional authorities' request, who requested more time to meet coronavirus regulations.
"At the present time, due to the recent epidemiological trend at international level that has not facilitated the taking of the necessary decisions, it is believed that the conditions do not exist to allow initiatives and actions to allow the opening of the facilities on January 7."

– regional authorities
Crowding, especially inside gondolas, in lift-lines, and during après ski, was highlighted as a 'medium-risk' factor by the government's scientific-technical committee.
Italy has had 3,081,368 confirmed covid-19 cases and 100,303 deaths with covid.