Report from March 21-22, 2023
Winter refuses to quit at Jackson Hole Mountain Resort in the stunning Tetons of Wyoming.
Another bout of storm action has again delivered a healthy helping of powder snow to this iconic destination for skiing and snowboarding.
With clouds bunched in close and snowfall expected throughout the next several days, we knew Jackson Hole Mountain Resort was the place to be.
It's that perfect portion of the season; snow levels have been stacking-up, everybody's notched a few epic days on the belt, and an upcoming "spring" holiday is still just far enough away that there's a calm before a mass of travel.
It's that priceless rare window when mighty Jackson Hole Mountain Resort is basically a private powder playground.
The first few laps were a litmus to the day's visibility.
Clouds of the current storm front seem to enjoy bouncing to and fro across the range, and overall it's not really the degree of 'soup' that hides the whole world.
In fact, the smokey veil is kind of an ally because it seemed to help in preserving sizeable patches of untouched powder snow smack dab in the middle of Mountain Resort's most commonly traffic-ed terrain.
For example, Nez Perce, a blatant rollover directly beside two of Jackson's most popular chairlifts, remained virgin pure—at 11 am.
After skiing that evidence indisputable of straight-up amazing conditions, we shot across Mountain Resort's wide-spanning terrain and into the Hobacks.
Here again, good karma must have been with us.
The long shoulder pitches of this zone flowed out before us with barely a mark upon any of it. By the end of those lines, we might have seen three other skiers, maybe.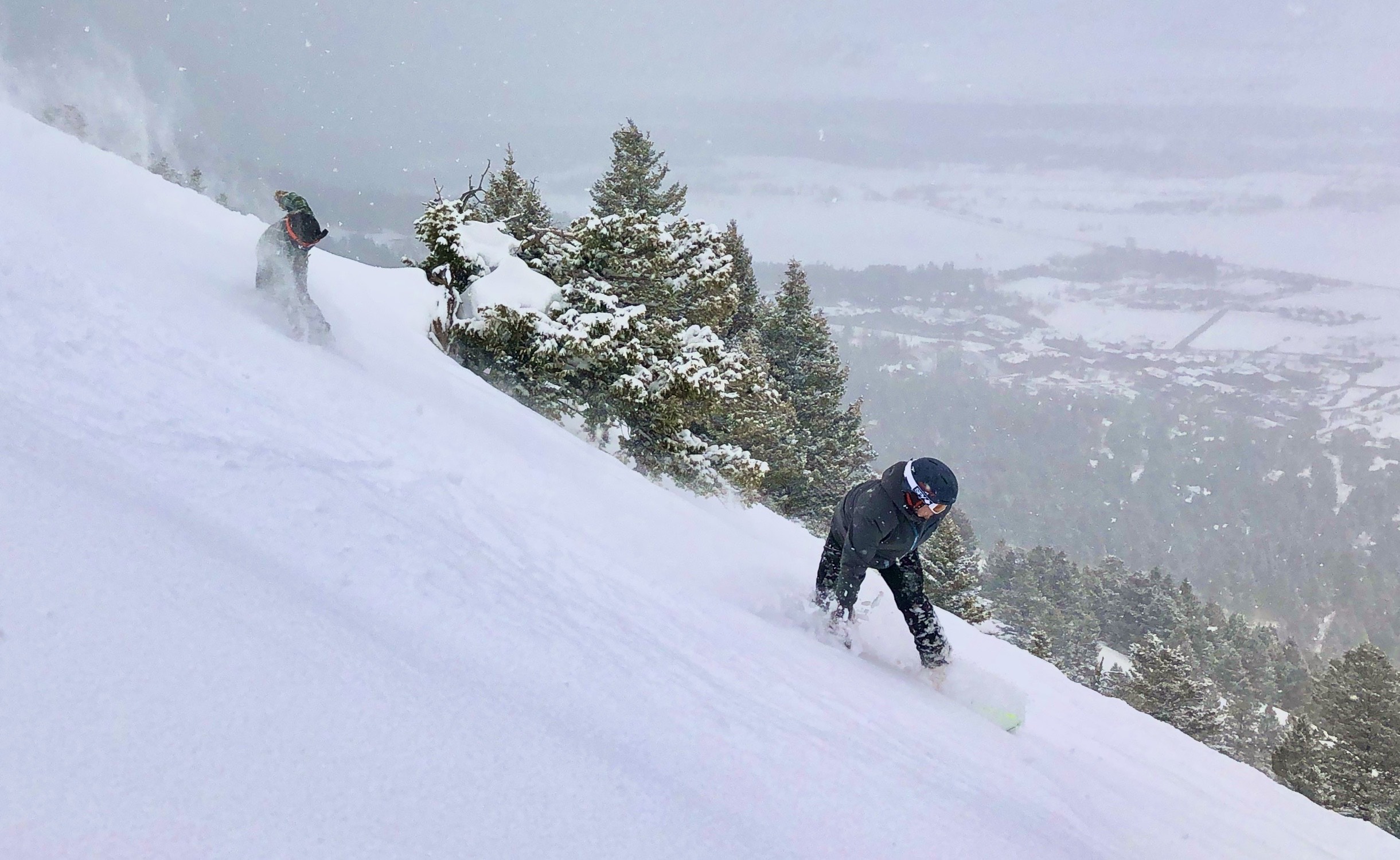 By this stage of the day, we were simply thanking our lucky stars for such a fantastic experience at the world-class destination that is Jackson Hole Mountain Resort. Little did we know, there was a bit more sparkly yet in store.
After a brief carbo-refuel at the tailgate, we grabbed the gear and turned again for Big Red, Mountain Resort's famed aerial tram.
And we walked straight onto that glorious chariot without even a break in our stride. Zero line. No Waiting. We're still scratching our heads to try and recall if we've even heard of such a thing before.
We credit that marvelous moment to the good folks of Mountain Resort, who wisely steer a system of ticketing reservations that gets everybody their playtime but minimizes overcrowding.
Snowfall intensity varied depending on the shifting clouds.
The white gold collecting on the slopes skied consistently and delightfully.
And there is plenty more of the goods to go around.
Look for another banger week of skiing and snowboarding ahead at Jackson Hole Mountain Resort in the Tetons of Wyoming.
The storm's back in, and it's keen to hang out and party by the looks. Enjoy!
SNOW NUMBERS
5-DAY OUTLOOK