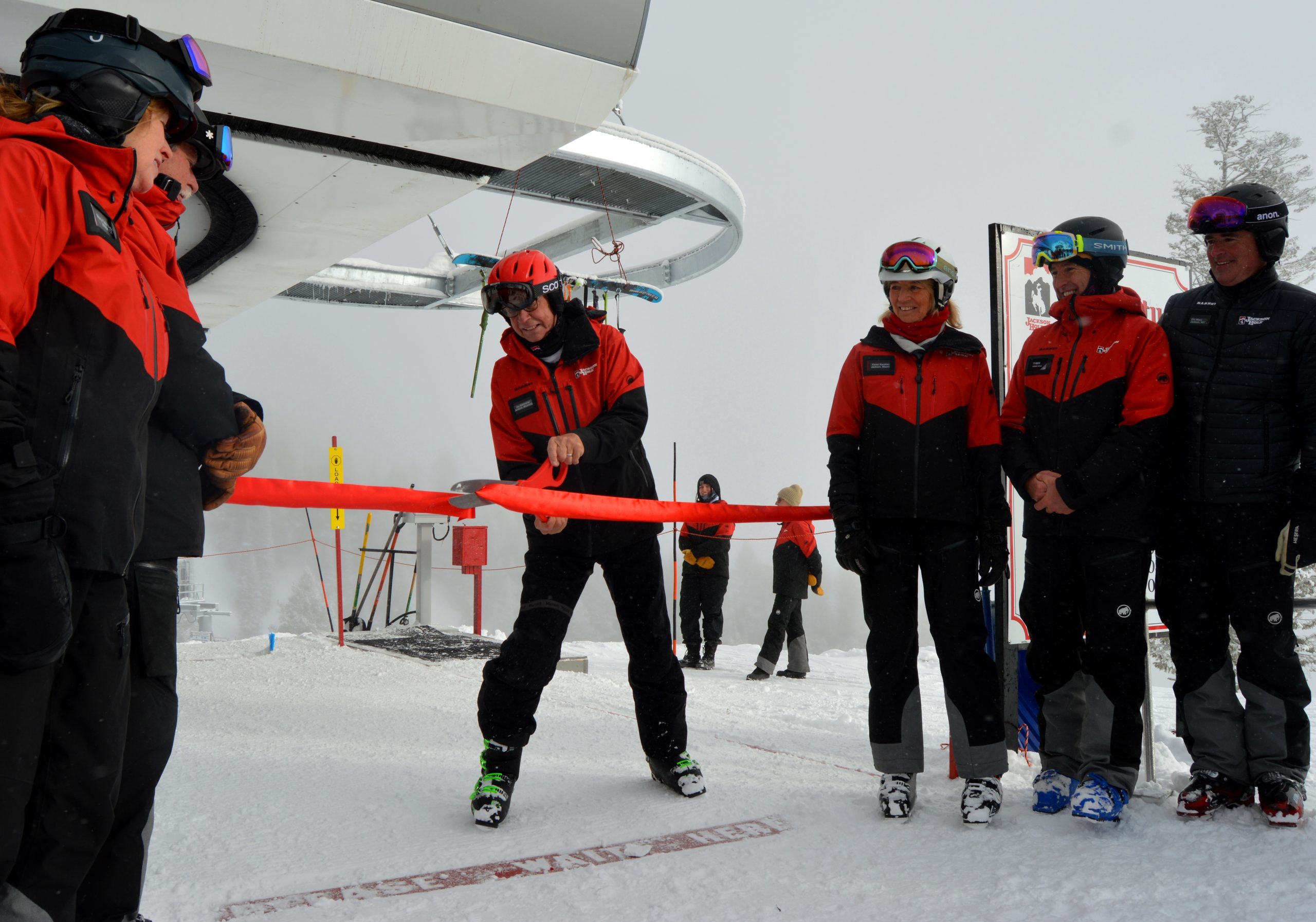 Brought to you by Jackson Hole Mountain Resort
Report from Dec. 17, 2022
The car park at Jackson Hole Mountain Resort [JHMR] is quiet. A tidy couple of inches adds to the calm, as does the light flurry whirling around.
But also on the breeze is an anticipation that's almost electric because, on the slopes above, fresh snow and a historical roll of Thunder have got the community at Jackson Hole Mountain Resort turned out to celebrate.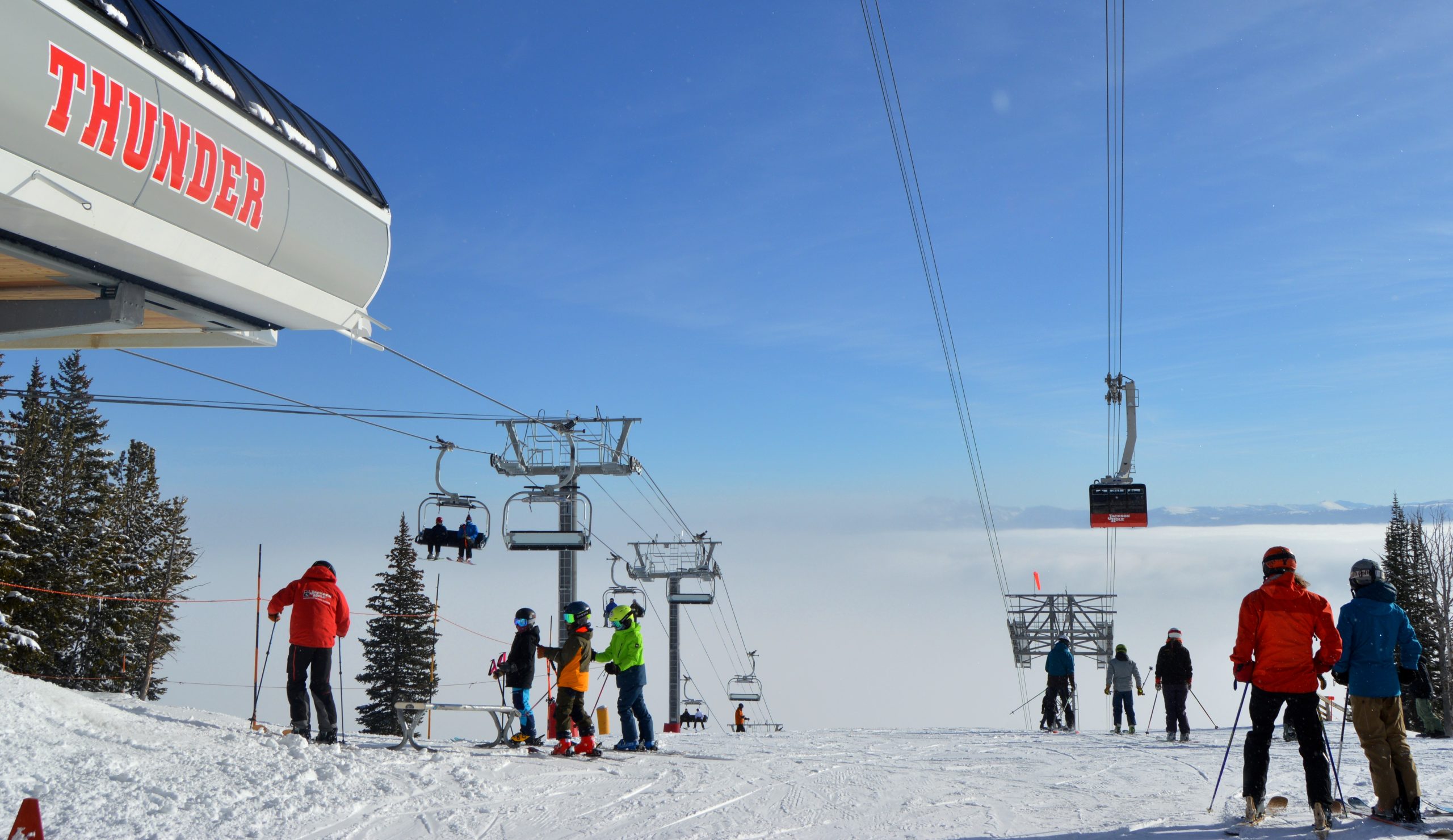 JHMR officially welcomed New Thunder Chairlift with a mountain-side ceremony and ribbon-cutting on December 17th. The milestone event included memorabilia, speeches, beats by band, Tram Jam and yummy breakfast treats.
"Thunder is a location that's really a center of the mountain. And this new Thunder Chairlift is a high-speed detachable quad that doubles the pace of the previous chair. With it Jackson Hole Mountain Resort is offering more time to enjoy the mountain and a great guest experience at the resort."

– Eric Seymour, Director of Communications & Content at Jackson Hole Mountain Resort
The morning's hearty gathering was a kickstart to a dazzler day of cold, fast skiing, and snowboarding. 
The Teton Mountains and Jackson Hole Mountain Resort are enjoying great cover thanks to a healthy November-December snowpack that promises the season ahead will be more fun by the day.
Untracked 'scoot 'n boogie' lines wait among the tree groves flanking the tower line of Thunder Chairlift. And high above, boot pack action opened access to a brilliant powder blanket spread across the steep flanks to the skiers' far left of famed Corbet's Couloir.
On the opposite end of JHMR terrain, the Hobacks are pure beauty, solitude, and a technical leg-burning ski that doubles as a fitness regime.
In brief, it's all good out here.
Renowned for its ski-able kingdom, JHMR sprawls 2,500 rip-able inbounds acres across Rendezvous and Après Vous mountains; it spikes to nearly 11,000 ft of elevation and offers up over 4,000 vert feet of all-time terrain, which includes its crown jewel, the proving ground Couloir known as Corbet's. And here's the icing on the cake: the region receives roughly 500 powdery inches of Wyoming white gold annually, which is lift-accessed by ten chairs, two gondolas, and one unmistakable tram–lovingly known as 'Big Red.'
The personalized feel to the guest-ski experience at Jackson Hole Mountain Resort is thanks to a successful system of advanced ticketing.
Savvy locals, visitors in the know, or those on the IKON or Mountain Collective passes are wisely reserving ahead all the dates they feel like dancing at Jackson's premier powder snow party.
For the coming holidays and the entire winter beyond, expect broad smiles out west because the 2022/23 season at Jackson Hole Mountain Resort is ramping up.
We'd be stoked to see ya out here. And in the meantime, an early Merry Christmas to All!
SNOW NUMBERS
5-DAY OUTLOOK
GALLERY