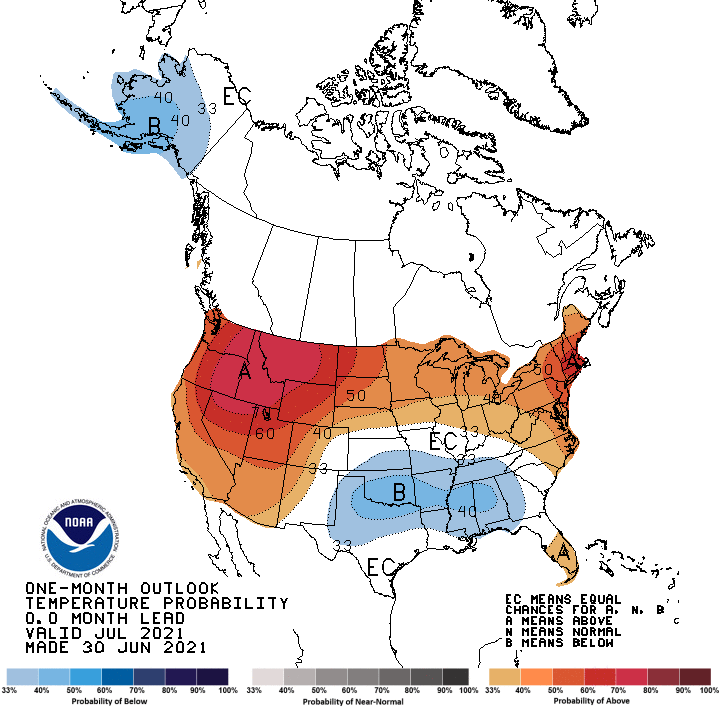 The updated forecast for July sees increased chances for a warmer than normal month across much of the West, Northern Tier, and East Coast.
The best odds for a relatively wet July exist across the southeastern U.S. and portions of Alaska, while a tilt toward below-normal rains stretches from the Pacific Northwest through the Northern Plains.
Full NOAA discussion below:
30-DAY OUTLOOK DISCUSSION FOR JULY 2021
The updated outlook of temperature and precipitation for July 2021 reflects the official outlooks from WPC, CPC, and NHC, the latest model guidance, soil moisture conditions, and the status of well-known climate oscillations. Dry conditions are forecast to continue across much of the western and northern CONUS, further supporting an outlook favoring above-normal temperatures from the Southwest to the Northwest and eastward to the Great Lakes and Northeast. The highest odds are across the northern Intermountain West, where outlooks from the short-term to Week 4 all highlight enhanced odds for below-normal precipitation, continuing to tip the feedback cycle toward above normal temperatures. Early frontal activity, combined with favored above-normal precipitation (as indicated in many models), backed by recent above normal soil moisture, favors below normal temperatures across the Southern Great Plains and portions of the Southeast, except Florida.
Across the Southwest, an early moisture surge is likely to bring rains to southern Arizona and New Mexico. The latest CFS runs indicate a push of moisture into the Great Basin during the middle of the month, but that signal is weaker in recent ECMWF runs, so slightly enhanced odds of above-normal precipitation, or EC, is the resultant outlook for much of California, Nevada, and portions of Utah. Below normal precipitation is favored to continue across the Pacific Northwest and Northern Rockies, with the first two weeks likely to be dry. Below normal precipitation is also favored for portions of the Northeast as there is little chance for moisture to stream northward. Across the Southeast, early frontal activity and the potential for tropical moisture favor above-normal precipitation. An MJO signal moving into phases 3 and 4 would tend to reduce tropical activity across the Gulf of Mexico, so that mitigates the odds across the Southeast and Gulf Coast. The Southern Great Plains are likely to remain wet due to a combination of moisture from the Southwest and the western end of a frontal boundary.