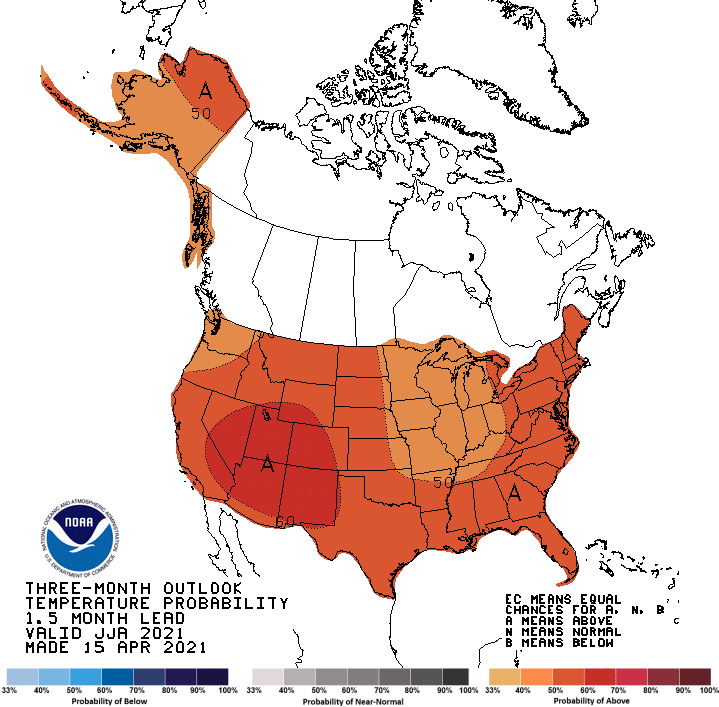 Here is the current outlook for temperature & precipitation this summer. The higher probabilities are for warmer and drier, largely due to the lingering La Niña in the tropical Pacific Ocean.
Full summary from the Climate Prediction Center below:
La Nina conditions continue across the equatorial Pacific Ocean as indicated by oceanic and atmospheric conditions, while indications of a potential transition to ENSO-neutral during the May through July period are apparent. The chance of a return to La Nina increases over the summer, such that La Nina becomes slightly more favored than ENSO-neutral in autumn. In addition to the forecast ENSO evolution described above, current anomalous soil moisture along with numerical and statistical model guidance inform the seasonal temperature and precipitation outlooks.
The May-June-July (MJJ) 2021 temperature outlook favors above-normal seasonal mean temperatures for nearly all the contiguous U.S. and for Mainland Alaska and the Aleutian Islands. Equal chances (EC) of above-normal and below-normal temperatures are predicted for a region from far southeastern Mainland Alaska to parts of the Pacific Northwest, including northwestern Oregon and western Washington. Above-normal temperatures are most likely for the entire forecast domain from the summer into the beginning of autumn.
The MJJ 2021 precipitation outlook favors above-normal seasonal total precipitation amounts for central and eastern areas surrounding the Great Lakes, the Midwest, the Mid-Atlantic, and most of the Northeast, except for northern Maine, as well as southward along the Eastern Seaboard and the eastern Gulf Coast. Above-normal precipitation is also favored for northwestern areas of Alaska, including the north-central coast. Below-normal precipitation is most likely for a region from the West coast across the Rockies to the central and southern Great Plains, excluding areas of the Southwest that are climatologically drier at this time of year. The area of likely below-normal precipitation is forecast to slowly shift northward and eastward during the summer seasons while above-normal precipitation continues to be favored along the Eastern Seaboard and expands westward along the Gulf Coast over the same period. An area of elevated probabilities for above-normal precipitation is introduced for parts of the Southwest during the monsoon season.