In North America, about 30 people die in avalanches each year.  We all need the knowledge to avoid getting into these avalanches and becoming another statistic.
The Utah Avalanche Center's Trent Meisenheimer and Craig Gordon wrote this article on December 5th, 2013.  It's a great piece that we can all learn a lot from.
by Trent Meisenheimer and Craig Gordon of the Utah Avalanche Center
Knowledge really is power in the mountains and of course, we as backcountry riders want to stack the odds in our favor.  See the VIDEO. 
It's not a mystery that avalanche professionals like Bruce Tremper (Utah Avalanche Center) or Dr. Bruce Jamieson (Avalanche Researcher) can create life-long careers in backcountry avalanche terrain, and they've been doing this longer than some of us have been alive. Are they really just that LUCKY, or is it because throughout their careers they've made solid, well thought out, and most importantly, educated decisions in the mountains—or both?  Yes, luck always plays a role.  Nearly all the old-dog avalanche forecasters can tell a story about close call.  But staying alive in the backcountry is far less a matter a chance than choice. Remember- over 90% of all avalanche accidents, the avalanche that catches, carries, and possibly kills us is triggered by the victim or someone in their group. This is actually a good statistic because  it's mostly our decisions that make the difference. And all the seemingly small risk reduction decisions we make every day, added up over a lifetime, have huge consequences.
Of course avalanche professionals are human too and even with years of experience under their belts, occasionally they make the wrong decision. That's why avy pros always carry avalanche safety gear and practice with it often. They continually try to avoid avalanches all together but if they make a mistake, then hopefully their partners with avalanche rescue gear can save them. (Beacon, Shovel, Probes) The best way to have a long career as a backcountry rider is to never be caught in the avalanche in the first place. Avoiding avalanches is the key.
As the start of this winter season is now on our doorstep we need to not let our desire to shred pow, override or cloud our logical thinking… and we all know that's easier said then done.
Every backcountry rider I've ever known (me included) has been lured onto a slope because of how good it looked. Another example, (again me included) we might justify it by saying well, there are already multiple sets of tracks on the slope and it probably won't avalanche on me. Remember that avalanches don't think this way. All they know is we come along, find a weak spot in the snowpack, collapse the weak layer (whoomph), and then propagate a fracture (crack) through the snowpack. You are going to have to think fast now, because it's like staring down the barrel of the gun and you've got to get off the moving piece of snow… not the place any of us want to be. Sometimes it's not the first person on the slope that triggers the slide, it might be the sixth or tenth or… you get the picture.
Experience in the backcountry takes time; none of us became great skiers, boarders, sledders, or mountaineers overnight. It takes us years to become a good rider or climber. Well the same goes for being a savvy backcountry user. "Never underestimate the importance or the subtlety of terrain; it takes a lifetime to learn terrain, maybe two lifetimes." (Chris Stethem)
Experience Level – my definitions
Beginner:   Has gone to an avalanche awareness talk and read/listened to the day's avalanche advisory.  Good with map and compass and able to stay on route.
Intermediate:    Has taken a Level 1 avalanche class and has roughly 3-5 years experience in avalanche terrain.  Read/listened to the day's avalanche advisory.  Able to recognize and avoid avalanche terrain.
Advanced:    Probably has taken a Level 2 avalanche class and has 5-10 years experience in avalanche terrain.  Aware of the day's avalanche advisory to augment their own opinions of the avalanche danger for their intended objective or route. 
Expert:    10+ years most likely as a practitioner in the field. Able to expertly and efficiently move through complicated and dangerous terrain.  Grasps subtleties of the snowpack, terrain, and weather to make own analysis.  Confidence tempered by humility and respect of the dynamic elements in the mountains.
Confidence in avalanche skills: Lets take a closer look….
Looking at the graph from Bruce Tremper's book, Staying Alive in Avalanche Terrain, (which was modified from a similar graph by Canadian, Clair Isrealson) we start our backcountry careers, the first two years we are in the ignorance is bliss stage (confidence high) then we might experience a close call or take a ride in an avalanche making our confidence in knowing what we are doing drop quickly. Another year or two goes by…. and we take another ride in an avalanche or experience a close call (time for an avalanche class now) confidence plummets to rock bottom.   
After our avalanche class and increased knowledge our confidence begins to increase over time once again (probably increasing faster than it should) Then, just as we think we have it all figured and are becoming a great backcountry rider; we are suddenly struck with another close call or a death of someone we know (confidence drops again, but doesn't bottom out)
We decide to take another avalanche class, perhaps a level 2 now (confidence increases again with time, but increasing at a steady rate not too fast not too slow) this is where I personally starting to figure it out was in the 6-10 year range of my backcountry career, a good place to be.
More years go by in the mountains and you will hear of another close call or death of someone you know (confidence drops, but not as dramatically) as time passes our confidence starts to increase at a slow and steady pace and becomes much more reliable, but never becomes perfect…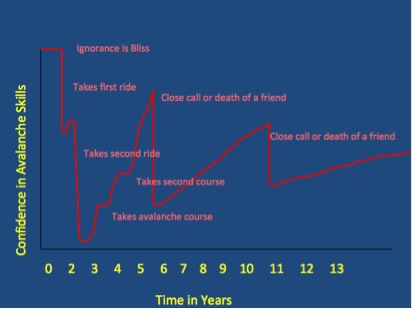 Illustration from Staying Alive in Avalanche Terrain by Bruce Tremper
Experience can come at a high price if we are wrong… Mistakes in the mountains can be harsh and unforgiving if we make the wrong decisions. Be patient in this learning process, it takes time to gain experience and to become a savvy backcountry rider.
Realize these mountains are here to stay; there will always be a next year. Get some time under your belt, travel around, go look at an avalanche crown, take a look at different snowpack region (the Uinta Mountains are a great place to see a different snowpack) be patient and learn slowly.
Remember we are out in the mountains with our best friends, family members, wife's, husbands, colleagues, and believe it or not we all have parents. The grim reality of avalanche fatalities is for those left behind… The hardest part is we are the ones stuck with the void of someone we loved very much. The Bottom-line; is we need to be careful and we need to come home at the end of the day. We are all connected in this great backcountry community and fatalities effect all of us.
Get educated. That's the easy part. Paul Diegel (Executive Director of the non-profit Friends of the Utah Avalanche Center) posted a great write-up on the variety of avalanche classes available today. There's also some online video links to credible sources. All can be found here-http://utahavalanchecenter.org/blog-how-get-avalanche-education-easy- way
Brody Leven (pro skier) also wrote a great article for Teton Gravity Research on getting educated not only in Utah but in North America. Found here:http://www.tetongravity.com/blogs/Searching-For-Safety-With-Brody-Leven-…
A few early season reminders:
1. Get your avalanche gear out. Check your beacon, shovel, and probes. Make sure your beacon's batteries are fresh. 

2. Bury your beacon in the shallow snow and practice a quick search using your searching techniques.
3. Remember shallow snow is weak snow. If there is enough snow to ride, there is enough to slide. 

4. It's a long season, be patient. 

5. Read an avalanche book (Bruce Tremper's Staying Alive In Avalanche Terrain) my favorite!!!
6. Early season consequences can be severe if caught in an avalanche. Think about it- there are more exposed rocks and stumps to be dragged through. Your bitchin' day can turn into a season ending nightmare in a matter of seconds.
7. Begin checking your local avalanche forecast & read it everyday.
One of my favorite quotes from UAC forecaster Drew Hardesty –  "If the snowpack is the question, Terrain is the answer."
Have a safe & fun winter
-
Trent Meisenheimer and Craig Gordon, Utah Avalanche Center