Report from May 11, 2022
Yesterday I awoke at 6am in the California delta.
On the road by 7am headed directly to Mammoth to ski the afternoon.
24-hour fast day.
I swerved around a crashed truck at 8am in the valley.
Green grass and oak trees in the foothills.
Snowy in the upper foothills.
Then quite a bit of snow in the mountains?
As I ripped over Carson Pass, I thought I saw the Crescent Couloir on Round Top looking good and looking in.
It was sunny with some puffy "The Simpsons" clouds.
Just over the pass by Red Lake, I pulled over and turned around.
I wasn't sure what to do…
I don't know this area at all (I'd skied the Cresent Couloir on Round Top in 2006 where my dog did the infamous "Dogahawk").
I hesitated a bit before deciding this would be a more interesting adventure than riding lifts in Mammoth – and hey, maybe there'd be more snow than I thought up high.
I suited up and made friends with a vanlife human named Kevin and we started up.
It was now fully socked in and dumping snow.
It was 17ºF on May 11!
Fortunately, there was a skin track and we blindly followed it hoping it would take us to Round Top.
It did.
I looked right up the chute and decided not to boot up it since I didn't have crampons nor ice axe in tow.
Mistake.
When I'd skied the Crescent Couloir in 2006, we'd climbed up the peak from the shoulder and dropped in.
I, for some reason, really thought the sun was going to come back out and decided to go for the clamber up to the peak.
The climbing on the snowy, yellow lichened rock was gorgeous.
I made the top and began trying to find the entrance to the Crescent Couloir.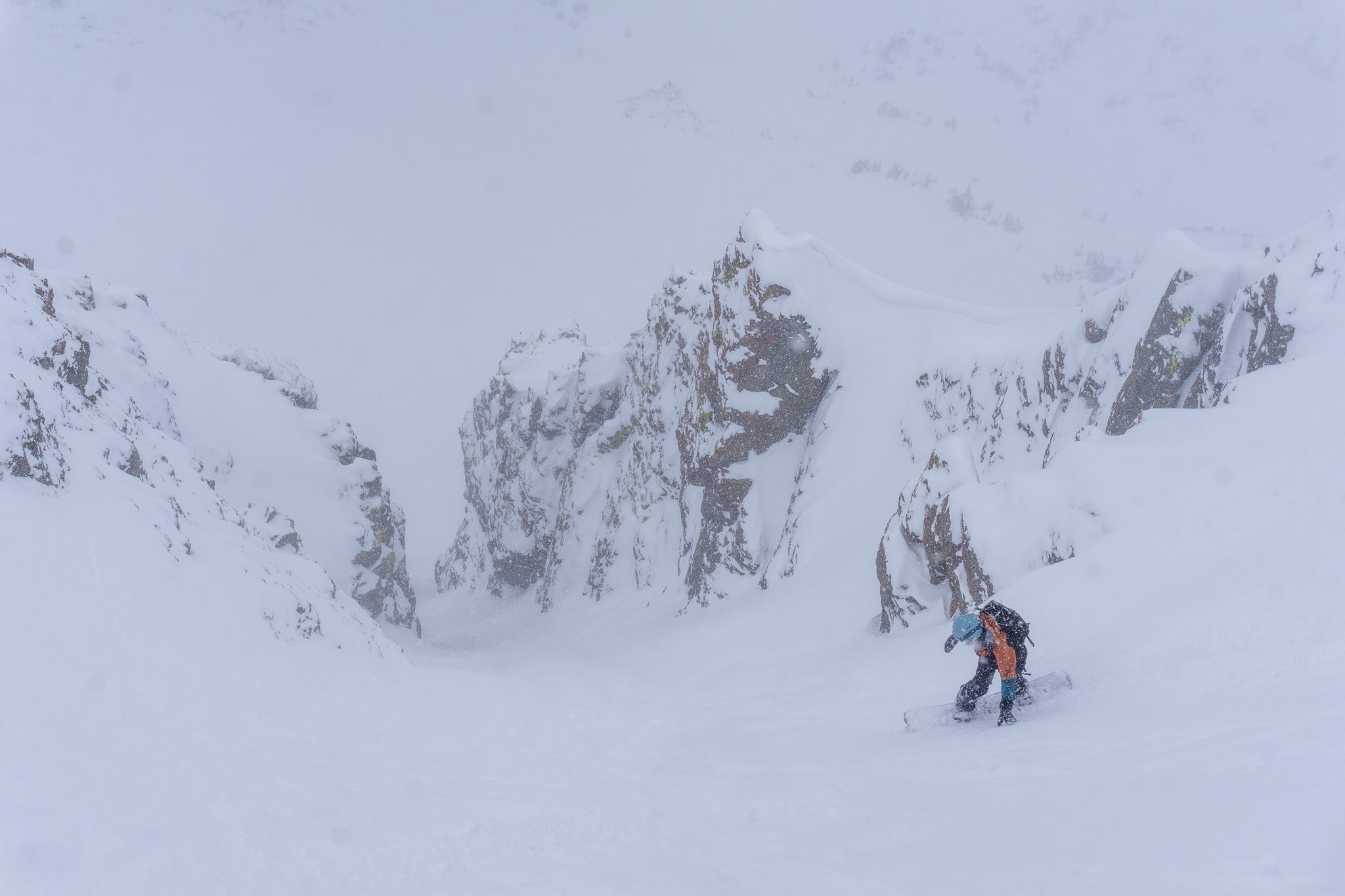 The storm was raging now.
Hard graupel snow pelted me in the face.
The wind tore at my clothes.
I had everything with me on.
I checked 3 different start zones off the peak and none of them felt good.
I generally try to not go past 2 strikes and without even putting my skis on, I was strike 3:
Entrances were icy
I didn't know where I was
Storm was intense
I backed off.
I climbed back down the yellow rocks and got back to snow as the wind buffeted me and made my cadence appear drunk.
I skied down a mellow shoulder and cut under the chute to have a look at what booting up it would entail.
There were 2 people just starting to boot up the chute!
"Great," I thought.
There will be a booter.
I switched to booting and ripped up the chute quickly in the solid booter set by the snowboarders.
When I finally caught up to them at the top of the chute, one of them looked at me and said: "Is that Miles?"
It was my friends, Allison & Seth.
We chatted for a sec then Seth dropped in.
I got some great shots of him.
There was about 6-12″ of snow in the chute and after Seth's first ski cut, all the snow in the gut of the chute fell down and we were left with ice.
We all sorta expected that I think.
But the thrill of skiing this chute in the storm was too alluring.
Seth, then Allison, then myself slid down.
The skiing was pretty rough.
I only managed to link together 2 turns in the chute proper.
At the very bottom of the chute, the sluff we'd knocked down had piled up enough to link together about 5 turns to finish it.
I was stoked.
I'd done a bit of a detour but still obtained the object, stayed safe, found friends, and had a good time.
Below the chute the apron and mini-trees skied well with no bottom – just pow – for the most part.
6-miles, 2,200-vertical feet, and 5 hours later I was back at the car.
One of the reasons I don't ski Caron Pass is that you have to go uphill both ways…
The 30+ minute skinner to get back to the car was a bit grueling – especially since I was on a 24-hour fast this day.
I jumped back in the car and finished the drive to Mammoth.
Highway 89 was closed due to snow so I took 88 into Caron Valley for the first time ever.
Carson Valley was spectacular.
Carson Valley in May is beyond belief with big snowy peaks dropping straight into the valley, puffy clouds, luminous green grass everywhere, baby cows dropping by the dozen, and seasonal pools.
I got the cheapest gas I've seen since February at $4.91 at 7-11 in Minden.
From there, I cruised the "Ice Cream Highway" from Carson Valley past Topaz Lake onto Antelope Valley through Bridgeport along Mono Lake glancing Tioga Pass bouncing off June Lake and right into Mammoth Lakes, California.
My favorite drive on Earth 🙂
I was pretty damn hungry when I finally ate in Mammoth at 6pm.
Photos in Chronological Order