Las Leñas ski resort in Argentina announced today that they will not be opening for the 2020 winter ski season.
The premier ski resort nestled in the high Andes of Argentina said that it will not open for the 2020 winter ski season because of coronavirus concerns.
Las Leñas is arguably the best ski resort in the Southern Hemisphere due to its incredibly long runs (4,000-vertical-feet), challenging steeps, long chutes, and absolutely enormous and impressive side-country.
The news broke on Argentian news channels today just as it started to snow in the Las Leñas valley. Ironic. The saddening information for many skiers and snowboarders has since spread on social media, and the ski resort of Las Leñas has since issued a statement (image below).
Translation of the above:
"For reasons outside of our control, and mandated from the state of local, provincial, and national health emergency as a result of the COVID 19 pandemic, further aggravated by the special characteristics of our workplace, which in this context make it high-risk area, Valle De Las Leñas S.A. notifies and informs that we cannot open for the 2020 winter season, we are obliged to attend this situation with the greatest responsibility and in safeguard of its workers and the general public." — Las Leñas  Management, 5/20/20
Las Leñas said that they won't be able to operate this season for reasons beyond their control and that the ski area is a high-risk area for employees and tourists alike.
Argentina as a whole has been on strict lockdown since March 20, 2020, and will continue to be until May 24 after an announcement by President Alberto Fernandez on May 8 extending the lockdown. 
The South American nation has canceled all internal and international commercial flight sales until at least September 1,  2020, due to the pandemic.
The months of July, August, and September are prime ski season in the Andes. With flights put on hold for another 4 months, snow enthusiasts are worried that more resorts will follow Las Leñas' decision to skip ski season this year.
RESORT INFO:
More than 7,500 hectares of skiable terrain make Las Leñas one of the most important ski resorts in South America. Great for beginners, and a real playground for experts, Las Leñas has 14 lifts. But what makes this place so special is the Marte Chairlift, a slow, sketchy ass double chair which provides access to 43,243 acres of terrain and 3,936 vertical foot runs from the top of the chair, at a top elevation of 11,250 ft.
The base stands in a valley deep in the Andes Mountains, at an altitude of 7,350 ft over the sea level, and the summit, as said above, 11,253 ft, making Las Leñas the highest ski resort in Argentina. With 65 skiable kilometers spread over 29 tracks, it has the longest continuous decline in the country (4.4 miles long). There is a Terrain Park for freestyle, 1.2 miles lighted for night skiing, heli-ski tracks, and cat-ski expeditions. It's important to say that all skiing in this ski resort is above the tree line: there is not a single tree in Las Leñas. From the base, we can divide the mountain into two main sectors: the front-side, and the Marte area.
The front side consists in four Pomas (TK Urano, TK Eros I, TK Eros II, and TK Minerva) two double chairs (TS Vulcano and TS Vesta) and two four-passenger chairs (TS Minerva and TS Caris), which provide access to most of the slopes. Alpine skiing in Las Leñas is pretty good. Home for international testing speed disciplines, Las Leñas has tracks for every ski level. Venus track is custom made for beginners and little kids who are taking their first steps; Minerva is excellent for intermediates and Vulcano and Caris are ideal for advanced skiers. 
On the other hand, the Marte area is formed by a series of three lifts (TK and TS Venus, TS Neptuno, and TS Marte) that will locate you literally on the very top of the world, providing access to an indescribable quantity of virgin snow. This is the main reason why Las Leñas is known worldwide: its freeride potential.
MAPS: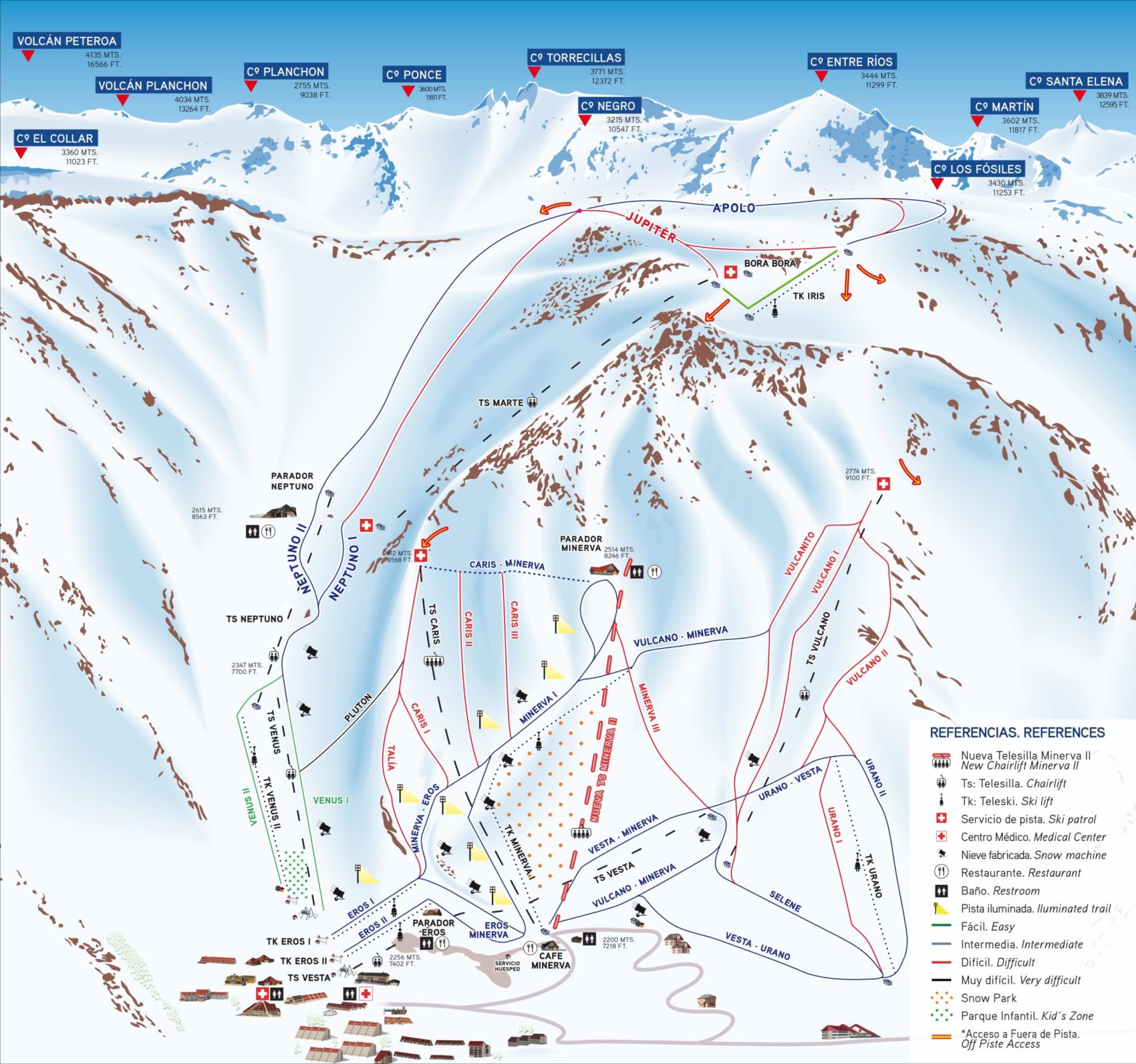 Photos of Las Leñas: