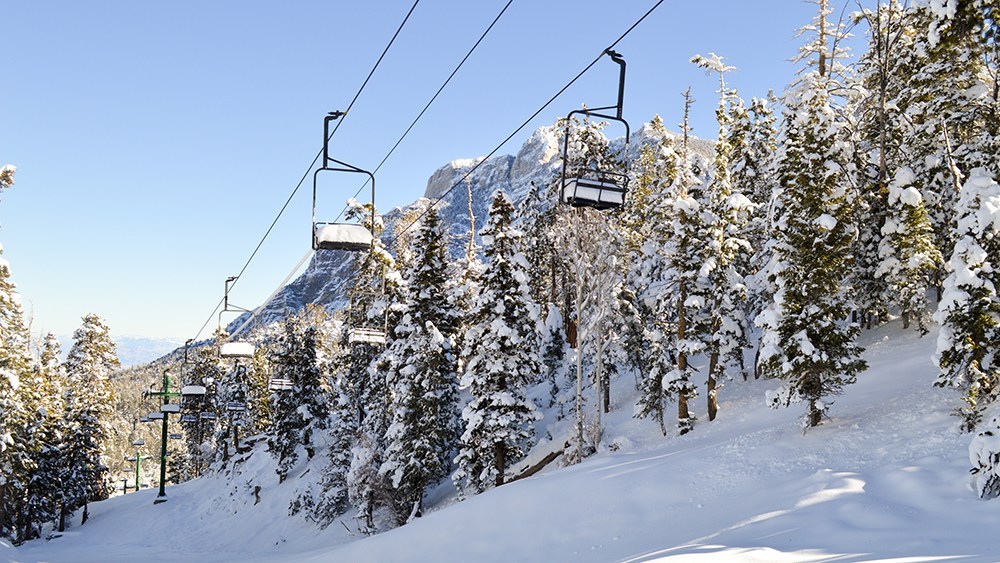 Ski areas across the nation have been getting fancy new upgrades in recent years and now one of the few ski destinations in Nevada is in the final steps to begin a $35 million upgrade. Lee Canyon Ski Area located an hour northwest of Las Vegas in the Spring Mountains has been around since 1964 and is looking to upgrade both ski infrastructure and summer activity options, but an endangered species is at risk.
If this project is approved the expansions will encroach on the endangered butterfly species habitat within the Spring Mountains. The Mount Charleston Blue Butterfly was listed as endangered in 2013 and has faced various threats to its habitat such as wildfires, invasive species, and climate change over the years. Adding human encroachment will further alter their environment and could push the species over the edge.
The ski area is not as concerned with the habitat proximity to the project and thinks that it will have a beneficial outcome for the butterflies. The master plan additions are not limited to but include, three new lifts and the construction of new skiing, hiking, and mountain bike trails. Roughly 19 acres of these terrain extensions cross into the butterfly's habitat. Many advocates of the project state that the opening of the tree canopy will help improve the environment rather than hurt it.
"They are going to crisscross the habitat with mountain bike trails", says Patrick Donnelly, Nevada's State Director for the Center for Biological Diversity. "That will irreparably fragment the habitat. The blue butterfly lives its entire lifecycle within a very small radius."
There are a few alternate variations to the plan that could be implemented instead if the master plan is not approved. To view the alternative options and the entire master plan check out the Final Environmental Impact Statement. This statement was released on November 1, 2019, and explains the entire project. A 45-day objection period is now open, information on how to submit a comment is in the Final Statement on page 3.
This is a very exciting opportunity for Nevada's southernmost ski area but comes with many environmental impacts beyond threatening an endangered species and public input is encouraged.