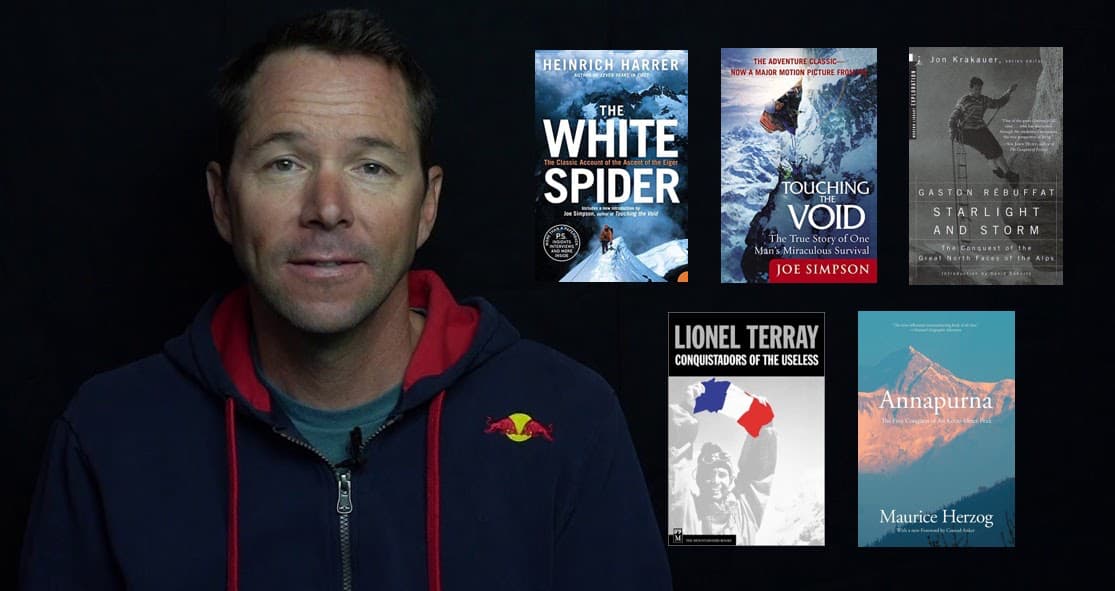 If you want to ski like a pro skier, you have to think like a pro skier. And what better way to do that than to read and digest the same books as them. Access the same knowledge, be inspired by the same things, get inside their mind.
Something about mountaineering brings out a certain eloquence in writing. I think it's partly the connection to nature, it's partly confidence in one's own self to put things down on paper.

– Chris Davenport
Legendary freeskier and ski-mountaineer Chris Davenport shared his favorite books on the SnowBrains podcast last week. Check them out below.
Chris Davenport the world extreme skiing champion in both 1996 and 2000, the ski movie star in over 30 Warren Miller ski movies and a multitude of other ski movies doing things like huck 100′ cliffs in Alaska, the ski mountaineer who was the first to ski all 54 of Colorado's 14,000′ peaks in a single year and even skied the Lhotse face at 27,000′ in the shadow of Mt. Everest, the guide who summited Everest, the author, the TV commentator, the professional speaker, the first descent aficionado, and all-around good guy.
The White Spider tells the story of the first attempts to ascend the Eiger's north face (called the Mordwand (death wall) as it is similar to Nordwand (north face)) and the tragedies that happened there, beginning with Max Sedlmeyer's and Karl Mehringer's disastrous try in 1935 and continuing to the successful ascent by Kurt Diemberger and Wolfgang Stefan in July 1958.
Touching the Void is a 1988 book by Joe Simpson, recounting his and Simon Yates' successful but disastrous and nearly fatal climb of the 6,344-metre (20,814 ft) Siula Grande in the Peruvian Andes in 1985. It has sold over a million copies and has been translated into over 20 languages.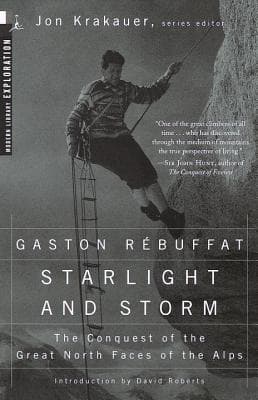 With this elegant book, first published in 1954, Gaston Rébuffat transformed mountain writing. His insistence on seeing a climb as an act of harmonious communion with the mountain, not a battle waged against it, seemed radical at the time, though Rébuffat's aesthetic has since won the day.
An engagingly written portrait of the times and climbs of premier French mountaineer Lionel Terray by himself, including the Eigerwand, Fitzroy, Annapurna, and other groundbreaking expeditions.
"A must-read for anyone who loves the mountains."

– Chris Davenport
In 1950, when no mountain taller than 8,000 meters had ever been climbed, Maurice Herzog led an expedition of French climbers to the summit of an 8,075-meter (26,493-foot) Himalayan peak called Annapurna. The route up Annapurna had never been charted, and Herzog and his team had to locate the mountain using crude maps, pick out a possible line of ascent, and go for the summit. Annapurna is the unforgettable account of this heroic climb and its harrowing aftermath, including a nightmare descent while suffering from frostbite and snow blindness. Herzog's masterful narrative is one of the great mountain-adventure stories of all time.