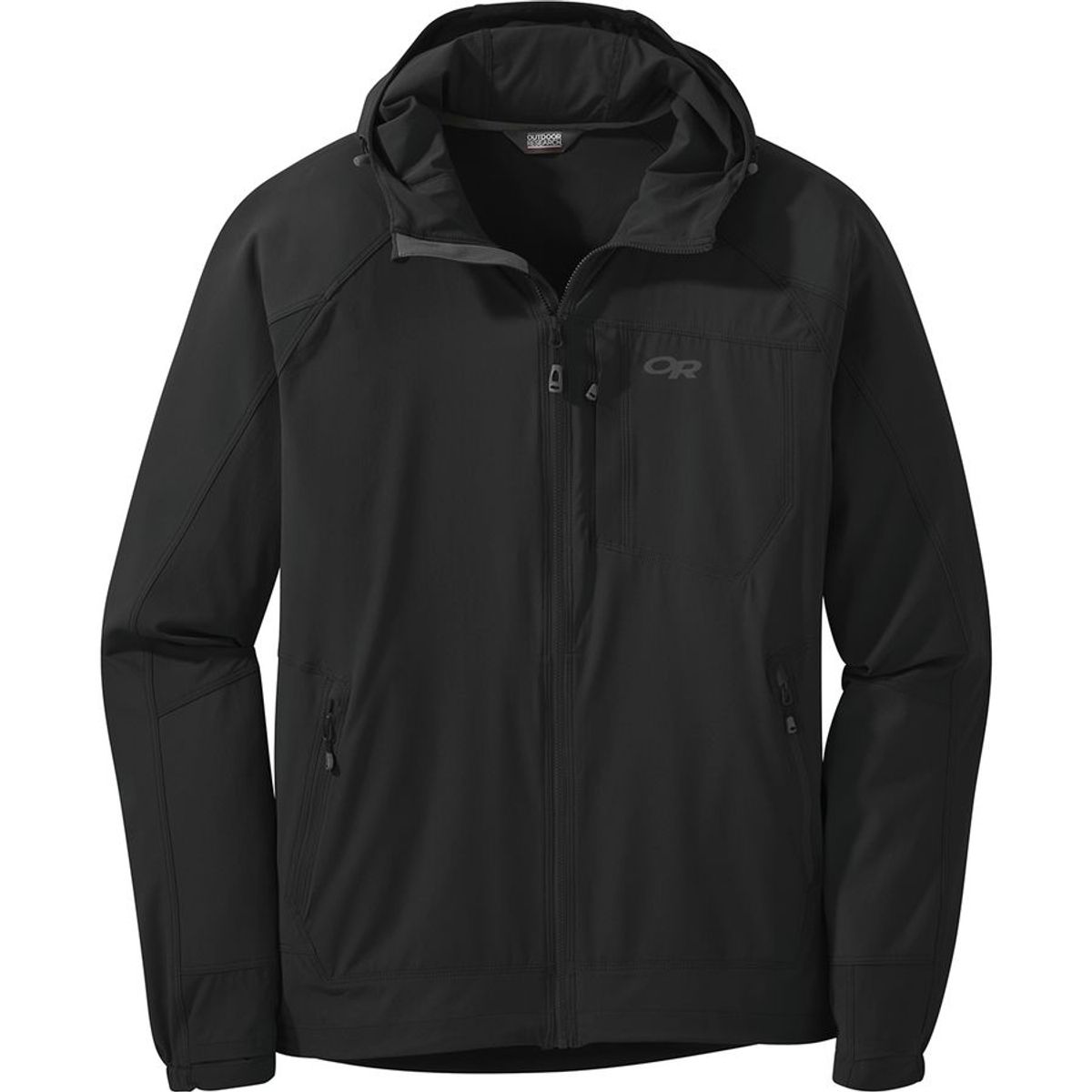 Back in February, I was sent the Outdoor Research Ferrosi hooded touring shell to review. These are my honest opinions after four months of significant use. I've broken the review up into five sections: fit, uphill performance, protection from the elements, miscellaneous pros/cons, and "the bottom line."
Reviewer Stats:
Name: Clay Malott
Days toured with the Ferrosi Shell: 55
Height: 6'3″
Weight: 160lbs
Testing location: Aspen, Colorado and Eastern Sierra, California
Fit
I'm a tall, slender person, and it's hard to find jackets that fit. When I first tried the Ferrosi shell on, I noticed that it was a little looser than jackets I had worn in the past. The sleeve and jacket lengths were perfect, but it just felt too big. However, after getting some tours wearing it, not only did I not mind the mild looseness of it, but I actually really liked it. When it's cold, it allows me to wear more layers underneath it comfortably. Second, it adds mobility. It really doesn't restrict my movement at all. It feels like I'm hardly wearing anything! For tall, skinny people like me, this coat may fit a bit big, but I didn't find this to be an issue at all.
Uphill performance
Of all the touring shells that I've tested, the Ferrosi was probably my favorite in terms of uphill performance. First of all, the jacket is incredibly light. Weighing in at just 13oz, the Ferrosi is up there with some of the lightest softshell jackets on the market. Light means fast, packable, and breathable.
Expanding on that point, the Ferrosi is extremely breathable. Typically, on extremely steep, long tours or where I'm simply training up the resort, I strip down all my layers down to just my base layer because I sometimes overheat and sweat. Sweat is never good when backcountry skiing because at the top when you're no longer moving and generating heat, the sweat can freeze and chill you to the core. This winter and spring, I consistently pushed the Ferrosi to the limits of its breathability. And this winter and spring, the Ferrosi continued to impress me. If I had sweat on the climb, the Ferrosi had allowed moisture to be expelled, meaning I had no lingering moisture, even after going as hard as I could for an hour. On long tours of upwards of 4-5 hours, I had no issue keeping the shell on all day. In terms of breathability, this is an impressive jacket. I could wear this for every tour of the season and be totally comfortable!
Protection
Unfortunately, due to its ridiculously good breathability, the Ferrosi lacks protection from the elements compared to other shells in this category. However, this does not mean the Ferrosi is completely useless in adverse weather.
During strong wind gusts, I could definitely feel a chill. However, compared to the level of breathability it provides, it was more resistant to the wind than expected. Especially on the uphill, I didn't mind the bit of chill at all. The shell provides much more protection than I would get without wearing it. If the wind chill ever got to the point where I was becoming cold when I was transitioning or descending, I would reach into my pack and throw on an extra layer underneath the shell. For its weight, I was impressed with the Ferrosi's wind resistance; however, as with most softshells, I wouldn't recommend it as standalone protection.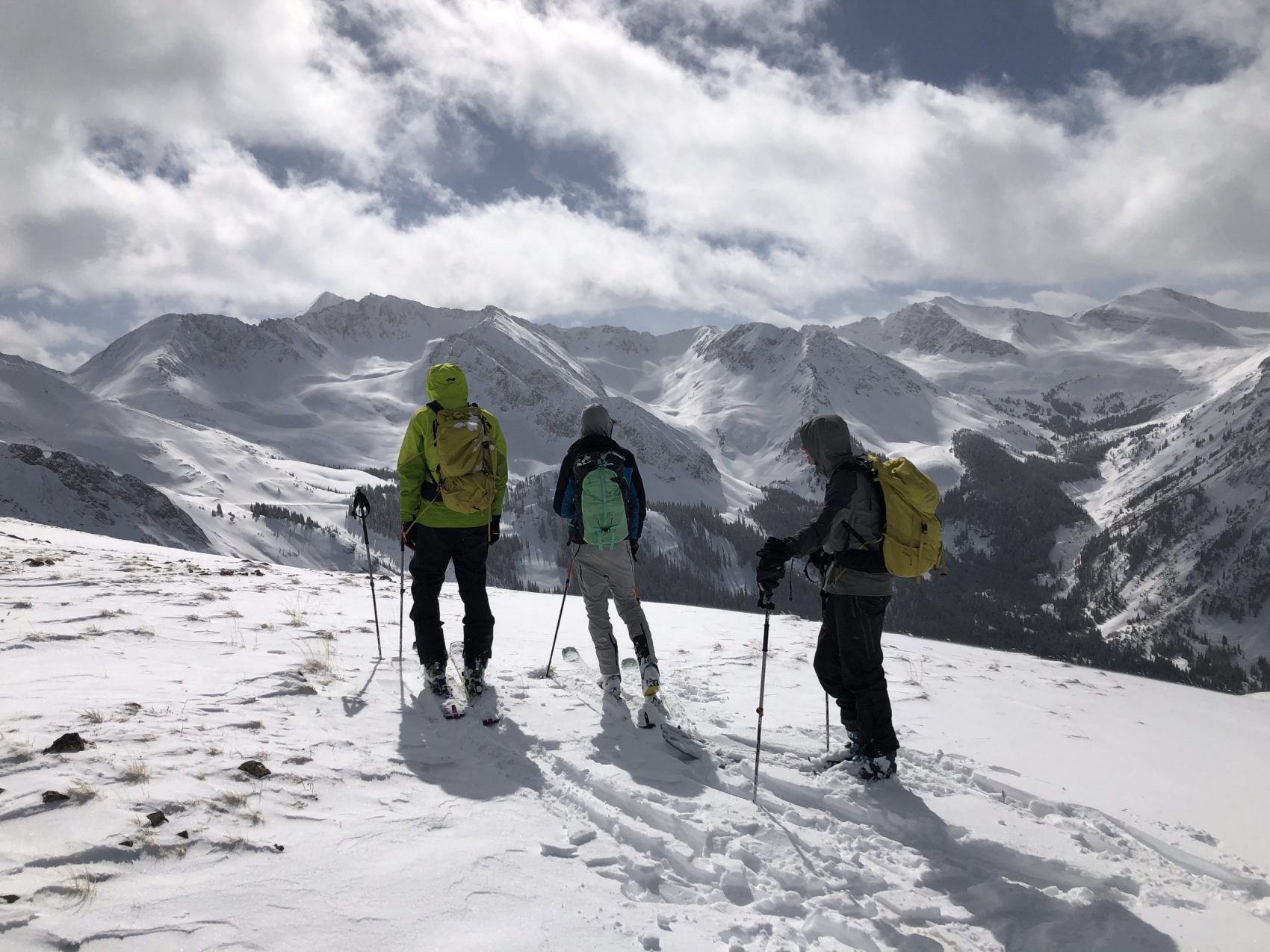 In terms of water resistance, the Ferrosi is marketed as water-resistant rather than waterproof. Due to the weight and breathability of the shell, I was expecting to become fairly wet in adverse weather. However, even in strong snow, at the end of the day, I always remained dry. I was curious and decided to put the Ferrosi under running water in the sink to see how it performed. The shell lasted a fairly significant period of time before I felt water beginning to soak through to my hand underneath. For a shell this light, this is impressive. In the mountains, nothing is comparable to running water over the jacket. In even heavy, wet snowfall, I absolutely trust the Ferrosi to keep me dry.
If moderate to heavy rain is forecasted, I would definitely bring a dedicated, waterproof jacket along. There were a few times this spring where I got rained on during tours. The Ferrosi certainly provided protection; however, my layers underneath were still damp by the end of the tour.
Pros/Cons
One of my favorite thing about the Ferrosi is the hood. When touring, I like to flip it up over my head to protect me from the sun, wind, snow, and whatever the mountains may throw at me. It's light and breathable enough that I really don't notice it when I'm wearing it. One thing I wish the Ferrosi shell hood had is more range. The hood is adjustable in size through a drawstring, but the largest setting of the hood is really only large enough for a roomy fit around the head. I would love it if I could put the hood up over my helmet when skiing or climbing/mountaineering.
Another thing I really like about this shell is its durability. When backcountry skiing through tight trees, I hit dozens of little branches and twigs that have ripped jackets that I've had in the past. Upon further inspection, even snags that I feared had torn my new shell had barely left a scratch. During spring ski mountaineering season, even after rubbing against ice axes, crampons, rocks, etc., the Ferrosi still held up just fine. I'm really optimistic that this shell will last me a long time, which is one of the biggest factors I look at when purchasing gear.
The bottom line
The Outdoor Research Ferrosi touring shell is impressive. For touring, this is one of the most breathable shells that I've ever tested. It protects from the weather fairly well considering its weight and breathability, but in very high winds, I have to add a layer underneath to stay warm, and in heavy rain, I would certainly want a dedicated, waterproof layer. Overall, I give the Ferrosi a 9/10. It has certainly become one of my go-to layers for ski touring. To me, the craziest part about the Ferrosi is the fact that it only costs $130 (some colors are even on sale for as low as $65). Now that's what I call bang for your buck! I'd recommend the Ferrosi shell to any outdoor enthusiast looking to go fast and light while retaining protection from the elements in the mountains. Shop the Outdoor Research Ferrosi shell here.