This report was written by Steve Stuebner
On a March visit to Lookout Pass Ski Area, 10-14 inches of fresh *pow* greeted us on a Saturday morning. And my, it was amazing to see how the North Idaho powder hounds turned out in force to shred the fresh snow!
We arrived at 8:30 a.m., and early bird skiers were already on the main lift heading up the hill. We hadn't even found a place to park! I looked at my partner Wendy, "Whoops, we're late!"
But our friends from Coeur d'Alene saved us a spot in the lift line. We loaded the quad lift at the base of Lookout and headed directly for the new Eagle Peak area pronto. Fresh *pow* was waiting to be shredded! And that's always a big deal!
In minutes, we rode the nearly mile-long Eagle Peak quad lift to the 6,160-foot summit of Lookout's new mountain, which opened for the 2022-23 ski season. Light snowflakes fell from the sky, but we could see clearly enough that all kinds of virgin snow awaited our tracks. Let's go!
Dave and Carol Lindsay and Randy Bell of Coeur d'Alene led the way down Thunderbird, a black-diamond face under the lift, and we had it all to ourselves. The knee-deep, light creamy snow felt like a dream. Once you get into a rhythm in snow like that, you don't want to stop!
We crossed over Eagle's Flight, a big boulevard open slope, and dropped into Ironheart, a black diamond north slope, and shredded virgin powder pillows on a nice fall line to the bottom of the Eagle Peak lift. We got back on the quad chair within minutes and squirmed, anticipating another powder run. On days like this, the lifts can't run fast enough. On the new fixed-grip quad chair, it's a 13-minute ride, so you might as well enjoy it!
Eagle Peak nearly doubled the skiable terrain at Lookout Pass to a new total of 1,023 acres. Eagle Peak itself offers 1,650 vertical feet of continuous drop from the summit, an increase of 500 verts that are provided by Lookout's other lifts. The lengthy vertical drop from Eagle Peak is very similar to many of the medium-sized ski areas in Idaho, such as Bogus Basin and Brundage Mountain. There are 14 new named runs on Eagle Peak.
You pause for a moment on the Eagle Peak summit, look below, and it seems like it's a LONG way to the bottom. It's a similar feeling you get on Warm Springs at Sun Valley, where the ski slope drops more than 3,000 vertical feet and you feel your quads on fire if you try to zip down nonstop.
I asked my CDA friends about their take on Eagle Peak.
"I really like it there," Dave Lindsay says. "It's a long chair, it's a mile long, so it's a long way back down. It took us a while to figure it out — it's a little more complicated than we thought, but we've really, really enjoyed it. It has a whole different feel, it's significantly higher, further back in the mountains, and it adds to the powder skiing at Lookout quite a bit!"
"Going up the chair is beautiful!" adds Randy Bell. "Look at all the mountains everywhere!"
Matthew Sawyer, director of marketing for Lookout Pass, puts it this way: "The Eagle Peak expansion has transformed the area. It's been ten years in the making, so people have been waiting for it.
"It's added terrain that we didn't have before — longer trails, more vertical, because it's higher. We've already had a reputation for quality snow, and abundant snow (400 inches/year), but Eagle Peak gets more than we had before because it's 500 feet higher. When there's a big storm, that's significant."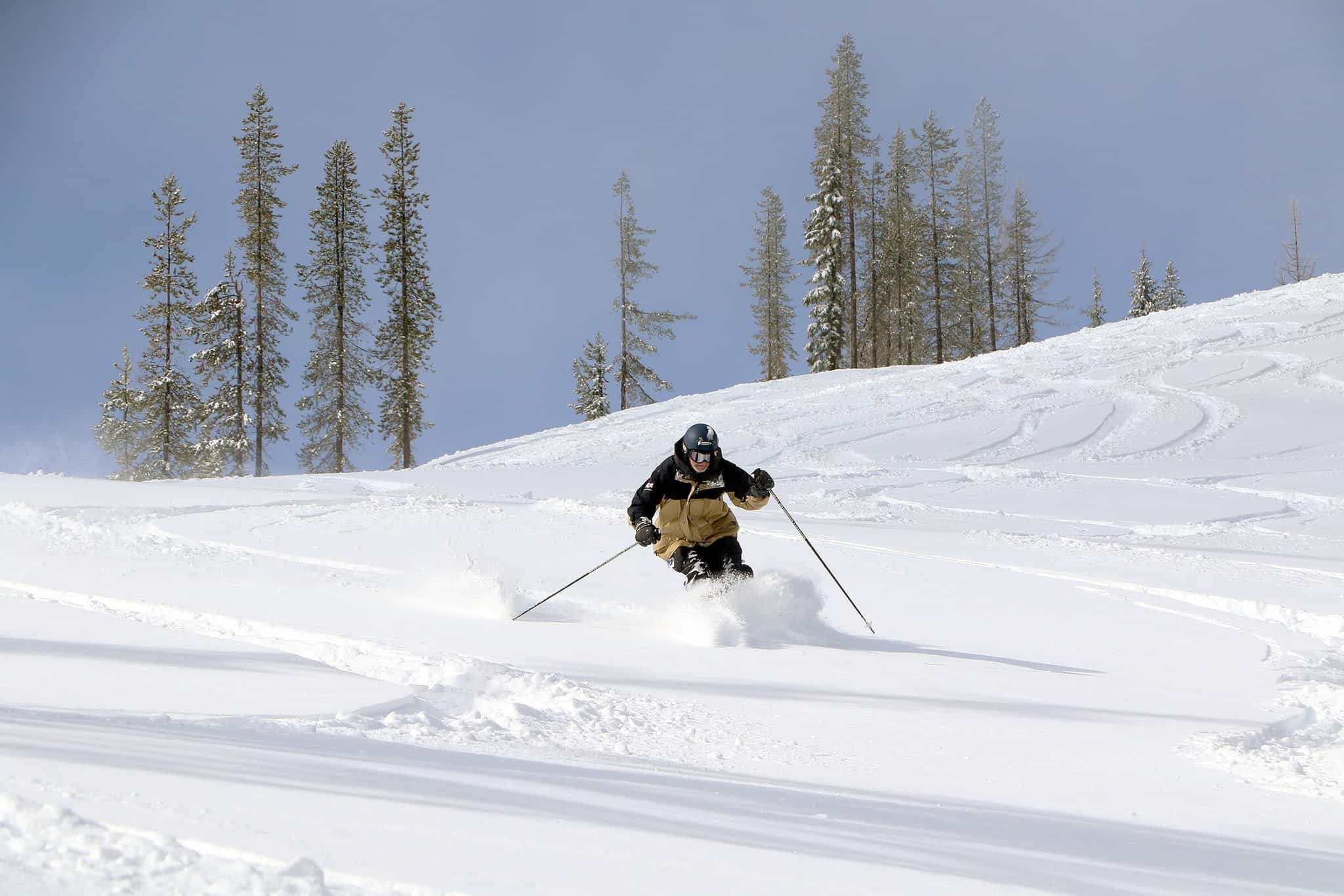 Another fun and unique aspect of Lookout Pass is its location on the Idaho-Montana border.
"You can ski in two states, ski through two time zones (Pacific and Mountain), and it's one of the few places where you can go back to the future, literally," Sawyer quips.
Overall, Lindsay says, "I love the general vibe at Lookout. I like how the mountain is maintained. I like the people who work here, the lifties are great."
"It's a great little mountain," Bell adds. "There's no lift lines (mid-week), lots of nice powder stashes, and they usually have the most snow."
Affordability is another significant consideration at Lookout, Sawyer says. Lift fees cost $55 per day mid-week for adults, $66 on weekends, and $73 on holidays. Those prices are below the average price in Idaho and WAY below what they charge at destination resorts. Season passes cost $399 for adults, also a bargain. Lookout spring season pass sales are currently underway, BTW. A new season pass provides access this spring but also all of the next ski season.
Lookout also looks to the future by providing free ski lessons to kids on Saturdays. Over the last 80 years, Lookout has introduced about 75,000 kids to skiing and snowboarding.
On this particular trip, my partner Wendy and I skied Lookout on a partly sunny day on Thursday to experience many of the groomers at Lookout and on Eagle Peak. It snowed like bonkers that night, creating a foot of new light snow to enjoy at Silver Mountain on Friday. And then we went back to ski Lookout on a powder day.
Wendy and I stayed in the condominiums at the base of Silver Mountain, so it was an easy 20-minute commute to Lookout from there. And on the day we skied Silver, we walked from our condo unit to the gondola terminal to ski for the day.
I really like both Silver and Lookout. They both have their own unique personalities, but they're basically long-time Idaho home-grown ski mountains with a great variety of slopes and tree skiing.
Lookout's history goes back to the 1930s when they had a small rope tow operating at the base. They have the second-oldest ski lodge in the Pacific Northwest, built by the Civilian Conservation Corps. The oldest is at Timberline Lodge on Mt. Hood in Oregon.
The Lookout base lodge complex features a basement area with ski lockers for locals, a self-serve food service area on the second floor (lunch for $10 or less), and a spacious bar on the third floor with food items available and several big-screen TVs. Large picture windows allow you to watch skiers and riders come down the mountain while you're sipping a beverage après ski.
We capped off our powder day at Lookout by hitting some secret tree glades that require some hiking to return to the ski lifts. I'm sworn to secrecy about the location.
The mystery glades were a stellar way to complete the ski day. We started out on a moderate slope, winding slowly through nicely spaced lodgepole pines, and then the fall line got steeper to finish out the run. All virgin *pow* for 1,000 verts of pure bliss! We all landed on a cat track below the slope, grinning ear to ear. Woo-hoo!
Lodging options when visiting Lookout Pass: Lookout has no overnight accommodations, so the best options nearby are in Wallace and Kellogg. I recommend the Silver Mountain condos at the base of Silver Mountain (our studio condo cost $85/night on VRBO.com), the Wallace Inn or the Ryan Hotel in Wallace. The Silver Mountain condos have big hot tubs that are open 24/7, and the Silver Rapids indoor water park (great for kids).
Local favorite eateries include: Sam's in Kellogg for breakfast, Radio Brewing Co. in Kellogg for lunch, dinner, or drinks, Blackboard Cafe in Wallace for breakfast or dinner, City Limits Brew Pub in Wallace for lunch, dinner, or drinks, and Noah's Canteen at the base of Silver Mountain for drinks, lunch or dinner.