Report From Friday, March 11, 2022
After deciding to brave the low temps at Loveland, we headed up for a day trip. We instantly realized it would be cold as the wind pushed clouds over the divide. 
Driving up from Denver, we watched the temps slowly drop with each increase of elevation. The high for the day was four degrees. We pulled into the lot at 8:30. It was two degrees, but the sun was shining. However, it didn't last long. Soon the strong winds Loveland is known for blew the clouds in. 
After mentally preparing and layering up, we headed out. We hopped on Chet's, hoping to get a couple of warm-up laps in. The temps were cold, but the snow was soft. We ripped the groomers a couple of times, hitting the occasional side hit or two, then hopped on Ptarmigan. 
After a few laps on Ptarmigan, our fingers and toes were numb. It was time to defrost with some hot cocoa, so we headed down to the Rathskeller. We defrosted our toes and made a plan for where to head next. 
With snow conditions as nice as they were, we decided to brave the wind and low temps and make our way to Lift 8. Hoods were up as we hopped on 8 because as soon as we peeked above the treeline, the wind hit us like a truck. We fought our way through and began our descent. 
Visibility was low, but the soft windblown pow was worth it. Even with low-light lenses, it became a trust exercise with your skis, being unable to tell where the pow began and ended. 
We lapped 8 a few more times as the snow was so fun. After a few rounds of arcing big pow turns and popping in and out of the trees, it started getting late. We decided to begin making our way back to Chet's. 
After hopping back on Chet's, we were instantly relieved from fighting the wind. Feeling a little warmer being sheltered in the trees, we took a few more laps before the last chair. Adventuring over to Over the Rainbow, we were rewarded with some steep soft bumps that disintegrated under your skis between each jump turn.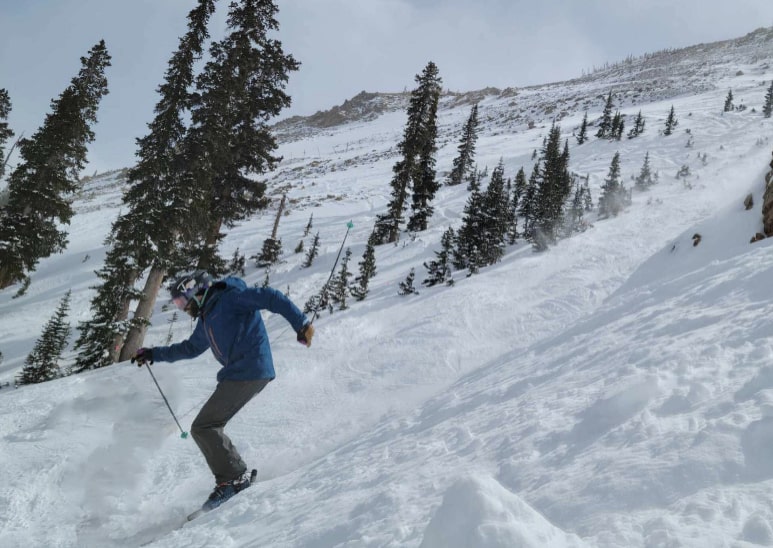 We finished the day off with some fresh turns in the Catwalk Trees. Other than avoiding the occasional log, coverage was not bad. There was even some leftover untracked pow to be found. 
By now, legs were tired and faces cold, so we headed back to the car. The clouds continued to roll over the divide. The temperature was eight degrees, double the forecasted high for the day, but not for long. We slowly un-layered our vests and puffys,  hopped in the car, and headed back to Denver, where it was a warm 40 degrees. 
Overall not a bad day for the famously windy Loveland. Low temps will continue with hopes of a few more inches over the weekend.
Snow Totals

Weather
Forecasted Weather