[Sponsored by Mammoth Mountain]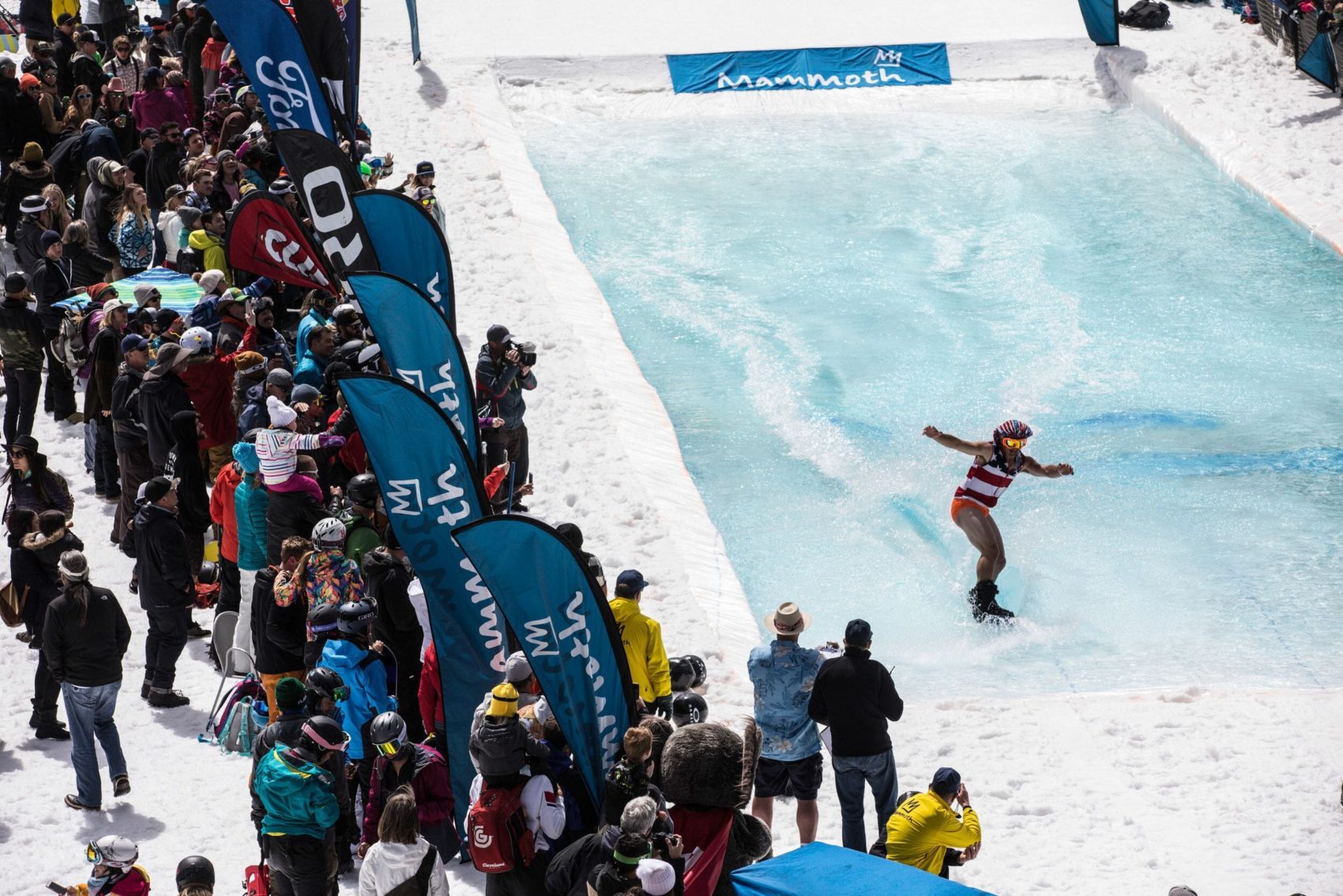 Mammoth's got your April social schedule all laid out, whether you're a wacky pond skimmer, creative park rat, or just looking for a good sweat. The coming weeks at Mammoth are filled with weekend après parties, some of the spring's biggest events, and lots and lots of sunshine. With so much going on at Mammoth this month, there is sure to be an activity to please every type of rider in your crew.
Ease into this jam-packed month with a weekend of good food, drinks, music—and of course the best company—from 1-6 pm this Friday and Saturday on the Canyon Lodge Sundeck. Any event that promises a DJ spinning from inside a gondola car and a champagne zip line are bound to be a good time. And pace yourself people…because this is just a warmup for the events to come later this month.
The first event on the dock is the 2019 Holy Bowly on April 20-21st. Do you have a friend who has a third eye for seeing the best line in the park? If you answered yes, grab them and head over to Mammoth for the Holy Bowly. But have no fear, even if you like to ride a little more inside the lines (pardon the pun), watching riders participate in this event is seriously entertaining, and it's wild to see what some people can think up in the world-famous Unbound Terrain Parks. Whether you're a participant or spectator, the Holy Bowly will definitely get your creative juices flowing.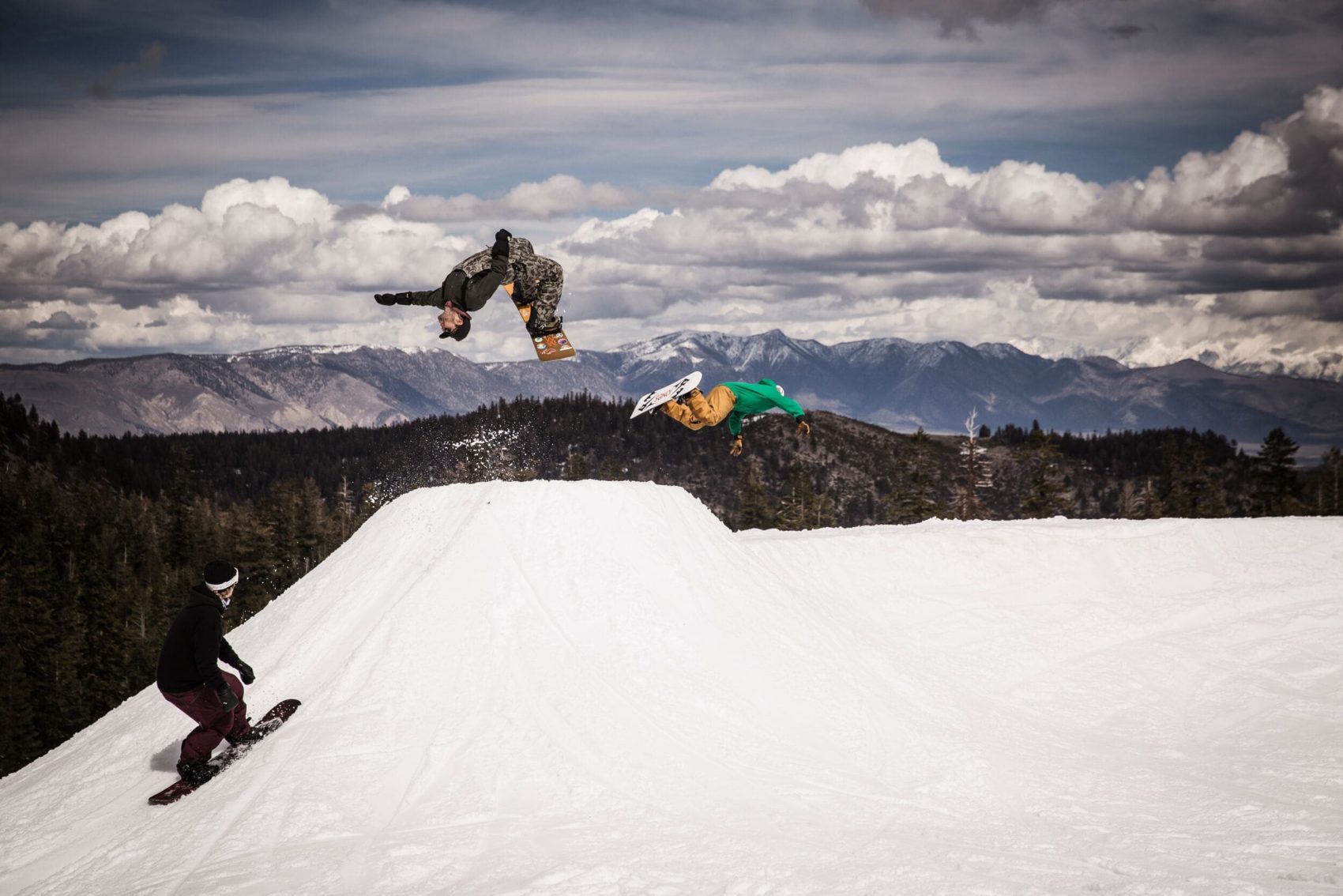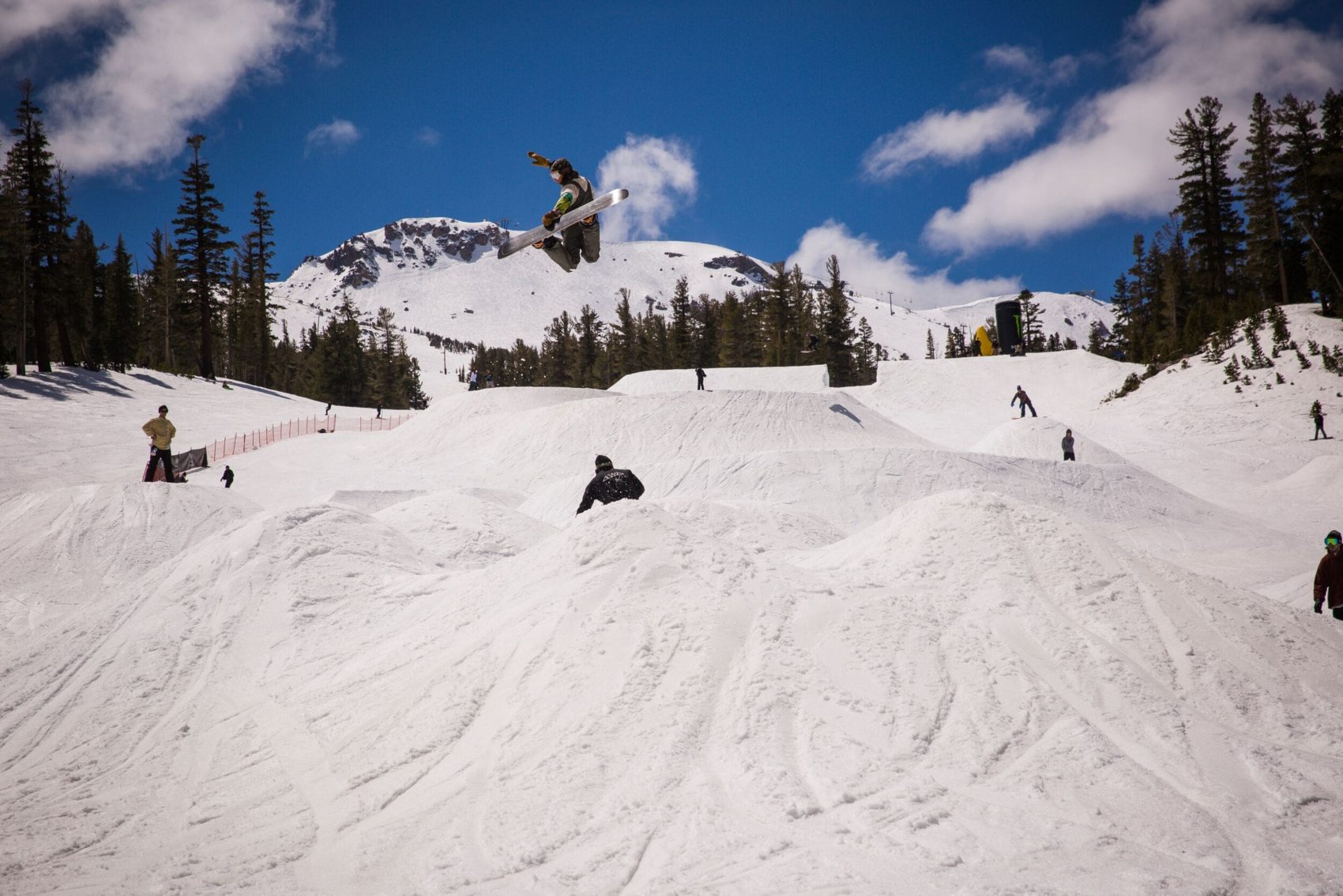 The fun doesn't stop there folks. Don't forget to get in line at the Canyon Lodge Ticket Lobby at 8 am on the 21st if you want to secure your spot as one of the 50 competitors (don't forget your costume) in this year's Pond Skim. If an early wake-up call isn't your cup of tea, no need to worry, you can still get in on the action too. Just head to the slopes outside Canyon Lodge at 2 pm to see some of the wackiest riders you've ever laid eyes on give it their best shot at successfully making it all the way across the water. And when it's all over, make your way over to the Canyon Beach Bar for the after party.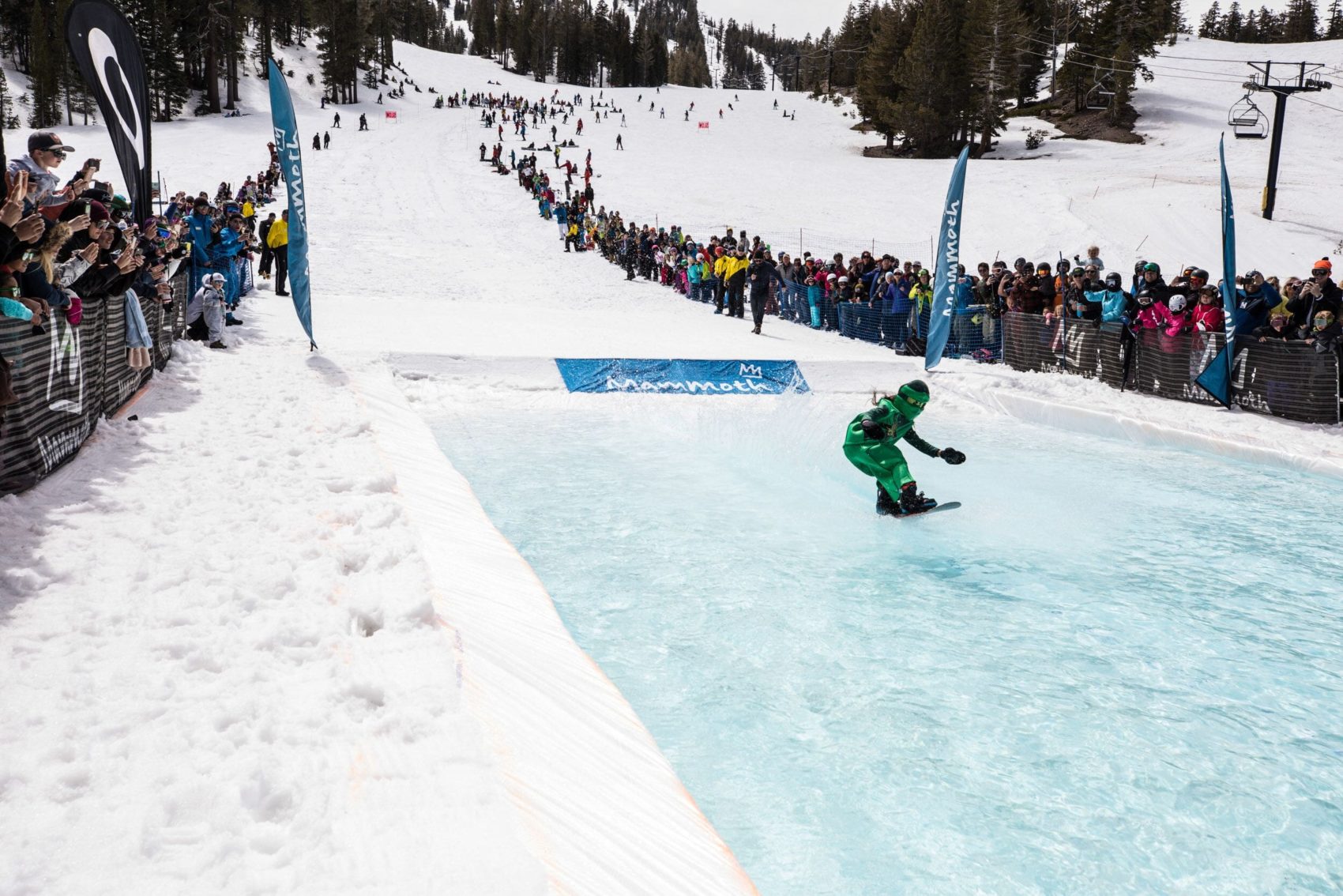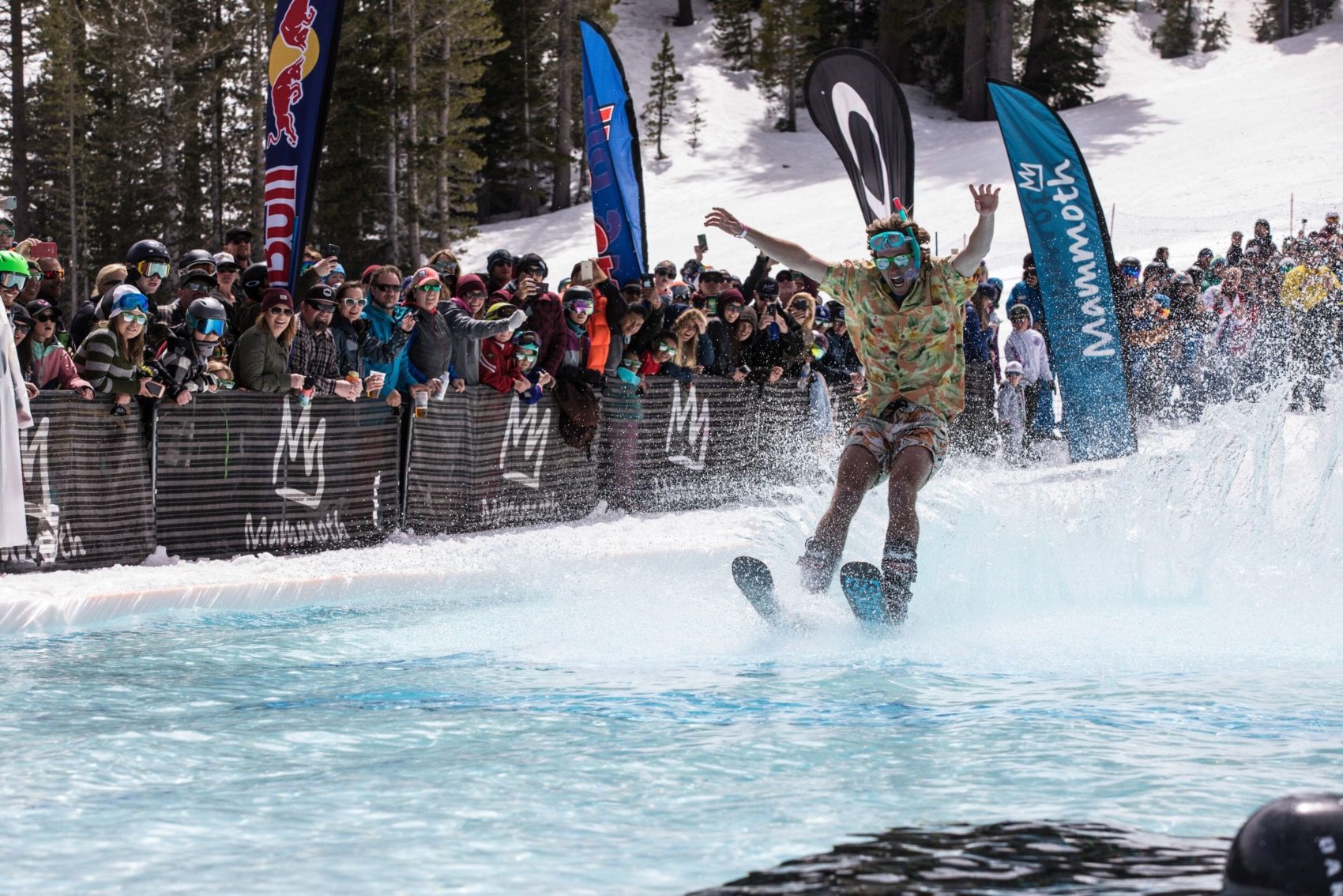 With summer coming in hot, we're all looking for ways to burn the extra cals. Insert 11,053' Winter Ezakimak on April 27th. This event is an uphill race, 5k in length and beginning at the base of Mammoth Mountain, in which you climb 11,053 feet to the summit on foot, cross-country skis, snowshoes, or a fat bike. Challenging yourself is the name of the game in this event, and is a sure fire way to jump start your bikini bod.
But if you'd rather just be down to watch the Ezakimak race, sans extreme lactic acid build up in your legs, take the Panorama Gondola to the top of the Sierra at 6:30 pm for the Summit Sunset Party. You'll be just in time to see the Ezakimak participants cross the finish line, and enjoy food and drinks while watching a beautiful sunset over the Minarets. And, as if this event needed any more hype, the story behind the name, Ezakimak, is pretty cool too.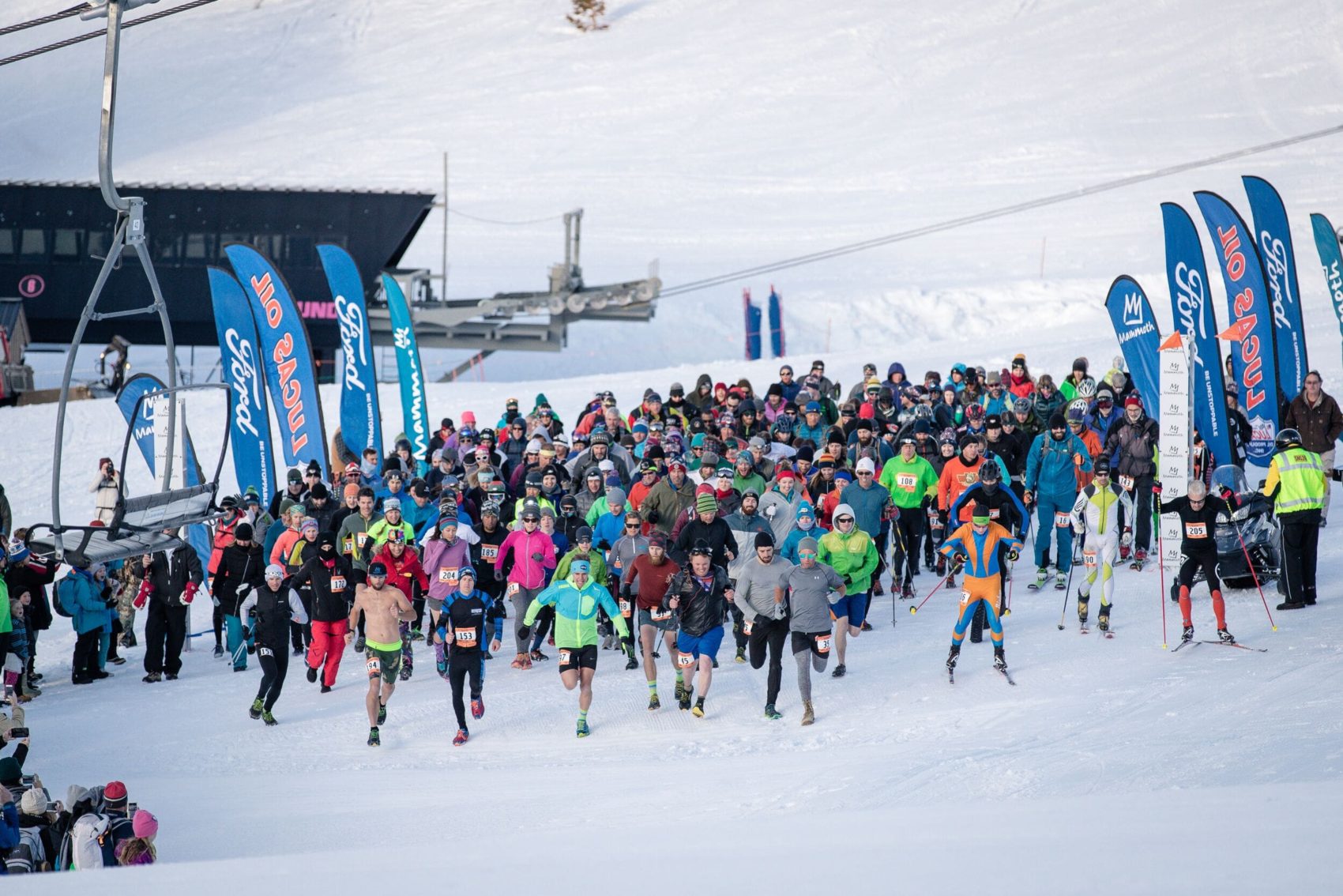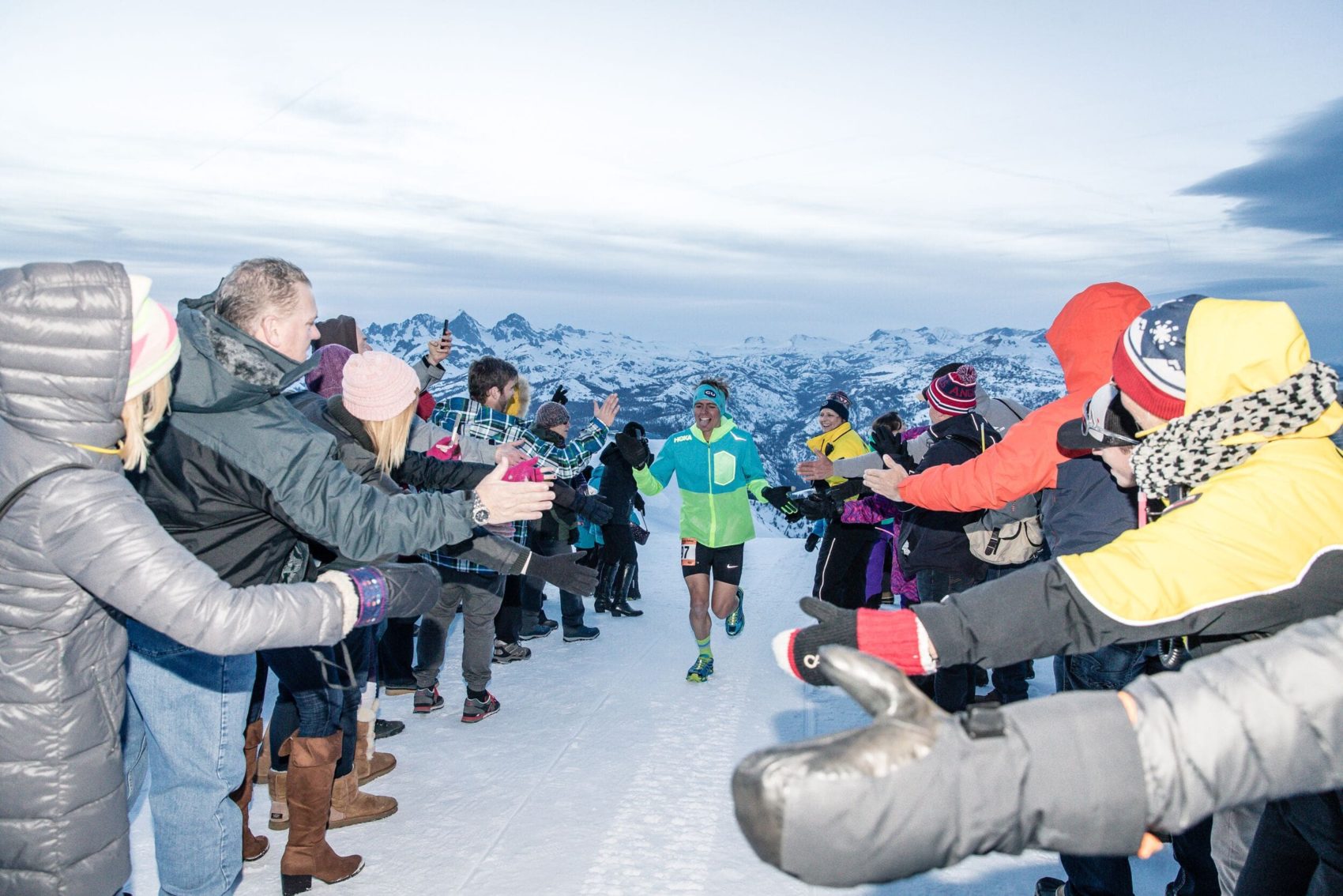 Fast forward to next month, and Mammoth will be putting on the Ski Mountaineering Challenge on May 4th. This skinning race consists of 5 in-bound ascents up Mammoth Mountain, giving you the chance to try your hand at ski mountaineering.