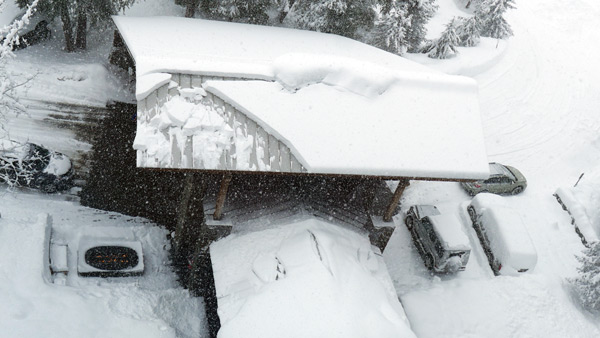 A 'roofalanche' was triggered on the afternoon of Saturday, March 9th  from the roof of a commercial building in Crested Butte South, CO killing one man and hospitalizing another, according to a press release from Gunnison Regional 911 Center.
The two men were reportedly clearing snow accumulation from the roof at the time. Officers arrived on scene within 9 minutes of the dispatch page to find employees of the establishment had already begun digging for two victims. Reportedly one victim was heard yelling and was quickly removed from the debris. The other victim was located shortly after, unresponsive. By 4:41 pm and 4:48 pm, respectively two ambulances left the scene en route to the Gunnison Valley Hospital with the two victims.
PRELIMINARY: Two people were clearing snow from a low-angled roof. The snow avalanched. Both were caught and buried, but no one witnessed the avalanche. About 10 minutes later, someone discovered the avalanche, called 911, and began digging. Local emergency services personnel arrived within 10 minutes. The first person was dug out and survived. The second person was buried more deeply. They were located by probing and were not breathing when dug out. The two were buried for 20 to 30 minutes.
The victims are identified as Blair Tulliver (Tully) Burton age 37 of Crested Butte and Stephan Michael Martel age 25 of Gunnison. Mr. Burton was transported for suspected hypothermia. Mr. Martel was pronounced deceased at the hospital as a result of his injuries. His family has been notified of his passing.
The previous day, at approximately 7:30 pm, officers were dispatched to a private residence in Crested Butte, for the report of a man possibly buried by a roof avalanche resulting from snow clearing activities. Alex Theaker, age 28 of Crested Butte was found breathing, but unresponsive when his body was located by Paramedics and Police. Mr. Theaker was transported to Gunnison Valley Hospital to be treated for a low body core temperature. It is currently unknown how long Mr. Theaker may have been buried under the snow slide.
Over the past 7 days, the Crested Butte area has received more than 50 inches of heavy, wet snow resulting in avalanche danger rated as Considerable to Extreme.