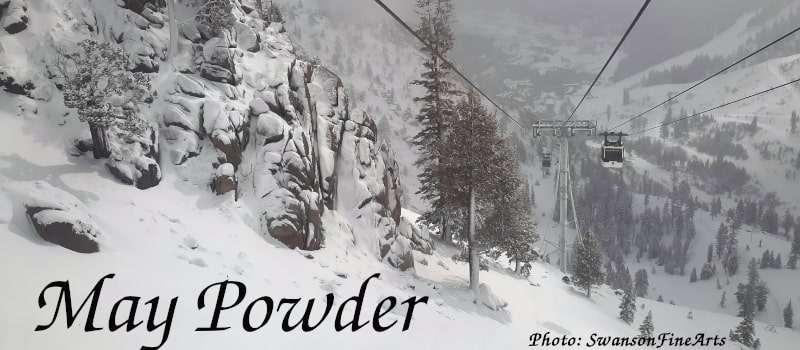 Miracle May at Squaw Valley, CA was a-MAY-zing! Thursday, May 16, 2019, we arrived just after 8 am but lifts were being held for avalanche mitigation and rime ice. There were reports of at least seven inches of fresh powder on the upper mountain and we could see operation teams scurrying. Before long they got us up the hill and started on our adventure.
Related:
The only lifts in operation were Funitel and Gold Coast Express, and all other lifts were still on hold. We skied a few warm-up runs then met a Canadian skier who was visiting Lake Tahoe and Squaw Valley for his first time. He joined our group and we headed over to Shirley Lake to see if it was open. The Shirley Express lift was spinning, but no one was on it yet. We looked around and quickly noticed that the closure signs were gone. It was almost too good to believe! Every member of our group got fresh untracked powder, and it was smooth all the way down.
Video: Conditions May 16, 2019, at Squaw Valley.  | SwansonFineArts
Tuesday, May 21st started with 3-5″ of fresh powder with more coming down. My thermometer read 33º in the parking lot, with snow accumulating on the roadways and a white blanket over trees and rooftops.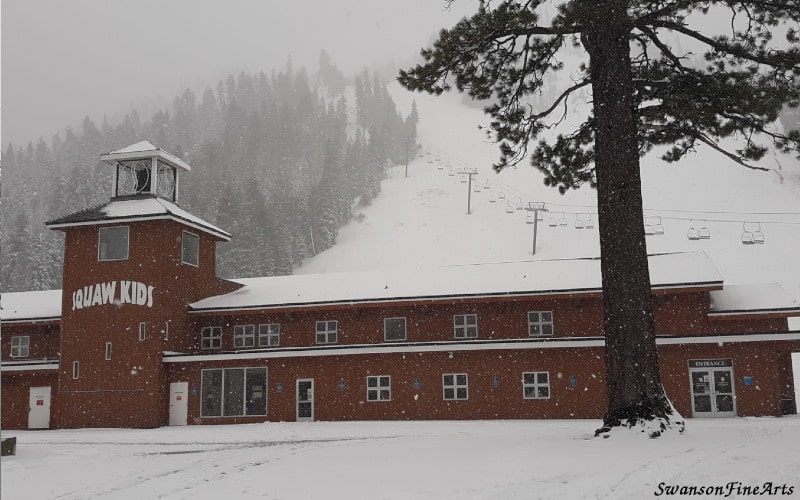 We took the Funitel to Gold Coast then headed toward Shirley Lake. The snow was coming down so hard we inadvertently skied well below the path to the ridge and ended up too low to get there so our group decided to ski toward the water tower next to Big Blue instead. From there we all caught air into a nice soft powdery landing. The whole upper mountain was a winter wonderland!
Related:
Video: Conditions May 21, 2019, at Squaw Valley. | SwansonFineArts