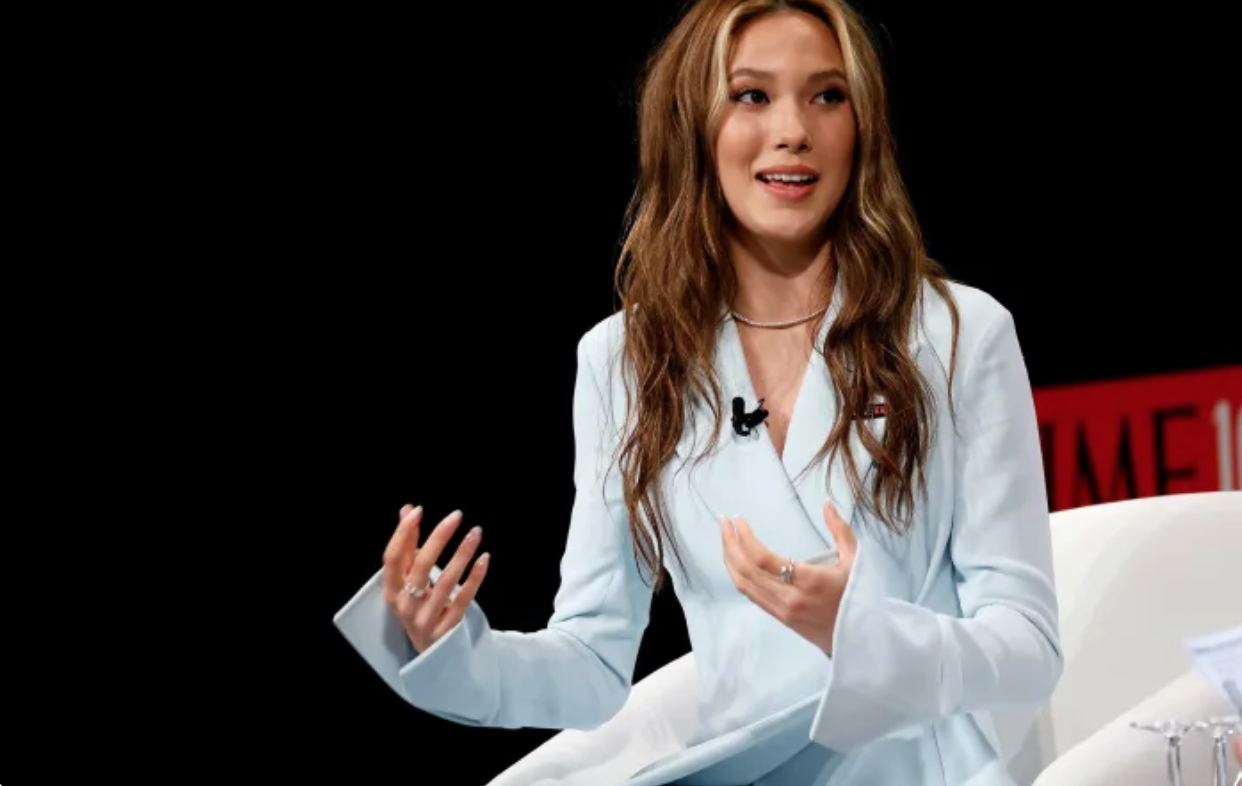 They love her and they hate her. On Tuesday, American-born double gold medallist Eileen Gu, who competed for China in the 2022 Beijing Winter Olympics, announced that she's going to be an ambassador for Salt Lake City's Winter Olympic bid for the 2030 or 2034 Games. Chinese and American social media users alike shared both support and disgust for her latest decision to do so.
Gu was born in California to an American father and a Chinese mother. In 2019 she decided to represent China in the 2022 Beijing Games, where she won gold in the big air and halfpipe events, as well as a silver medal in slopestyle. But when asked, Gu remained ambiguous about her nationality. Amid political tensions between China and the U.S., she says that she is American while in the U.S., and Chinese while in China, Radio Free Asia reports.
Yet, China doesn't allow dual citizenship, at least not officially, and Gu has never clarified which passport, or passports, she actually now holds, according to RFA. During the Beijing Olympics, China's state-controlled media praised her medals, and in April Gu attended an assembly of Chinese Olympians at the Great Hall of the People in Beijing, where she got a special mention from the ruling Chinese Communist Party (CCP) leader Xi Jinping. Fast forward to this week and Gu has announced her role in helping the Olympic Games come back to Salt Lake City, where they were hosted in 2002. Chinese social media users shared mixed emotions, both praising her and ridiculing her.
China's Eileen Gu to serve as ambassador for United States Olympic bid #TIME100 https://t.co/XbW7hVLULa pic.twitter.com/Bzxd0NvQuv

— TIME (@TIME) June 8, 2022
Gu's news has since blown up on the Chinese internet, which is actually specific to China. More than 15 million views have been reported on the #EileenGu hashtag on China's Twitter-like social media platform Weibo on Thursday alone, according to RFA.
Weibo user @zhongdongzongzanfeng said China should never have let Gu compete on its Olympic team. "I have nothing against her, but I am against nationality changes just to get more gold medals; gold medals won in this way are worthless," the user wrote.
Former Global Times editor-in-chief Hu Xijin, usually known for his hyper-nationalistic rhetoric according to RFA, was supportive of Gu. He said that she had "defined her identity" by choosing to represent China in 2022, and hadn't done anything that went against that—not even by openly declaring to become an ambassador for the Olympics to be held in a U.S. state. Meanwhile, many American Twitter users are criticizing Gu for deciding to be an ambassador for the Salt Lake City Games, with one such user claiming she "sold out the U.S. to represent China" by competing in the Beijing Games for China instead of America.
How Can Eileen Gu represent the US winter Olympics bid when she sold out the US to represent China??https://t.co/3FBOIwCpC5

— Evil triumphs when good men do nothing! (@Enlight50269439) June 7, 2022
Gu isn't the first Olympic star to serve as an ambassador for the Olympics to be held in a nation other than their own, and it's actually quite common according to Sun Youkui, sports management lecturer at Towson University. Several Chinese athletes have previously served as ambassadors for foreign Olympic bids, such as Chinese diving star Gao Min who served as an ambassador for New York's Olympic bid, or Shen Xue and Zhao Hongbo who did the same thing for South Korea, just like Ding Junhui for London, and Chen Lu for Sochi.
Gu's stance on being an ambassador for the Salt Lake City games has been confirmed, yet, her official title and what she means to the U.S. Olympic team haven't been. U.S. Olympic bid spokesman Tom Kelly told the Associated Press on Tuesday that Gu participated in the bid as an "athlete representative," saying that "she is working with us but we haven't chosen her exact title." RFA reports that Kelly said Gu wouldn't be traveling with the bid's delegation to Switzerland to meet with the International Olympics Committee (IOC) on June 15 about hosting the games in Salt Lake City, but rather that U.S. Olympic skier Lindsey Vonn would be going.