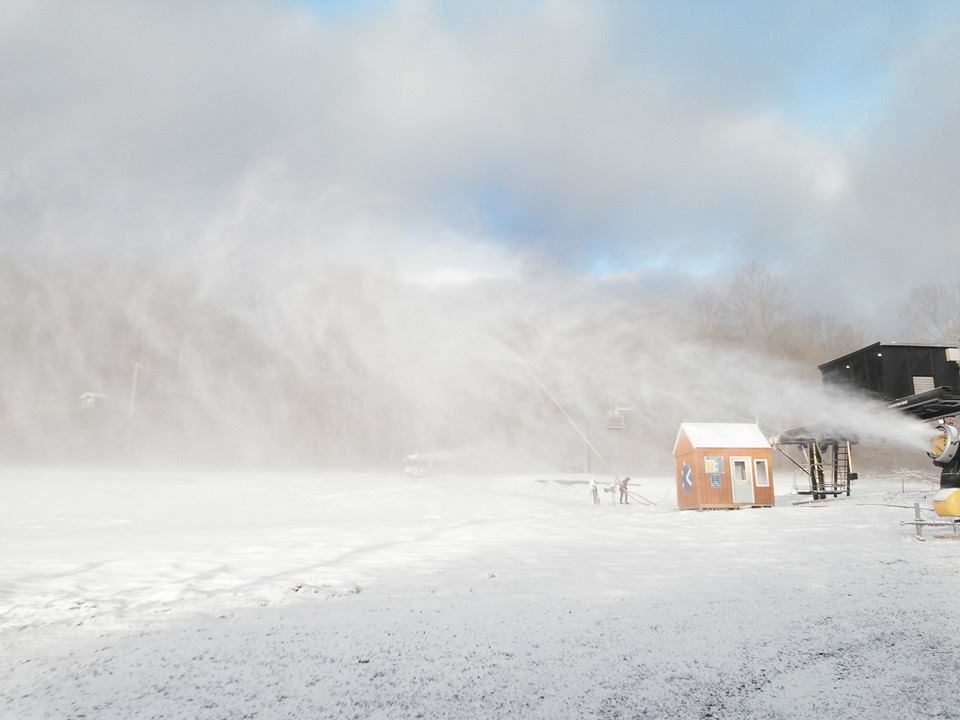 Mount Pleasant of Edinboro reached a major milestone this week according to a post on their Facebook page!  It seems as though they have just quadrupled their ability to access stored water.  After building a nearly 3 million gallon reservoir at the top of the mountain in 2017, Thursday, December 19th, they finally reaped the rewards!
In years past, owners Doug and Laura Sinsabaugh were very limited in their snowmaking ability due to a severe lack of water.  The 700,000-gallon pond at the base of the ski resort just wouldn't last longer than about 48 hours during pristine snowmaking conditions.  That just wasn't enough time to cover the hill with ample snow when mother nature didn't cooperate with the real stuff.  This week was the first time that Doug and crew had access to the 2,900,000 gallons of water on top of the hill.
Thanks to a lot of blood, sweat, and tears, the snowmaking crew can now transfer water from the reservoir up top back to the pond at the bottom where the snowmaking pump is located.  In years past they would sometimes have to wait days, maybe even a week or so for the lower pond to refill with spring water.
This slideshow requires JavaScript.
By the beginning of next season, Doug plans to add an additional snowmaking pump that will service the whole mountain from the upper reservoir that will allow him to pump 1,000 gallons of water per minute!  This would mean that every snowgun on the property could run at full capacity every time that Mount Pleasant makes snow.  In a recent interview, Sinsabaugh said, "My ultimate goal is to eventually be able to open the mountain with only two days of snowmaking temperatures."
Congrats Doug, Laura, and crew on this major achievement for our local gem!
Due to the recent cold temps, a little bit of help from Mother Nature, and added water supply, the tubing park at Mount Pleasant will open today with skiing and snowboarding to follow by Christmas.