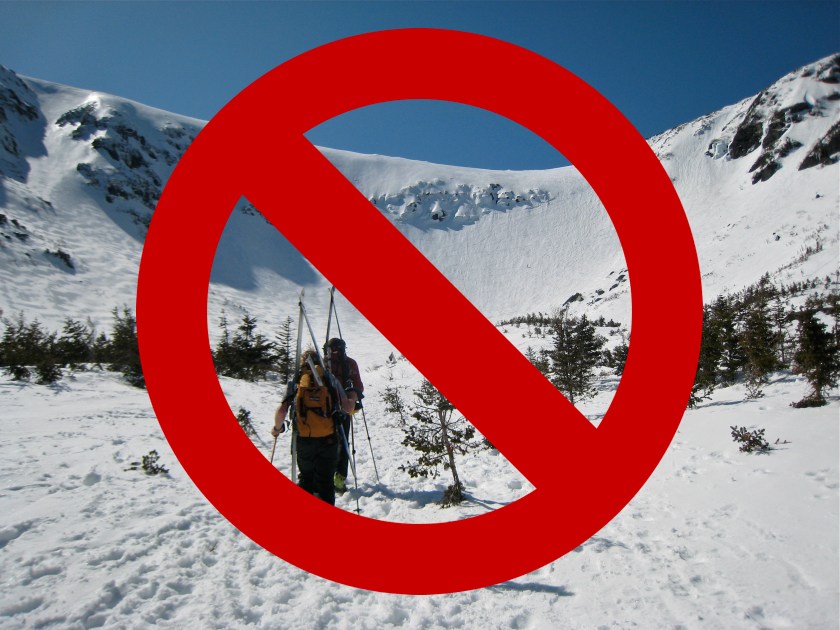 Following Monday's announcement that the Headwall section of Tuckerman Ravine Trail, NH was closed, Mount Washington Avalanche Center yesterday confirmed that all Forest Service land within the Cutler River Drainage of New Hampshire's Presidential Range is officially closed. This unprecedented action means the entirety of Tuckerman Ravine and Hillman's Highway, as well as Huntington Ravine and Gulf of Slides, are closed.
Thank you for your support through this season that ended much differently than normal. We had a successful season from a safety standpoint with only a handful of incidents and accidents despite quite a few human triggered avalanches. The community stoke was high though the snowpack and weather did not supply the goods as often as we would like. As usual, our amazing ski patrol turned out to help in March and were invaluable in navigating those first weekends when the coronavirus reared its ugly head. Late in March, we had @avalanchegeeks, Mike Austin to work as an intern with Glenn Pinson as an emergency hire. They were meant to provide late winter opportunities for the other members of the snow ranger team to take some time off. Turns out, vacation travel was off the table given the rising epidemic, but the two visiting forecasters helped us maintain social distancing among the team and reduced our exposure time to the public and to each other.

The season ends on the east side of the range with a closure order in effect for the east side of Mount Washington, including Gulf of Slides, Tuckerman Ravine and Huntington Ravine and all of the trails in between. While this may seem to be an extreme measure, consider the viewpoint of Dr. Anthony Fauci, Director of the National Institute for Allergy and Infectious Disease. "the fact is what I like to see is when people look at what we're doing and say, 'you're overreacting.' For me, the dynamics and the history of outbreaks is you are never where you think you are with the (spread)– if you think you're in-line with the outbreak, you're already three weeks behind. So you've got to be almost overreacting a bit to keep up with it." So in addition to the annual closure that occurs to the section of the Tuckerman Ravine Trail, a much larger closure is in effect. Pinkham Notch parking lot will be closed to the public, with both the closure orders enforced with fines and even possible jail time.

Please do your part and stay near home, hike in the woods, run a new route, or take up that project you've been putting off. The mountains have been around for a long time and will be here when life returns to normal. Thanks again for your cooperation as we navigate these rough waters.

Frank Carus, Lead Snow Ranger
Director, USFS Mount Washington Avalanche Center
The avalanche center also announced on Monday that they will no longer be producing avalanche bulletins for the remainder of the season. On Saturday, up to 400 people ignored stay at home and social distancing measures and headed to the famous spring-skiing area.