A mountain biker was found dead after falling down a steep mountainside near Downieville, CA, according to the Sierra County Sheriff's Office.
Alejandro Lugo's accident was reported at 3:45 pm Sunday. He had been biking on Butcher Ranch Trail east of Downieville.
Rescuers located Lugo at 3 am Monday after a 4-mile hike into the Third Divide and Butcher Ranch trails but couldn't reach him because of the mountain's steepness, officials said.
A Blackhawk rescue helicopter extracted Lugo's body at 9.30 am, the office said.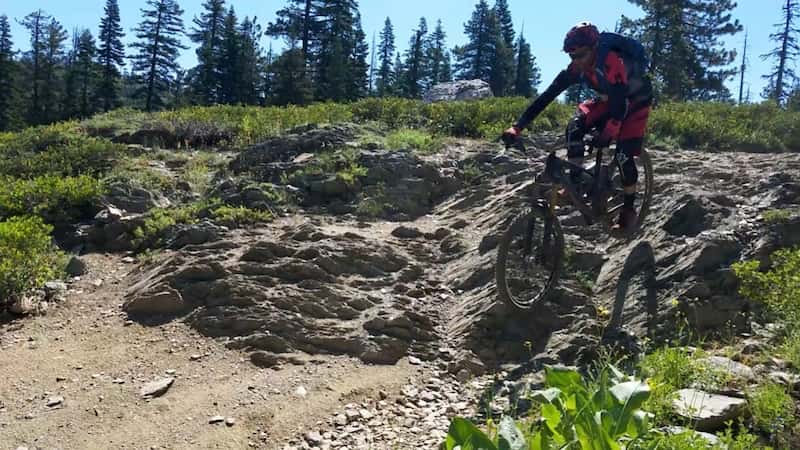 The Sierra near Downieville and Sierra City is a popular destination for mountain bikers. According to Trail Forks, Butcher Ranch is the main trail for the classic Downieville Downhill. This is a legitimate expert-level trail, but much of the difficulty can be mitigated by slowing down and picking your line carefully. There will be some short dismount sections for most riders, but overall, the trail is fast and fun. A full-suspension bike with 3+ inches of travel will greatly enhance your experience.
On November 1, 2020, at approximately 3:45 pm, the Sierra County Sheriff's Office received a report of a mountain biker over the hillside on the Pauley Creek/Butcher Ranch Mountain Bike Trail East of Downieville, California. The Sierra County Sheriff's Office, along with Downieville and Sierra City Fire Departments, responded to the remote mountainous trail and attempted to locate the mountain biker. The California Highway Patrol helicopter was requested and responded to assist in the search. Due to the area's remote and steepness, searchers could not reach the biker, and the Nevada County Sheriff's Search and Rescue Ropes and Motorcycle Teams responded to assist. At approximately 3:00am, the missing mountain biker was located, but due to the steep mountain cliffs, rescuers could not reach him. Despite their best efforts, Nevada County Search and Rescue had to suspend the rescue for the night.
At first light, a Blackhawk rescue helicopter from the Naval Station Fallon responded to assist. In addition to the rescue helicopter, the Placer County Sheriff's Office Ropes Team responded to assist in reaching the subject. At approximately 9:30am, team members with the rescue helicopter were able to reach the subject and hoist him into the helicopter. Unfortunately, Alejandro Lugo of Florida had succumbed to his injuries.
The Sierra County Sheriff'a Office would like to thank all of the agencies involved with the search and our sincere condolences to Mr. Lugo's family and friends.