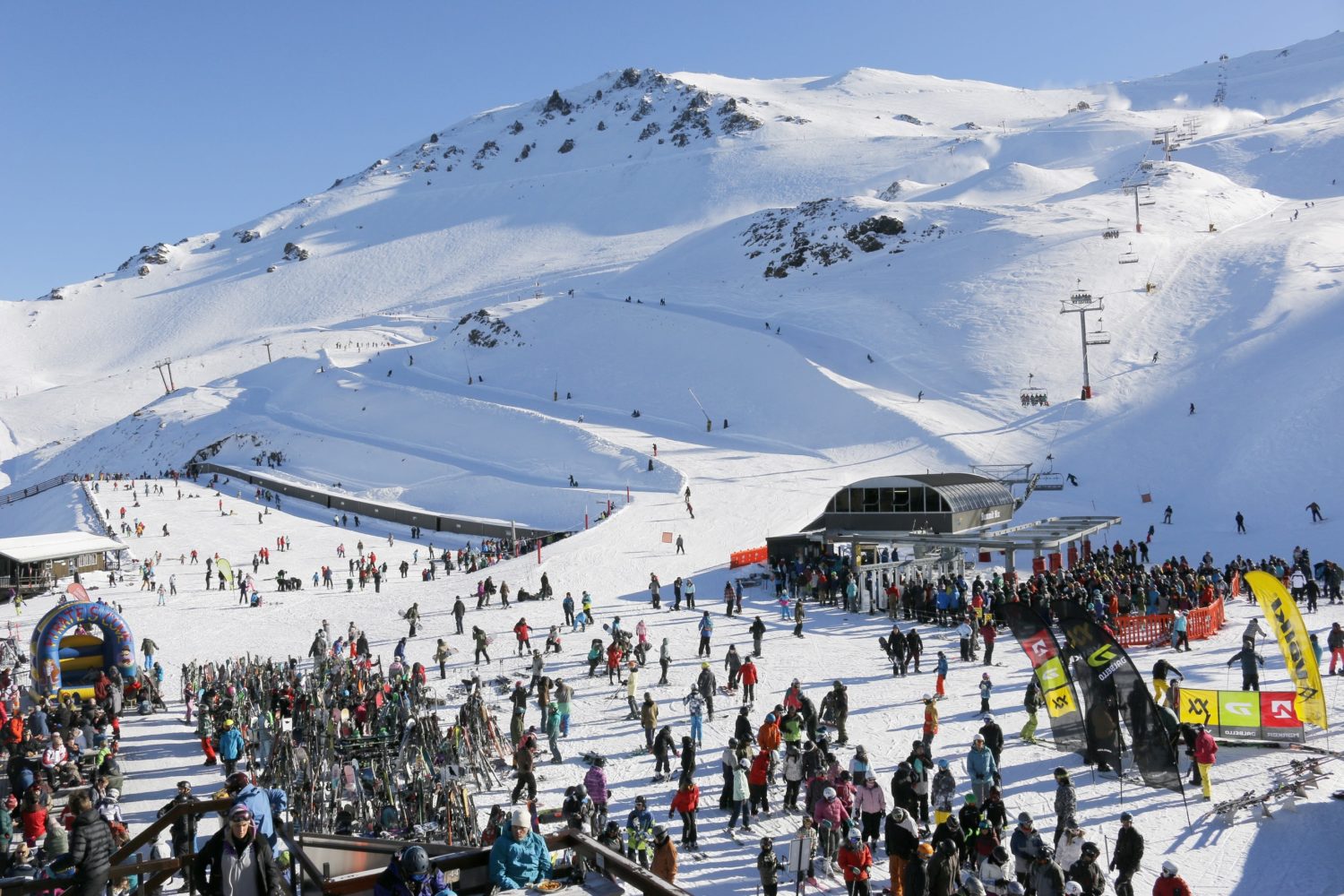 The stats are in, and New Zealand's best ski resort since 2015, Mt Hutt in Canterbury, closed the 2018 season with the best visitor numbers since the mountain opened in 1973.
The surge of visitors has been attributed to service and operations rather than snow, with the leanest snowfall in 20 years.
Mt Hutt Ski Area Manager James McKenzie says sharp season pass pricing, upgraded snowmaking and fun new alternatives to skiing such as the highest hot tub in the country, sightseeing and Yooners [ski with a seat] have all attracted record guest numbers and added to the "kiwi-as" vibe at the mountain.
"The results are quite an achievement given the lack of natural snow this season," he says. With just 170cm of snow falling from the time we opened through to closing weekend the 2018 winter season turned out to be the second leanest in 20 years, yet the numbers don't reflect that."
Significant investment in snowmaking last summer was  uncannily  timely  and amazingly effective.  Following the pump station upgrade they were able to double their output which meant all lifts were running from opening day to the end of the season  for the first time ever.
James says the shorter wait times for coffees, food, and shuttles were also appreciated by guests.
"We were able to shift  guests from the lower car parks  up to the ski area  far more efficiently  this season so wait times were very rarely more than 10-15 minutes. It was also very pleasing to  receive  so much  positive feedback  about our revamped cafes and restaurants  that can accommodate  extra  staff  and service lines thereby reducing wait time for food and hot drinks.
This year Mt Hutt reintroduced scenic rides, a hit with guests, says James.
"Scenic rides on our Summit 6 chairlift went down a treat with  both skiing and  non-skiing  guests alike. Literally, anyone can now rock up to Hutt and have a go on the snow. Our Snowpalooza event and Yooner skis (a ski with a seat) drew plenty of Cantabrians to the snow as well. To sum it all up we've had an absolutely stellar season. Yet, despite  the increased business levels,  the  ski area  never reached  capacity. We're a big mountain!"
Off the back  of this "incredibly  successful season", Mt Hutt is announcing big plans for 2019.
The ski field is to  extend the trail network and increase the snowmaking  system  for 2019.
James explains the new developments: 
"We will be building a  new  family fun trail down from the top of the Quad chair. This  winding  beginner/intermediate  trail will access  what is currently  under-utilised terrain and  offer a mix  of fun snow features including rollers, banked turns and a tunnel. It will also  be serviced by a  new,  fully-automated  line of  snowmaking  guns.  We also plan to add a new  advanced  trail  out left  of the reservoir and move  the start of  "Race Hill"  up to  the start of the Mid Towers traverse to  extend  the length of steep  groomed terrain on that side of the basin.
"We are also excited to  be  welcoming  a  state-of-the-art  snow groomer  into our fleet next winter  with Tier 5 engine technology  and  real-time  snow-depth  monitoring software"

"Tier 5 engines  have  been  developed in Europe to meet  their  more stringent emissions regulations  and whilst  there is a premium to  include this in the spec, we see it as an important  step towards  reducing  our  impact on  the  unique  alpine environment  in which we operate," says James.
Pricing remains an attractive proposition, says James.
"We're not only fiercely loved by Cantabrians for our laid-back Southern hospitality, but the pricing remains attractive. With kids 10 and under free, and an Earlybird price freeze of $349 until 31st  Jan for a season pass, Mt Hutt pass is hugely popular. It's winter entertainment sorted!
Mt Hutt Season passes are now on sale, with adult  season pass  prices  frozen at $349 until 31st  Jan, which can be paid in 6  easy  installments. 
Kids 10 and under can still ski for free  and the student  season  pass has been reduced by $50 to just $299.