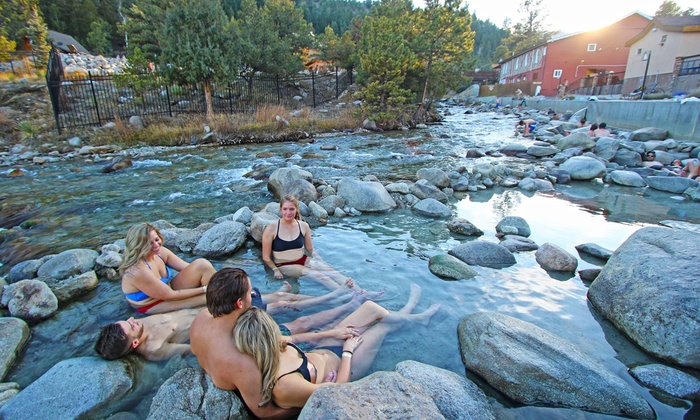 Picture the scene: after a long day shredding Mirkwood trees at Monarch Mountain, your body deserves more than rest. It demands relaxation at the highest level. At Mt Princeton Hot Springs, Nathrop, Colorado, that's exactly what we found.
Wooden log cabins nestled in the beauty of rural Colorado provided our group with the perfect base for exploring. 
After a fast check-in at reception, we take a short drive across to our cabin. A cozy lounge welcomes us, with a comfy leather sofa and TV to chill down for the night. An unexpected bonus comes in the form of an inclusive HBO package. A small kitchen means that you can keep costs down and set your gang up for the day with a hearty breakfast. Bedrooms were clean and minimalist in design, offering us lots of space to spread out, with crisp fresh bedding to fall into and a great night's rest.
Each morning begins with golden sunlight streaming in through the roof windows, and the delicate sound of rustling outside our window. Upon investigation, we're introduced to new friends in the form of several super inquisitive wild deer. It's not every day that we get to be part of something that feels so special.
Mt Princeton Hot Springs Resort is a 4* resort on the doorstep of Monarch Mountain. Featuring natural odorless hot springs, historic bathhouse, full-service spa, on-site restaurant and market it's easy to see why. The resort also offers inclusive yoga and fitness classes daily. It's a sense of pure relaxation that your ski muscles will thank you for.
As you approach the family-friendly area of the hot springs, it's the fun and laughter that greet us. The games of Marco Polo in the family relaxation pool entertained us before we moved our way through each of the natural hot springs. Be careful as you step down to the creekside hot springs, then stretch out across the natural creek bed and submerse your aching ski body in the hot mineral water.
An adults-only area provides an extra level of peace and tranquility, and it comes with cascading hot springs, a first-class changing area, a juice bar with specialty cocktails to wake up our tastebuds, then we dip into the plunge pool for a refreshing shock back to reality. When the sun goes down, the warmth of the natural springs and a clear night sky allow us to further relax, gaze at the stars and contemplate our space in the universe.
Mt Princeton Hot Springs Resort is the ideal ski accommodation. Only a short drive away you'll find the historic towns of Salida and Buena Vista with lots of independent restaurants and shopping to entertain your non-skiers. Monarch Mountain ski resort is only a 45-minute drive away.
Open all year round, Mt Princeton Hot Springs Resort isn't just great in the winter. As the summer gets underway, even more hot springs open up, alongside a lazy river and a 400ft water slide.
Whether you're a skier, mountain biker, kayaker or white-water rafter, it's definitely worth adding Mt Princeton Hot Springs Resort to your vacation hit list.