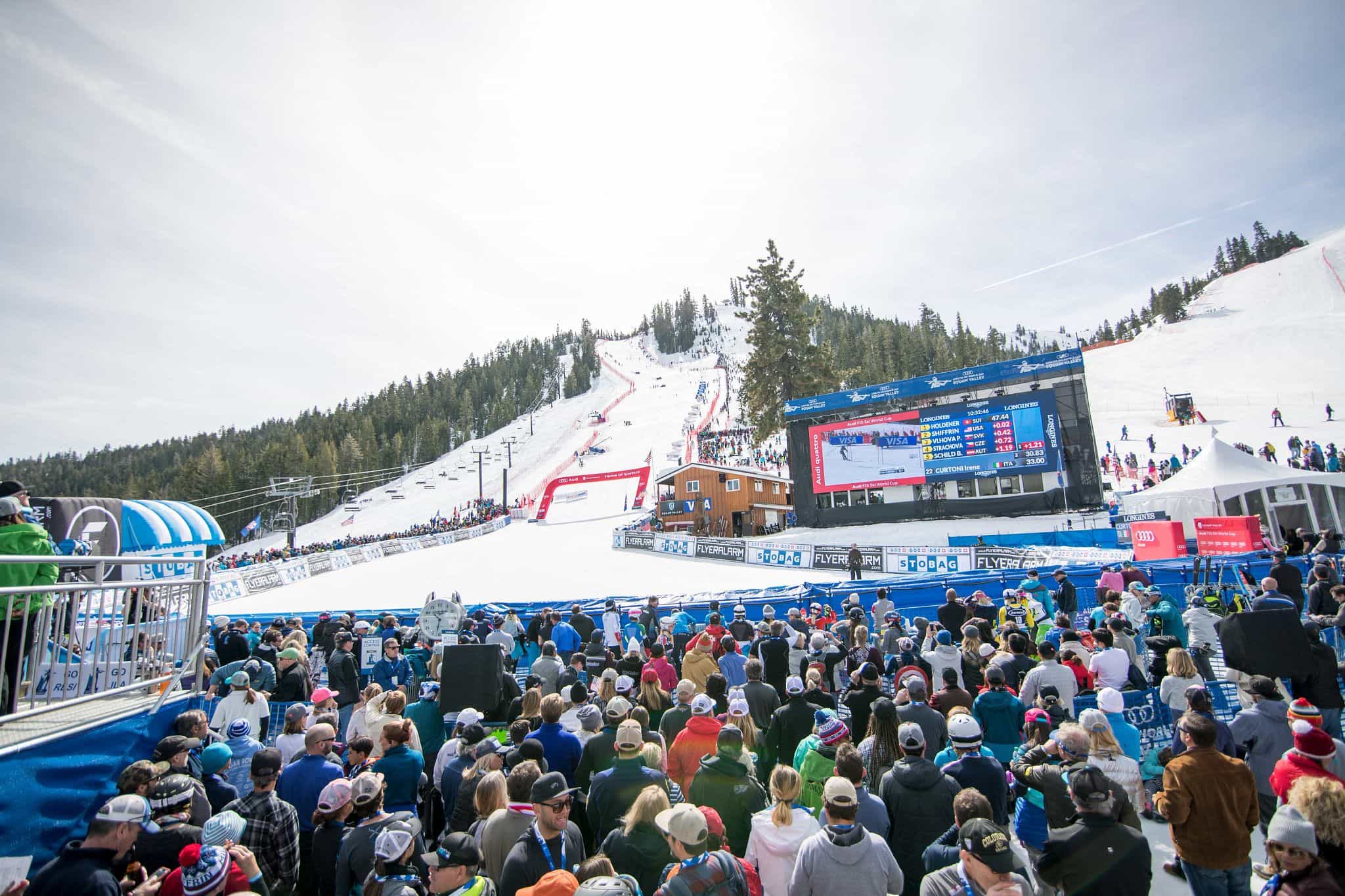 Palisades Tahoe Hosts the Audi FIS Ski World Cup Tour in February
Palisades Tahoe is proud to announce the headliners for the Palisades Tahoe Cup, set to take place February 24th through the 26th, including the Black Jacket Symphony feat Marc Matel, Noah Kahan, and 311.
Friday, February 24th at 7 pm: Black Jacket Symphony feat. Marc Matel
Over the past thirteen years, the Black Jacket Symphony has performed more than 40 classic rock albums, bringing an incredible night of entertainment to over a million music lovers across the US. The group of hand-picked musicians changes based on the album being performed and no sonic detail is overlooked, with the musicians doing whatever it takes to reproduce the album. At Palisades Tahoe, the Black Jacket Symphony will present Queen's "A Night at the Opera". It's a full night of rock and roll magic—plus a visual experience unlike any other.
Saturday, February 25th at 6:30 pm: Noah Kahan
In 2016, Noah Kahan signed with Republic Records and has been taking the world by fire since then. Releasing his first single, "Young Blood," in January 2017, he gained over 9 million streams and has toured with artists such as George Ezra, Dean Lewis, and James Bay. Noah has released three albums since 2019 and currently has over 8.5 million monthly listeners on Spotify. His single "Stick Season" has hit #2 on the Billboard Bubbling Under Hot 100 Singles List and has been streamed on Spotify over 92 million times. Noah Kahan will be heading out on The Stick Season Summer Tour 2023 this year—including a stop at the Palisades Tahoe Cup.
Saturday, February 25th at 8 pm: 311
311 was formed in 1990 in Omaha, Nebraska, by five friends: Nick Hexum (vocals/guitar), Tim Mahoney (guitar), SA Martinez (vocals/DJ), Chad Sexton (drums), and P-Nut (bass).  33 years later, they're still rocking together.  Widely regarded as one of the most entertaining & dynamic live bands in the U.S., 311 mixes rock, rap, reggae, and funk into their own unique, hybrid sound.  As veterans of 2,000 shows across 27 countries, 311 is one of the longest-running original lineups in rock, alongside legends like U2 and Radiohead.
311 have released thirteen studio albums, two greatest hits albums, two live albums, three DVDs, and a boxed set, and have sold over 9 million copies in the U.S. Ten albums reached the Top 10 on Billboard's Top 200 Sales Chart – and nine of their singles have reached the Top 10 on Billboard's Alternative Radio Chart (including three #1 singles: Down, Love Song & Don't Tread On Me – along with Amber, All Mixed Up, Come Original, Creatures For Awhile, Hey You and Sunset in July).
Palisades Tahoe Cup
Palisades Tahoe is no stranger to international competition. A renowned ski racing venue that has bred champions since the 1960 Winter Olympics, the resort's legendary steeps will once again welcome back World Cup racers this winter. One of only four U.S. resorts featured on the World Cup circuit this season, Palisades Tahoe will host men's slalom and giant slalom events on Dog Leg and Red Dog Face. The course, raced in 2017 for the women's alpine event, is one that Olympic champion Mikaela Shiffrin has described as "one of, if not the toughest" course venues on the women's World Cup circuit.
Check out the course and the action from the Base Area, cheer on the world's best athletes, and enjoy the free concerts Friday with the Black Jacket Symphony and Saturday with Noah Kahan and 311, and fireworks at the KT Base Bar February 24-26, 2023.