Retired Olympian Lindsey Vonn can be seen hitting the slopes again in a recent high fashion film. Thom Browne requested Vonn for his co-gender Autumn-Winter 2021 collection. The film starts with Vonn wearing a gown with a corset boning over a black tuxedo coat, a white-collard shirt, and a black bow tie. She then ditches the inconvenient dress, hops in a helicopter, and skis down the mountain in a long suit jacket with striped details and a pleated skirt.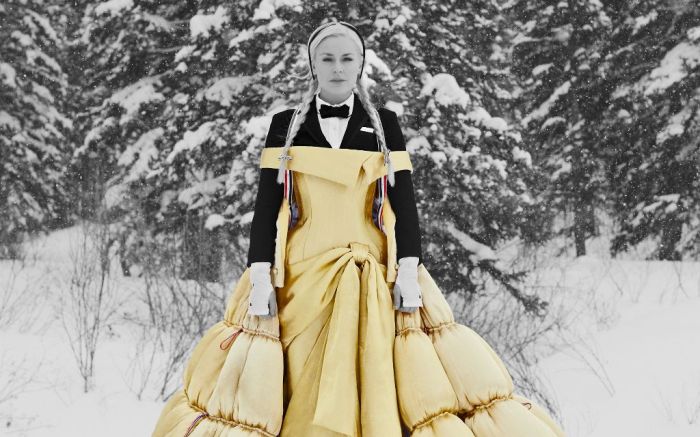 Thomas Browne wanted to portray Vonn in her natural environment while incorporating his own world through her outfit. Browne wanted to tailor the film towards extreme skiing and the athletes who participate in the sport. Browne had worked with Olympians before as he included track-and-field sprinter Kendall Baisden and fencer Race Imboden for a film set at an imagined 2132 Olympic Games on the moon. He noted that he really enjoys working with athletes because they're an inspiration to many people.
Browne's collection is full of new styles incorporating couture fabrication and sportswear details with his signature modern tailoring. He has reimagined the suit-as-uniform to be a style that shouldn't be limited to the office. This film continues to press this concept in an outdoor sportswear setting. Browne noted that due to the pandemic, people are "dressing down, which he aims to reverse with this film and collection.