When I think about going skiing, I picture iconic mountain ranges like the Grand Tetons in Wyoming or the Wasatch Range in Utah. I've been lucky enough to experience places like these, but I've also realized that not everywhere in the world has mountains, let alone natural snow within their region they can access.
Indoor snow centers are a thing, and apparently there's quite a few around the world. China holds four of those now, as they just completed their newest indoor snow center named "Xiangjiang Joy City Snow World" near Changsha in South-Eastern China. There are 110 (and counting) indoor snow centers spread across six continents (sorry Antarctica) with most being centered in Western Europe and Asia. China holds the title for the largest indoor snow center in the World named "Wanda Harbin Indoor Ski Resort" at over 80,000 sq. meters (approx. 861,000 sq. ft). There is currently one indoor snow center in the U.S named "Big Snow" that is apart of the American Dream complex in East Rutherford, NJ, just outside of New York City. Another indoor snow center in the U.S is planned for a new American Dream complex in Miami, tentatively scheduled for 2025.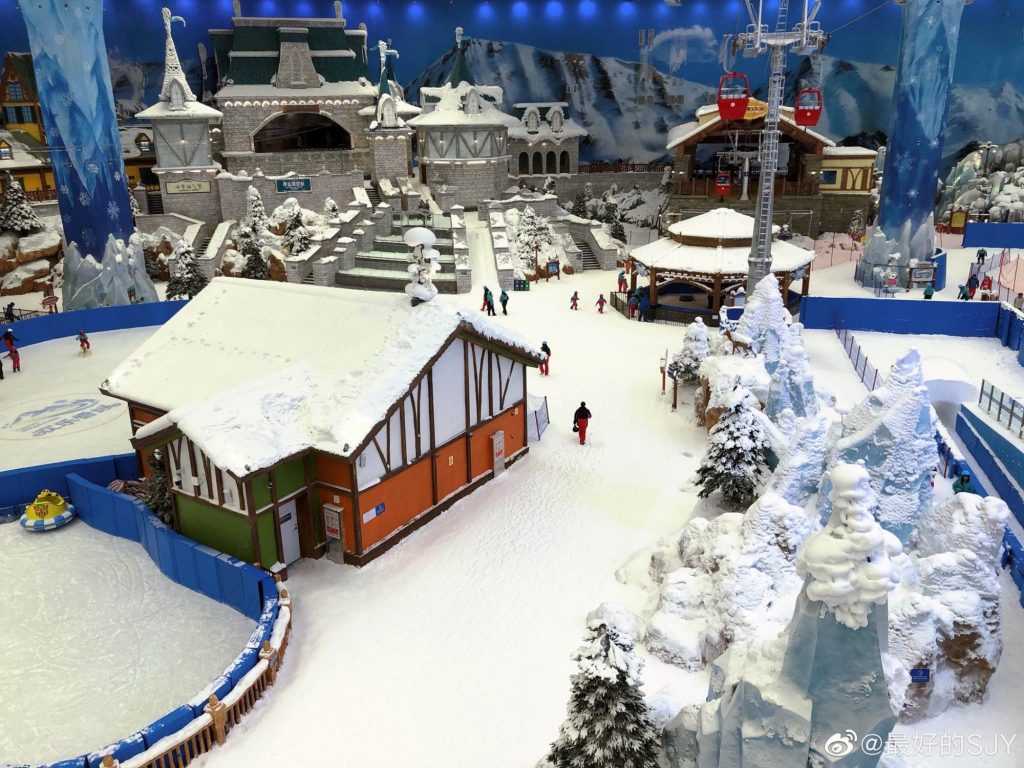 Joy City Snow World is built in a former quarry and took six years to build at a cost of $1.7 Billion. The snow center is over 30,000 sq. meters (approx. 322,000 sq. ft), making it 6th largest in the world, as part of a complex that's over 150,000 sq. meters (approx. 1.6 million sq. ft). The construction behind the snow center is an engineering marvel in itself, as it was built in a quarry almost 36 meters (approx. 118 ft) deep and boasts over 200,000 tons of steel. It contains one ski slope that's equivalent to a high beginner run in the U.S, as well as many other activities such as sledding, skating, climbing, a maze, and a faux alpine village designed after the Alps. To top it all off, if the cold is too much for you, the snow center has a full water park on the roof.
Feel Like Exploring More? Other Notable Indoor Snow Centers Around the World
Ski Dubai (Dubai, UAE) – 1st indoor snow center in the Middle East
Snow Planet (Auckland, NZ) – only indoor snow center in the Australia / New Zealand region
Harbin Wanda Indoor Ski Resort (Harbin, China) – World's largest indoor snow center
AlpinCenter (Bottrop, Germany) – World's longest indoor slope
SnowCity (Singapore) – Closest indoor snow center to the Equator
SnowWorld (Landgraaf, Netherlands) – Europe's largest indoor snow center