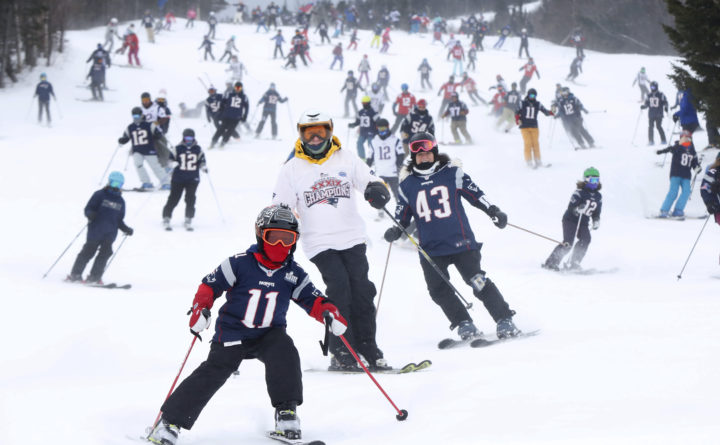 Skiing and American Football are two sports that have long been interconnected, primarily due to their overlapping seasons. It's not uncommon to see people donning NFL jerseys on the slopes, and any apres ski destination on the days of Thursday, Sunday, or Monday will most likely feature an NFL primetime game. Many ski resorts also offer discounted tickets for Super Bowl Sunday.
However, the number of NFL players who ski is surprisingly low. This makes sense, as NFL players have millions upon millions of dollars resting on their good health. One bad injury can immediately end your playing career, as we've seen with the infamous injuries of Joe Thiessman, Reggie Brown, and Eric Legrand. Skiing is by far one of the most dangerous sports, so you can't blame players for being wary of putting their careers on the line. In particular, ACL tears are a debilitating injury that frequently occur in both Skiing and Football.
For these reasons, some NFL teams require their players to abstain from skiing. The Sportster reports that the San Francisco 49ers have a clause in their contracts that forbid their players from partaking in high-risk activities.
49ers' contracts prevent players, such as Jimmy Garoppolo and Richard Sherman, from professional wrestling, boxing, skydiving, hang gliding, rock or mountain climbing, racing of any kind including as a driver or a passenger, motorcycling, use of any off-road or all-terrain vehicle, firearms, scuba diving, jet skiing, surfing, bungee jumping, diving, and snow or water skiing.
However, there are still a number of NFL players, both past and present, who have taken up skiing.
Tom Brady
You probably already knew this, but the infamous Tom Brady skis. The Patriots QB is one of the NFL's most talented (and despised) players, and he apparently frequents the slopes of Montana when he's not busy winning Super Bowls (Brady has won six, more than any other player in history).
Todd Gurley
.@TG3II went skiing and Rams fans everywhere held their collective breath pic.twitter.com/fRN6tzHCaW

— Cameron DaSilva (@camdasilva) February 10, 2018
Todd Gurley, the star running back for the Los Angeles Rams, freaked out Rams fans everywhere when he skied at Beaver Creek, CO. Gurley tore his ACL playing football in 2014, and ACL tears are one of the most frequent injuries on the slopes. Each ACL tear makes you more susceptible to future ACL tears. Vermont Ski Safety reports that over 20,000 skiers in the US alone suffer ACL tears every winter. Skiing places enormous loads of stress on your knees, and one awkward off-balance turn can easily snap your ACL. Gurley, however, seems to be enjoying himself regardless of the risk.
Golden Tate
https://twitter.com/ivancanfield/status/977757638099431424
Is anyone suprised a wide receiver made a catch like that? Nothing better than an American showing Canadians at Whistler how it's done. Wide receiver Golden Tate, formerly on the Detriot Lions and currently on the New York Giants, has forced more missed tackles than any other wide receiver currently in the NFL. That shiftiness in the open-field likely translates well to performance on the slopes. Unfortunately, there's not a video anywhere of Tate on the slopes, but the epic beer chug in an American suit is simply too good to leave off this list.
Drew Bledsoe 
Drew Bledsoe, the former New England Patriots QB (ironically, who Tom Brady replaced) is legitimately a good skier with better technique than your average skier. His 6'5 frame only makes the technique all the more impressive. The Bend resident grew up skiing in Washington and now frequents nearby Mt. Bachelor. Outside.com reports that during his career, Bledsoe found a way around the NFL's uneasiness over skiing:
"My second year in the league, I made the mistake of telling [Patriots owner] Bob Kraft that I'd taken my dad heli-skiing during the off-season," Bledsoe says. "So the next time I go to sign a contract, it says I owe the team a bunch of money if I get hurt skiing. Didn't stop me, though. I was able to take out an insurance policy with Lloyd's of London that protected me for 20 ski days. That was some expensive skiing, but it was worth it."
Big Sky Journal reports that in 2007, Bledsoe and two partners even started their own custom-ski company in Whitefish, the Montana Ski Company.
"The goal for the ski company is not to ever become really big, but I think we can have some fun, make a little money, and give people a killer product that has a little piece of Montana in every ski."
Of all the players listed here, Bledsoe definitely appears to be the most connected to skiing. However, with over 1,000 NFL players in the league, it's likely there are many NFL skiers simply getting their turns under a low profile.