Nike stock hit an all-time high exactly 10-days after they launched their latest controversial ad campaign featuring Colin Kaepernick.
Nike shares closed at $83.47 on Thursday.
This was the highest stock value in Nike's 54-year history.
"Edison scanned receipts from more than 200 online retailers (including Nike.com) and found that that Tuesday after Labor Day, for example, the first full day after Kaepernick's ad went viral, Nike purchases were 22 percent higher than the same day in 2017. On Wednesday they were 42 percent higher, and Thursday they were 23 percent higher. They remained above 2017 levels through the end of the week.

This data, which only measures online sales, is incomplete. It's a one-year snapshot and while it captures those who immediately purchased Nike to support the ad campaign, it doesn't fully account for those whose plans to boycott will play out over time." – Bloomberg, September 13th, 2018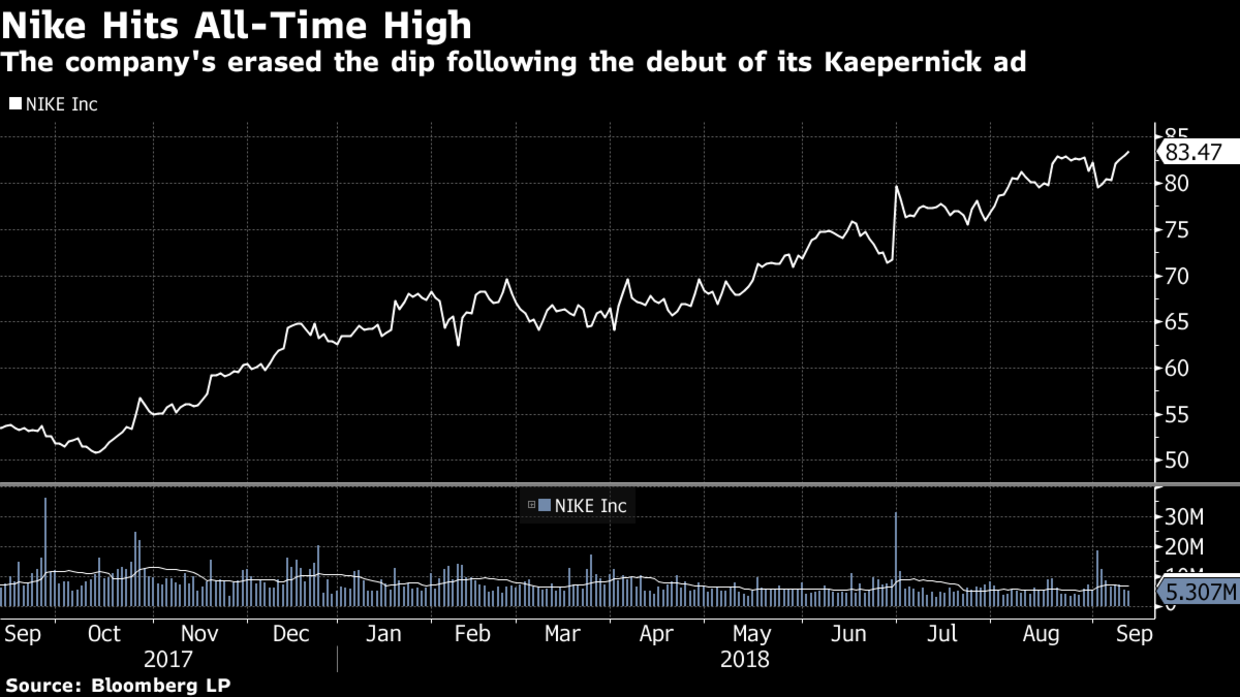 Nike stock did dip by 3% immediately following the release of the Kaepernick campaign, but online sales were reported up 31% from September 2nd – September 4th, 2018.
Some people did not like Nike's Kaepernick campaign and voiced their disapproval with a #boycottnike hashtag and the burning of Nike products.
Bloomberg reports that the full business impact of this controversial campaign won't be fully understood for months.
It will likely be months, if not longer, until anyone can fully measure the business impact of Nike Inc.'s controversial partnership with quarterback-turned-activist Colin Kaepernick, but early data from Edison Trends show sales tracking well above last year. –

Bloomberg

, September 13th, 2018
Nike was once a manufacturer of Snowboard boots, clothing, and backpacks.
Apparently, even Nike ski boots were in the works…
Olympic gold medalist Sage Kotsenburg was one of many Nike sponsored snowboarders.
Nike pulled out of the snowboard industry in 2014.
About Colin Kaepernick:
"In 2016, Kaepernick became a national figure when he ignited a firestorm of controversy by choosing to kneel on one knee rather than stand while the United States national anthem was being played before the start of NFL games. He described his behavior as a protest against racial injustice in the United States.

His actions prompted negative and positive responses. The negative responses included suggestions that players who protest should be fired; other people displayed their disapproval of players' protests by leaving the stadium immediately after the protests or refusing to watch games at all.

Positive responses included similar activity by additional athletes in the NFL and other American sports leagues protesting in various ways during the anthem.

In November 2017, Kaepernick filed a grievance against the NFL and its owners, accusing them of colluding to not hire him. In 2018, Amnesty International awarded Kaepernick with that year's Ambassador of Conscience award." – Wikipedia