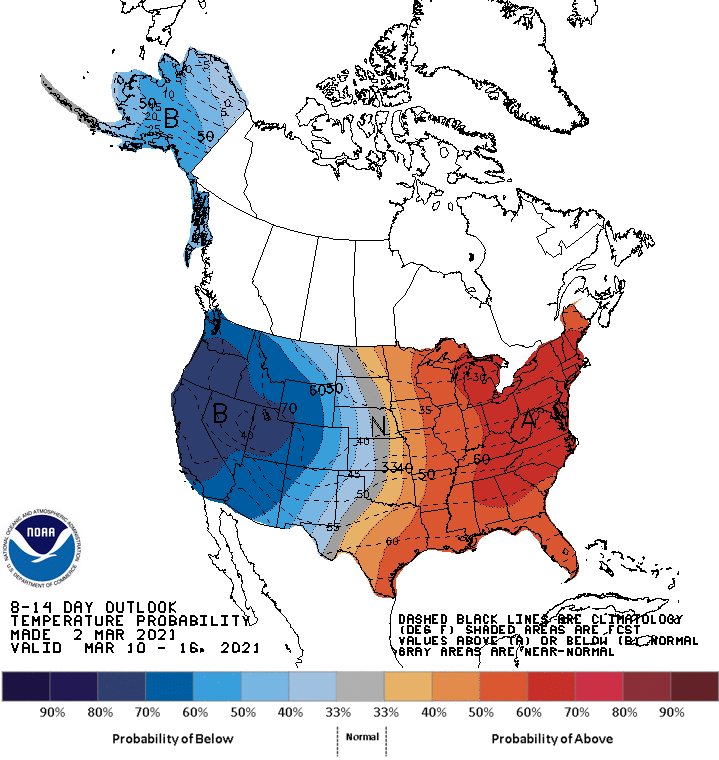 While we don't want winter to end, meteorological spring is officially here. How will that affect the weather? Here's the NOAA outlook for the next two weeks…
Elevated probabilities of below-normal temperatures are forecast across much of Alaska. Probabilities of below-normal temperatures diminish to near-normal in the Aleutians, underneath positive mid-level height anomalies. Below-normal temperatures along the West Coast, extending eastward across the Rockies and into the western Great Plains. Conversely, expect odds of above-normal temperatures from the eastern Great Plains to the East Coast.
Related: California in Desperate Need of Snowstorms to Prevent Ending This Year Critically Dry
Strong onshore flow favors above-normal precipitation in Mainland Alaska and the eastern Aleutians. In the western CONUS, above-normal precipitation is favored near the base of the amplified mean trough. There is the potential for enhancement of precipitation along southern portions of the West Coast early in the period, associated with the MJO's enhancement of the subtropical jet. Elevated above-normal precipitation probabilities extend across the Central Rockies and become more enhanced over the Central Plains into the Great Lakes, as energy exiting the Rockies has the potential to amplify and move eastward. Across the portions of the Southeast, high pressure is favored to dominate, despite the potential for transient frontal boundaries, leading to a tilt in the odds toward below-normal precipitation. In southwestern Texas and New Mexico, below-normal precipitation is also favored, as frontal boundaries from low-pressure systems to the north are not expected to influence the region.