The NOAA is forecasting increased above normal temperature probabilities for much of the western half of the country. Pacific flow is forecast to increase over the central US, expanding the warmth downstream of the Rockies. East of the Mississippi, below normal temperatures, are forecast. However, the coldest temperatures are favored early in the period, with a trend toward warmer temperatures later in the period as positive height anomalies develop over the Northeast. Increased above normal temperature probabilities are forecast for most of Alaska due to continued southerly flow combined with anomalously warm sea surface temperatures.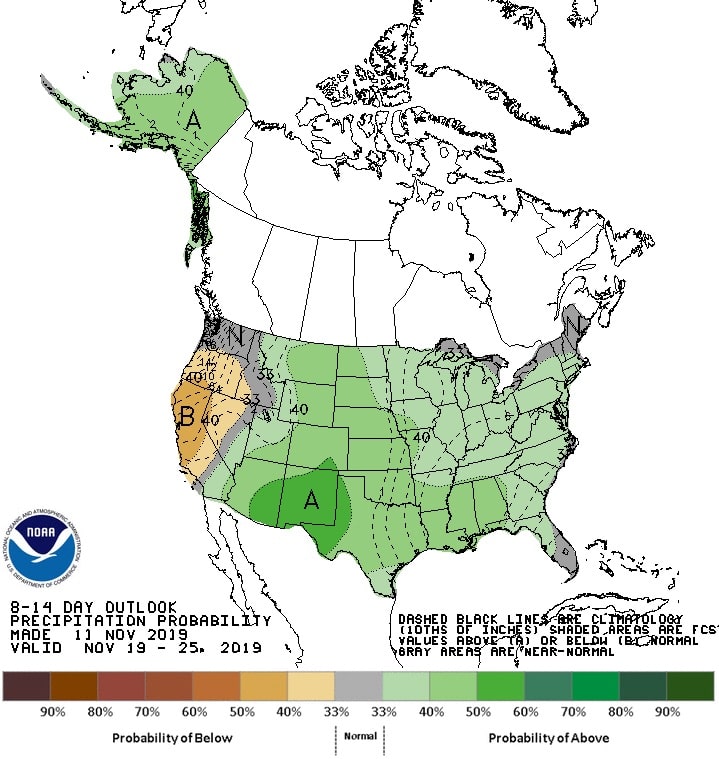 A series of low-pressure systems is forecast to impact Alaska throughout the period favoring enhanced probabilities of above-normal precipitation. Increased rainfall chances are also possible for parts of the Pacific Northwest, especially early in the period as there is the potential for these storms to track over top the ridge into the region.
Unseasonable dry conditions are favored to continue over much of California and surrounding areas of the Great Basin. Expect above-normal precipitation for the Rockies, Great Plains, and parts of the Upper and Middle Mississippi Valley, however, there is a bit more uncertainty to the east. Below normal precipitation is forecast over parts of the Ohio Valley, Upstate New York, and western Pennsylvania.